Molly Bloom to Release Book on High-Stakes Hollywood Game Involving Tobey Maguire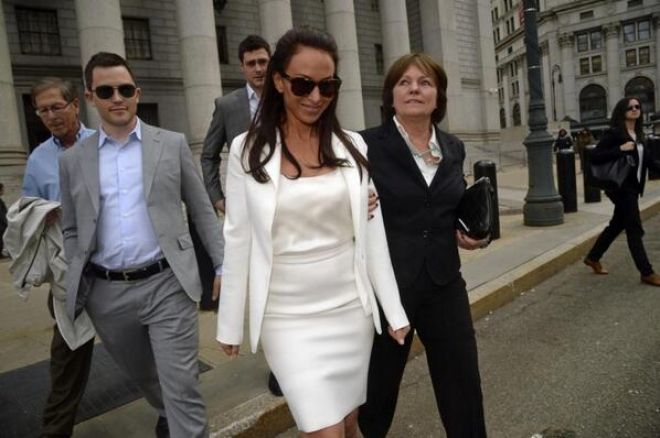 Late last year, "Poker Princess" Molly Bloom pled guilty to charges of running illegal high-stakes poker games for Hollywood stars and Wall Street millionaires at The Plaza Hotel in New York City. Last week, Bloom was sentenced to a year of probation and fined $1,000 by Federal Judge Jesse M. Furman.
Now, Bloom will tell the story behind the high-stake poker games — which included Hollywood A-listers Tobey Maguire, Ben Affleck, and Matt Damon — in a new book titled Molly's Game: High Stakes, Hollywood's Elite, Hotshot Bankers, My Life in the World of Underground Poker.
Bloom, who also agreed to forfeit $125,000 as part of the agreement, was among 34 people indicted on illegal gambling charges tied to Russian organized crime in April of last year. Several well-known poker players were charged, including Abe Mosseri, Bill Edler, and Vadim Trincher, who was recently sentenced to five years in prison.
According to the New York Observer, which ran an exclusive regarding the book including an interview with a member of the infamous game, TV producer Houston Curtis, the book will reveal intimate details regarding the game.
"Molly Bloom was a smart, sweet, ambitious girl, who worked very hard to organize what had to be one of the biggest, most star-studded weekly poker games of all time," Curtis told the New York Observer. "In all of my personal dealings with her, she acted honorably, above board and with the utmost integrity."
The book will be released by Harper Collins Publishers on June 24, and the New York Observer reports that a well-coordinated rollout is planned that includes an excerpt running in Vanity Fair and Bloom appearing on multiple ABC shows.
Here is the book's description according to the publisher's website:
Molly Bloom reveals how she built one of the most exclusive, high-stakes underground poker games in the world—an insider's story of excess and danger, glamour and greed.

In the late 2000s, Molly Bloom, a twenty something petite brunette from Loveland Colorado, ran the highest stakes, most exclusive poker game Hollywood had ever seen—she was its mistress, its lion tamer, its agent, and its oxygen. Everyone wanted in, few were invited to play.

Hundreds of millions of dollars were won and lost at her table. Molly's game became the game for those in the know—celebrities, business moguls, and millionaires. Molly staged her games in palatial suites with beautiful views and exquisite amenities. She flew privately, dined at exclusive restaurants, hobnobbed with the heads of Hollywood studios, was courted by handsome leading men, and was privy to the world's most delicious gossip, until it all came crashing down around her.

Molly's Game is a behind the scenes look at Molly's game, the life she created, the life she lost, and what she learned in the process.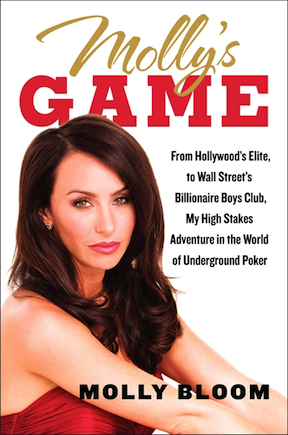 "I have not read it, but [Hillel] Helly told me that it is a fairly accurate picture of the poker scene and is naming names, like fully, fully naming names. And she is apparently pretty nice to a lot of the guys in it like Ben Affleck and [Matt] Damon and all those guys, but she destroys Tobey Maguire," a source revealed to the New York Observer.
Some other tidbits revealed by the New York Observer piece include:
Andy Beal, the famed billionaire featured prominently featured in Michael Craig's famed poker book The Professor, the Banker, and the Suicide King: Inside the Richest Poker Game of All Time, played in the game and is estimated to have "lost up to $50 million" in a weekend;
Spider-Man actor Tobey Maguire is among the best players in Hollywood;
Curtis and Maguire made an arrangement after the former lost $1 million in a night and the latter assumed more than half the debt;
Maguire would often pay the entrance fees for his Hollywood friends, including Leonardo DiCaprio.
"For a few brief hours, once, sometimes twice a week, high up in a beautiful five-star hotel suite, a series of regular (yet anything but regular) players left everything else in their lives at the door, and had an experience that very few people in the world ever get to have," Curtis concluded. "I will be forever grateful for that time in my life, and for the role that Molly played in making it happen on a consistent basis."
To read the New York Observer piece in full, click here.
*Lead photo courtesy of Twitter.
Get all the latest PokerNews updates on your social media outlets. Follow us on Twitter and find us on both Facebook and Google+!