SCOOP-02-L Winner Marina "Bobrovaflya" Zemskova: "Do Something Good And Your Hot Streak Will Come!"
Ilja Kuteinikov

Giovanni Angioni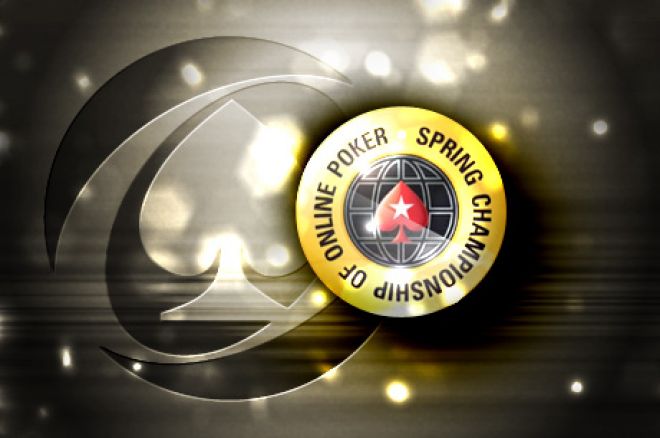 Russia's Marina "Bobrovaflya" Zemskova got her name known during the latest MicroMillions on PokerStars, as she took part to nearly all the events, finished in the money 38 times and also won the series' leader board by a solid 85-point margin over second place.
After she finished the MicroMillions, Marina jumped to the ongoing Spring Championship of Online Poker (SCOOP) and took down Event 2-L: $27 NL Hold'em for a $59,840 payday. To win the event, Zemskova outlasted a field of 25,650 entrants and won the final heads-up battle against "ROUNDSKY".
PokerNews Russia's Ilja Kuteinikov reached out Zemskova to discover more about her and about her adventure into online poker.
Thank you for joining us, Marina. How would you like to be introduced to our PokerNews readers?
As a 21-year-old girl who lives in Moscow and is about to graduate from college majoring in design. Needless to say, I also play online poker in my spare time.
How did you get started with the game?
I have been playing poker for quite a long time now. I started years ago playing sit-n-gos at the "old" Full Tilt Poker, but then I decided to take a long break from poker.
I came back to the poker tables about a year go to play hold'em 18-max sit-n-gos. Then I have gradually drifted towards Omaha 8-or-better and other limit games.
After your recent results, are you trying to become a poker pro?
No, I am not planning to do that step, as I play poker really only during my free time. You know, sometimes I spend weeks, even months without playing poker, and I am totally fine with it.
What brings you to the tables then? What do you like most about the game?
The first reason that motivates me to play is competitiveness. I have always loved different games such as chess, billiards or backgammon, and I love competing in poker, too. The second one is obviously the money aspect. Honestly, right now I can't even think of a third reason.
What variant do you like most? Judging from your latest big result, one would say it must be hold'em multi-table tournaments.
I actually specialize in tournament poker, but not Texas hold'em ones. As for the SCOOP, I played that event because I made a bet with several people that I would get the highest place in the series' leader board.
Tell us more about the SCOOP tournament you won. How did it go?
Up to the final table, the tournament was nothing special. I slowly and gradually built my stack and I made it to the second day with an average one. When I reached heads up, I was 3-1 short. I proposed my opponent to make a deal, but he refused.
I took some chips from him and I made him a second offer, but he decided to turn it down once again. I then won even more chips, offered him another deal, and he refused it a third time.
Were you offended by your opponent's reaction to your deal offers?
Yes, I felt a little offended, but only for the first 20 minutes. Then I got over it. Honestly speaking, "ROUNDSKY" is a much better player than me.
Try to put yourself in his shoes — would have you accepted a deal with a 3-1 chip lead?
This is a difficult question. I don't know how significant this sum is for him. If there was no money pressure, I would have never accepted a deal.
How are you going to spend your first prize money?
Frankly speaking, I have no idea. One thing is sure though, I will cash out about 90% of it.
After such a good start, are you thinking about trying to take down another leader board after the MicroMillions one?
Oh, I am not just thinking about it, I will do my best to make it happen. Even now, while I am talking to you, I am playing the SCOOP-7 5-Card Draw event. By the way, I have just doubled up.
Thirty-five times in the money at the MicroMillions and a first place in a SCOOP event — what's the secret behind these positive results?
I would say that it is most likely a very long and remarkable hot streak, but I also think it definitely has something to do with karma. Let me tell you a true story.
A couple of days before the SCOOP event started, I went to a grocery store where a very old lady with weak and shaky legs asked me to buy her two honey cakes and kefir (fermented milk) as she had troubles to stand in line.
I bought her five honey cakes, milk, kefir, sour cream, some more stuff and I refused to take the money she wanted to give me. Two days later, I won the SCOOP event. You see? Here's the lesson to be learnt — do something good, and your hot streak will come!
What about once the SCOOP will be over, are you considering testing your skills with some live poker?
I had no plans about that, but after these last positive results things may actually change. I like to travel, and now I am considering to combine my next vacations with a not-too-expensive live poker event.
Get all the latest PokerNews updates on your social media outlets. Follow us on Twitter and find us on both Facebook and Google+!