BlogNews Weekly: Would You Play Poker Inside a Volcano?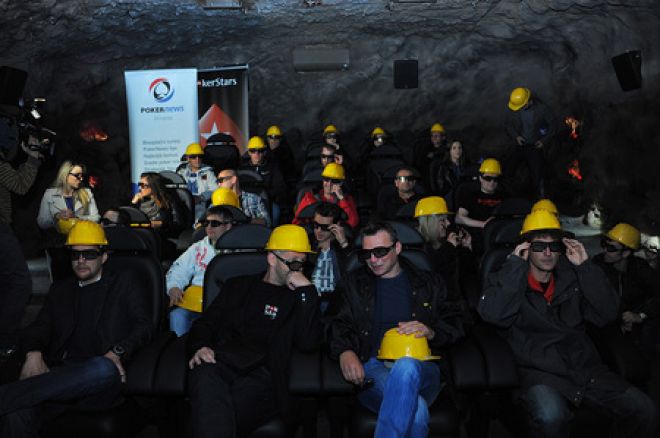 Each week, PokerNews brings you insight into the happenings at some of the major poker sites. Featuring the most popular blog posts, BlogNews Weekly is your one-stop shop for all your poker blog highlights.
In this week's BlogNews report, we bring you the highlights from PokerStars, Full Tilt Poker, and partypoker blogs from last week.
Poker in a Volcano?
Most of us like to play poker from the comfort of our own home or at a casino. But what about if someone offered you a chance to play poker ... in a volcano? What would you say?
When PokerStars puts its mind to do something nobody has ever done before, just about anything seems possible. And yes — its true — PokerStars organized a poker event inside a volcano! According to the PokerStars blog Poker in a Volcano, PokerStars Team Pro Luka "LukaSteel" Kovač joined a group of mostly amateur poker players at the Adventure Park Volcania in Goričko, Slovenia to play in a fun and exciting poker event.
This isn't the first time PokerStars has lead players to an exotic and unthinkable location to play the game we all know and love. In previous years, PokerStars has held events in igloos, a coal mine, and a ski jump hill all part of their "Extreme Challenge" adventures.
If you don't think a bad beat is possible in a volcano, think again. Kovač graciously exited the event when his pocket queens were cracked by ten-two off-suit by the lead singer of one of Slovenia's most popular bands, Tabu.
Head to the PokerStars blog to read more about what it is like to play poker in a volcano.
Download PokerStars through PokerNews.
Can you trash talk with the best of them?
Trash talking is part of what makes poker so much fun for many players. This is especially true for amateur players, and we have seen some of the most funny and witty trash talking take place in the Full Tilt Poker sponsored Oxford vs. Cambridge Varsity Event and the Oxford Cup.
Full Tilt Poker decided to have a bit of fun according to the Full Tilt Poker blog titled, "Eloquent Trash Talk Winners." In good spirit, they held a contest where three winners would each be awarded a $100 cash game ticket for the most eloquent trash talk.
Here are two of my personal favorites.
@FullTiltPoker #EloquentTrashTalk you must be the messiah with how well you run on the river
- Mychal Whittle @mychal_whittle
@FullTiltPoker #EloquentTrashTalk Have you considered a career in telesales? Because you seem to have a nack for making unnecessary calls
- Chris McFadyen @TheRealFadyen
Check out the Full Tilt Poker blog to read more of the hysterical trash talking quotes generated from this contest.
Download Full Tilt Poker through PokerNews.
Play in the partypoker presents the WPT500 at ARIA
If you plan to head to Las Vegas this summer or are already there, you should definitely consider checking out the partypoker presents the WPT500 at ARIA taking place from July 4 through July 9.
The reason you should consider playing this partypoker sponsored WPT event is quite simple. You can strike it rich without stretching the limits of your bankroll.
There is a guaranteed $1,000,000 on the line with a very affordable $500+$65 buy-in making this an event giving just about anyone in Las Vegas this summer a chance to add some zeroes to their bank accounts. This amazing event promises to award at least $200,000 to the lucky winner.
The tournament is so uniquely structured that you only need to play two days to get your hands on some life changing money. The WPT500 features five day one's taking place from July 4 until July 8. If on any day you make it to the top 5 percent of the field, you will play on Day 2 for the big bucks on July 9.
Head to the partypoker blog to find out more about the partypoker presents the WPT500 at ARIA.
Download partypoker through PokerNews.
*Lead photo courtesy of the PokerStars blog.
Get all the latest PokerNews updates on your social media outlets. Follow us on Twitter and like us on Facebook now!