Ask The Pros: Survival Tips for First-Time WSOP Main Event Players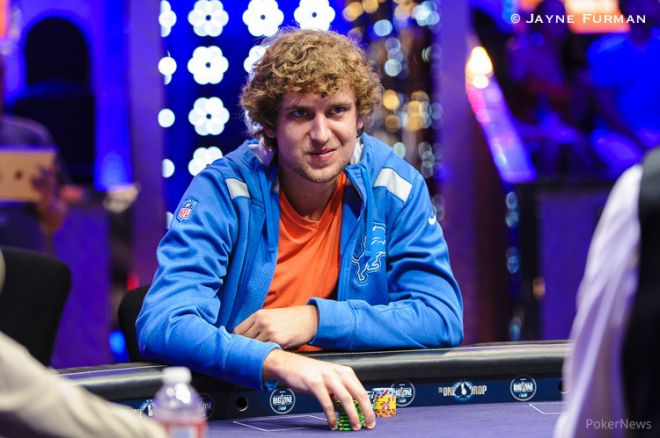 There will be hundreds of players arriving at the Rio All-Suite Hotel & Casino to play in the World Series of Poker Main Event for the very first time. The pilgrimage to Las Vegas for many has probably been planned for months and dreamed of for years. The level of excitement, nervousness and anticipation for these players is often likened to a kid opening presents on Christmas morning.
It is safe to say most people entering a $10,000 buy-in event will have the poker knowledge and skill to play the game. Playing in the Main Event, however, is different than the tournaments back home and some level of adjustment is probably expected and needed. Even though becoming a member of the November Nine and ultimately winning the Main Event is the most coveted prize in poker, for seven days it's a grind where you are surrounded by big name pros, television cameras and media from around the world.
We sought out the advice of players that can remember back to when they initially took to the felt and asked what advice they would give a player playing the Main Event for the very first time.
Be Prepared
"Come early, get registered and avoid waiting in lines or feeling rushed. Those are all things that throw people of their game," says Chamath Palihapitiya, founder and managing partner at The Social+Capital Partnership, former Vice President of Facebook and co-owner of the Golden State Warriors. He is a passionate poker player who primarily plays high-stakes cash games but is highly motivated to win a big tournament - especially this one. As someone who has demonstrated continued success in the business world and at the poker table, his advice should come as no surprise.
Palihapitiya talks about the importance of being prepared and settling in. He goes on to say, "It's really important to win that first pot early. When you get that first pot you calm down and are prepared to last because frankly, the challenge during the first three days of the Main Event is to just last."
Last year's chip leader going into the November Nine and eventual fifth-place finisher JC Tran adds to Palihapitiya's advice by saying, "Get some rest. Don't go out and party because it will catch up to you. The lure of Las Vegas can be very tempting, especially to those visiting for the first time. With 12-hour days, it won't take long before exhaustion sets in. You will be better off waiting until you reach the November Nine before heading out to catch the sights and celebrate. So make part of your preparation a good night's sleep."
Play in Your Comfort Zone
Fresh off his first WSOP win on Friday, Bryn Kenney recommends "playing in your own comfort zone, whatever that may be." Too many players come in thinking they have to make some fancy moves in order to be taken seriously. Kenney adds, "The Main Event has two-hour levels and plenty of chips, so you don't really need to push the action right off the bat."
While you should have plenty of time to get comfortable, your comfort zone better include some gamble — not the crazy all-in-shove kind of gamble, but the pick-your-spot-and-three-bet kind. Said Palihapitiya, "It's important to have some well-timed three- and four-bets in your arsenal. Pros will think they can outplay you on the flop, so it's important to establish the fact that you are willing to play back." The important thing to remember is that you have to be comfortable pulling the trigger. With one bracelet, 29 WSOP cashes and over $4 million in live tournament earnings, Eric Baldwin knows of what he speaks when he adds, "It's hard to get through 6,000-plus players while always having it."
Leave Your Ego Behind
Playing your best poker means making the best possible decisions based on the information you have. Everyone at times makes decisions based on emotions or happenings at the table but that rarely results in optimal play. Take it from Baldwin when he says, "You are going to run into a lot of egos and a lot of flashiness and it's easy to get caught up in all that. If you can ignore that and stay focused on the game and what's happening in terms of playing, it can help you avoid some tough spots.
"Realize that everyone at your table is playing the same game you are."
If you can keep those things in mind, it becomes easier to focus on the things that will help with your decision making. Things like betting patterns, how your opponents play in different positions and who thinks they have an advantage over you and others. Then use that information when making your decisions while leaving the emotions out of it.
It's All About Survival
The one thing you will hear over and over again is how long of a grind the Main Event is. It is seven playing days before the final nine is reached and even though you think you are prepared for it, you don't realize how long that really is until you are in the trenches. In a Google hangout with PokerNews' Sarah Grant and Eric Danis of the Global Poker Index, reigning Main Event champion Ryan Riess said it's all about surviving. "Bag chips and survive. You start with a lot of chips and with two-hour levels there's a lot of play."
One of Reiss' survival tips: "Don't fall in love with one pair. There are a lot of people that will fall in love with queens on a jack-high board and lose too many chips. So don't fall in love with one pair."
Survival is a common theme among the advice we heard from the players. In fact, Palihapitiya was specific in saying, "What happens in the ninth or tenth hour of the day is people get frustrated and tired, they come back from a big dinner and they go crazy. So be disciplined and pace yourself."
The most important thing of all is to remember to soak up the energy and the excitement. This might be your once-in-a- lifetime opportunity, you might be checking something off your bucket list or you might be playing the first in a long line of Main Events to come. Regardless, you will always remember the feeling you have when you take your seat for the very first time. Make sure and enjoy every minute of it.
Check out more of our great interviews in the video section. And be sure to follow us on Twitter and find us on Facebook and Google+!