Dough.com: Multiply Your Poker Winnings with Options Trading
dough.com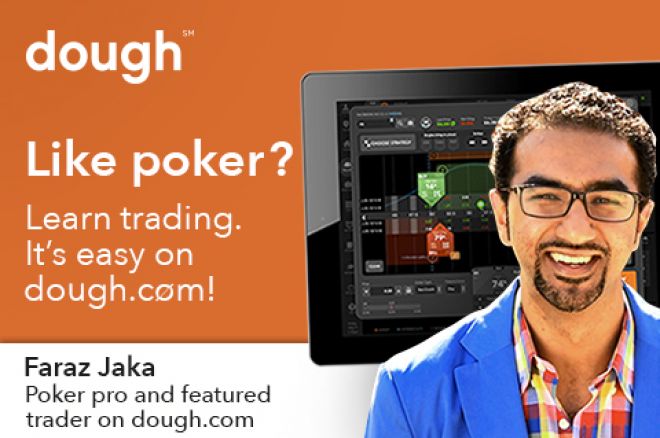 Poker is a game of strategy. Players take risks, rely on odds and analyze probabilities and variances to increase their winnings. In the poker world, players make calculated risks based on the limited amount of information they have.
The same principles and strategies apply to options trading. Options trading provides similar risk and returns, and utilizes the same strategies and principles that poker players need to be successful.
Are you ready to learn how to transition your poker skills to trading? dough.com is here to help.
dough is the perfect trading platform for poker players, whether you're experienced and ready to start trading, or still learning the basics.
Learn
dough is the first trading platform to make trading and investing visual, intuitive and mobile. In the doughjo, new traders can learn the basics of options trading, and understand trading terminology and strategies. With videos and quizzes, users can test their knowledge and learn at their own pace.
Watch
Similar to watching professional poker tournaments on TV, traders can learn from other professionals and see why and how they make specific trades. With featured traders of all levels – including professional poker player Faraz Jaka –users can receive an education in real-time and replicate trades.
Do
After learning the basics, users can make trades on dough's unique trade interface. Traders can visualize strategies through the drag-and-drop simplicity, and see the probability of loss on trades and overall portfolio. Users can also follow traders of all experience levels and see their trades real-time to get insight into trade strategies.
During the World Series of Poker, dough is running an "Invest in Your Summer" giveaway. To win $10,000, free iPad Minis, and more, enter before July 8 at www.dough.com/contest.
Ready to apply your poker skills to trading? Visit dough.com or download the app in the App Store.