Police Arrest Suspect in Bellagio Robbery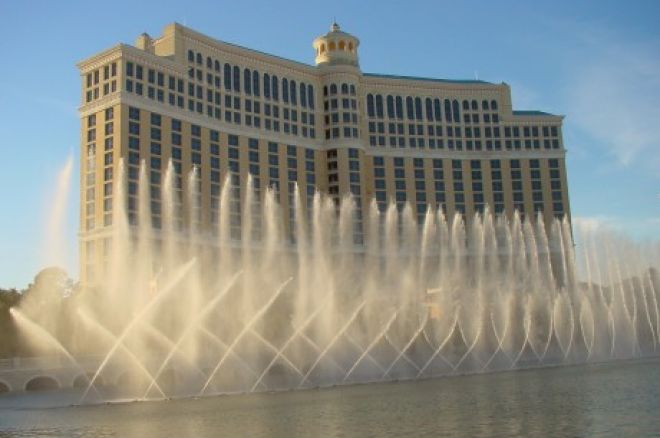 On Friday, July 25, an armed robber escaped with tens of thousands of dollars from the Bellagio cashier cage.
The gun-point robbery took place right when action was heating up in the casino at 8:30 p.m. PT. According to the Las Vegas Review-Journal, the brazen early-evening robbery was caught on videotape and authorities quickly identified Jesse Jones as a person of interest in the robbery.
The Las Vegas Metro Robbery department immediately released a description of Jones. He was easily identifiable in a crowd being described as about 6 feet, 2 inches tall, 215 pounds, bald head, and blue eyes. Perhaps the most stand-out feature is that Jones has a "WHITE PRIDE" tattoo across both his eyebrows.
Today, the police have arrested a suspect currently only identified as "John Doe." While we do not know the identity of the arrested suspect, we do know that Jones is no longer a person of interest in this case, according to information from police.
The exact amount stolen in this unusual casino robbery is unknown, although there is a range of what was stolen, since a Bellagio casino employee said the amount was about $50,000. Police, on the other hand, have estimated it to be of approximately $30,000.
Not the First Bellagio Robbery
While casino robberies are unusual due to the amount of cameras, security, and the unlikelihood of being able to cash out large-denomination chips, this isn't the first time in recent years that one has occurred at Bellagio.
Back in Feb. 2011, Anthony Carleo, son of former Las Vegas Municipal Judge George Assad, was arrested in a much larger robbery where approximately $1.5 million in casino chips were stolen.
According to the Las Vegas police, Carleo spent weeks on the run before being apprehended after trying to sell four stolen $25,000 chips for $7,000 to $10,000 each to an undercover officer over the course of multiple meetings.
While we don't know the reasons for the current robbery, we can speculate the reasons Carleo decided to rob the Bellagio in 2011. Carleo supposedly had his allowance cut from $1,000 a week to $600 a week which was not enough to support his drug addiction.
Stay tuned at PokerNews as more news develops in Friday night's Bellagio casino floor robbery.
Photo c/o sxc.hu.
Get all the latest PokerNews updates on your social media outlets. Follow us on Twitter and find us both Facebook and Google+!