2014 partypoker WPT Merit North Cyprus Classic Day 3: Buonanno Still On Top with 30 Left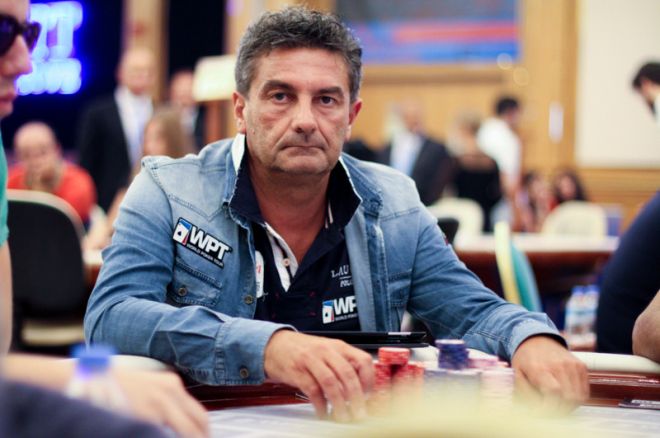 The 2014 partypoker World Poker Tour Merit North Cyprus Classic Main Event started its third day of play with 71 players. With the bubble at 45, there were sure to be a lot of disappointed faces early on.
Day 3 Top 10 Chip Counts
| Rank | Player | Chips |
| --- | --- | --- |
| 1 | Antonio Buonanno | 1,175,000 |
| 2 | Serdar Sağlam | 800,000 |
| 3 | Christian Christner | 721,000 |
| 4 | Alexander Lakhov | 641,000 |
| 5 | Oliver Price | 626,000 |
| 6 | Toby Lewis | 617,000 |
| 7 | Dmitry Gromov | 595,000 |
| 8 | Yuri Salikaev | 577,000 |
| 9 | Abbas Morady | 543,000 |
| 10 | [Removed:2] | 528,000 |
The big stacks came in guns blazing, busting shorties left and right. And not just the short stacks were at risk, as the bigger stacks didn't avoid each other, either. Start-of-day chip leader Antonio Buonanno had his first six-bet in within the first three hands. Christian Christner put in a five-bet to 67,000, but folded to the 131,500 his aggressive Italian neighbor made it.
Christner was clearly five-betting with not too big a hand, as he folded rather quickly, but some players put in chips voluntarily with premium holdings. Over at Table 1, there was a three-way all-in clash with aces versus queens versus jacks. The aces held up and Abbas Morady almost trippled up, busting one and crippling another.
Dmitry Kataev was one of the bigger stacks in the room early on, and in several updates we discussed his fearless play. Seated behind 40-high towers worth thousands, he looked like a fearless killer, ready for bubble action to increase his stack even more. Well, despite being one of the bigger stacks in the room, he departed before the money. Two hands with ace-king up against bigger hands was all it took for him to go from half a million to zero.
Another controversial moment was a hand Nikolay Vershinin was involved in. Following a raise to 10,000 from early position from Mario Perez, action folded to Morady in the hijack. Before Morady had made his decision, Vershinin had already shouted "All in!" Vershinin wasn't doing this intentional, so much was clear from his demeanor, but that didn't change the situation. This wasn't the first time, either — according to the floor staff, it had happened at least twice before this tournament.
The floor ruled that if Morady would raise, Vershinin would be able to either fold, call, or raise (all in perhaps) — whatever he wanted. Whatever happened, though, he would have to pay 10,000 for Perez's raise. However, if Morady would make the call or fold, the all in would stay and Vershinin had to commit all of his chips. This gave Morady the ultimate move if he had a really big hand, but in the end he decided to fold and leave the pot to Vershinin and Perez.
It was a controversial ruling, but in the end it didn't matter as Morady folded and left it to Vershinin (all in with the
) up against Perez (who called with the
). A king on the flop doubled Vershinin, but he would lose a bunch of those earned chips as he received a two-round penalty.
Toby Lewis gathered a lot of chips in the meantime by getting aces all in agains Ali Hassan's ace-king. By the time the chips were in the middle, Hassan had just one out left. Hassan had paired his king on the flop, but after the chips went in on the turn, Lewis had a flush draw accompanying his already-leading over pair. The river wasn't that one single card Hassan needed, and he left the tournament a couple of places before the bubble would burst.
One of the first hands after Vershinin came back from his penalty, he was all in. The amateur player from Russia open shoved a lot of big blinds with pocket nines, this time when it was his turn, and Ori Miller behind him made the call with ace-king. An ace and king on the flop resulted in Vershinin on the rail two spots before the money.
For an exciting minute, it looked like Sam Trickett was going to bubble the WPT North Cyprus. Alexander Lakhov had opened before the flop, and Sam Trickett had just flatted with the
. The
flop saw Lakhov bet 25,500, and Trickett just called again. The
fell on the turn and Lakhov pushed all in for a couple times the pot. Trickett had 209,000 left and made the call with his set of kings. When play was done at all the other tables, the cards opened. Trickett had a more than decent hand, but it needed to fill up as Lakhov had
for the nuts. The
fell on the river, pairing the board and doubling Trickett.
It wasn't Trickett to bubble, it was a different well known British player that would go home empty handed. Louis Salter, European Poker Tour Monte Carlo runner-up Jack Salter's brother, ran ace-king into aces and was drawing dead to a chop on the turn. Not even a chop would come, and Salter left in 46th place.
The remaining 45 players were guaranteed $8,500 from that moment on. Where in most tournaments action cools down a couple of places before the bubble, and heats up right after as all the shorties try to either double up or die, this WPT by the Mediterranean Sea was the other way around. Action leading up to, and on the bubble, was fast and furious, but things went in a slower pace from there. Sure, players busted, but not as fast as before the bubble remarkably.
Day 1b chip leader Albert Daher found himself short stacked and lost his last chips with seven-nine against ace-three. Day 1a chip leader Andrey Pateychuk departed not much later with ace-king suited all in before the flop against aces.
The last notable to bust was Trickett. He lost a big hand where he bet big on the river, but folded to the surprise shove from Yuri Salikaev. Trickett said he was sure Salikaeval had set of nines; "Show me a card that's not a nine!" he said with a smile. Salikaeval didn't, or maybe couldn't. Trickett lost the remainder of his stack not much later with king-queen all in against fan-favorite Lakhov's ace-jack suited.
Trickett would be the last elimination of the day. Not that the organization waited for Trickett to bust to call it a day, he just so happened to get eliminated in one of the last hands of the fifth 90-minute level.
In one of the breaks before Trickett's bust out, Royal Flush Girls Violet Dillion and Tugba Ercan talked to him and Toby Lewis about their WPT Cyprus experience:
Thirty players remain, and those 30 will return tomorrow for Day 4. Antonio Buonanno leads with 1,175,000 in chips, with blinds at 5,000/10,000 with a 1,000 ante when players return. The plan for Day 4 is to play down to a final table of six. It could very well become a very long day, and PokerNews will be there to supply you with all the updates and photos you can ask for. See you at 1 p.m. local time!
Get all the latest PokerNews updates on your social media outlets. Follow us on Twitter and find us on both Facebook and Google+!