From Circuit Grinder to Main Event Champ: Scott Davies' Journey to Poker Stardom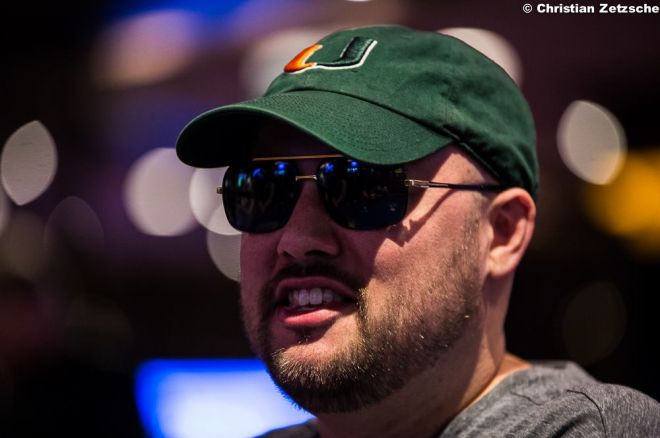 You can't really blame anyone who might mistake Scott Davies for 2012 World Series of Poker champ Greg Merson. Underneath his University of Miami hat and dark sunglasses, Davies bears a physical resemblance to Merson, and both players cut their teeth playing online before winning a WSOP Main Event.
Davies has been a poker pro since 2010, but the most he'd ever made in a year was $70,330. That changed back in October when Davies, who put in is dues playing low buy-in tournaments, was thrust into the poker spotlight after winning the WSOP Asia-Pacific Main Event for $737,907, which helped push him over a million dollars in winnings for 2014.
Originally from Mine Hill, New Jersey, Davies, the eldest of four children, was into track and cross-country throughout high school. He thrived at it too, so much so that he continued to run when he attended the University of Miami. He earned a cross-country varsity letter as a walk-on his freshman year, though a knee injury would soon hamper his running aspirations.
It was also at the U of M that Davies met the girl who would later become his wife. The year was 1999 and her name was Liezl. After four years of dating the two were engaged, and then another two years passed before they tied the knot in Hawaii.
"I'm really lucky to have her because she is so understanding and supportive," Davies says with a smile. "I really wish she could have been there when I won the bracelet, because this accomplishment is as much hers as it is mine. Without her support I don't think I could have followed through on my dream."
Not only did Davies find a future wife in the college dorms, he also found poker. It was there that he played in a regular dealer's choice game.
"At the end of the night everybody that was stuck would start doing flips trying to get unstuck. It was great fun but I was definitely a huge fish in the game," Davies admits. "It continued on as a hobby for me throughout law school where I really started to try and improve into a winning player. I was doing ok, but horrible bankroll management would always do me in. I'd run up small deposits online only to then start playing way above my head and bust the roll. I still always considered it a hobby though and it was a very critical outlet for me through law school, which was easily the toughest three years of my life."
After a knee injury put an end to his college running days, Davies finished up his undergrad before going for his law degree at UC Davis. Upon graduation, he moved back to Miami, passed the bar, and found a job as an aviation attorney.
"I was set to make really good money, but I was also set to work absurd hours," Davies reflects. "One of my best friends from high school came down to stay with me in for a long weekend and I was so busy with work that I only saw him for dinner once, and he was staying at my place. It was pretty depressing actually, and I got a glimpse into what my life would be like and just didn't like what I saw."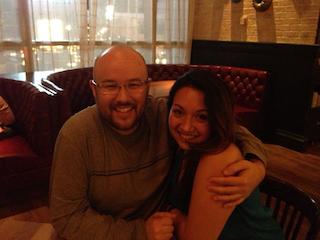 Five weeks later Davies quit his position, and while in between jobs he kept himself occupied with poker. That included ordering 27 poker books online and reading one a day while lounging on the beach. Not a bad life. Before long Davies' game improved, and soon thereafter it was time to have a talk with his wife.
"One evening I sat my wife down on the couch and gave her the sales pitch that would change our lives. I talked about the WSOP, ESPN, how I would work hard, manage my money well, and maybe we'd have a shot at living the dream," Davies explains. "I had a law degree to fall back on and we had no kids. It was now or never. Sure we could live a nice comfortable normal life, but why not take a shot, why not go for it while we are young? I had grand visions of winning bracelets, traveling the world, and living life on our own terms. Poker was the way I told her, this is our shot to live an extraordinary life. I didn't honestly think she'd go for it, but guess what? She did."
After his wife found employment in Vegas, the couple made the move out west. Davies began by grinding the $1/$2 and $2/$5 no-limit hold'em games, but soon moved on to heads-up SNGs online. He was regularly beating $100 buy-ins, but then Black Friday hit in 2011 and turned his world upside down.
"I'll never forget where I was that day. I was playing a $350 WSOP Circuit event at Caesars Palace in Las Vegas," Davies says. "Word was spreading like wildfire through the poker room and everyone was totally freaking out. I started playing crazy because I wanted to bust out and get home to figure stuff out. In trying to punt my stack I wound up running it up to a huge number and instead found myself as the chip leader. I wound up finishing in fifth place for my largest score at the time, and this kind of opened a new chapter in my life. With online poker gone, I refocused my efforts on playing live multi-table tournaments."
Davies threw himself into MTTs and soon spent a year following the WSOP Circuit trying to qualify for the National Championship, which he ultimately did. Davis traveled to San Diego, Atlantic City, St. Louis, Omaha, Philadelphia, Tunica, and New Orleans in search of a gold ring, and while he failed to reach that goal, he did set a WSOP Circuit record for the most cashes in a single season with 18.
Missing his wife, Davies gave up his life as a circuit grinder and returned to Vegas. As he tried to get back into the Sin City swing of things, his wife was offered a job in Vancouver, Canada. Davies was excited for the move not only because it was a great opportunity for Liezl, but because it also meant he could return to online poker.
"During this time my game underwent a complete metamorphosis," says Davies. "I had to work so hard to get myself up to the level where I could beat mid/high stakes and I was up for the challenge. I started studying hard, watching training videos, and reviewing my sessions in an effort to improve as a player."
Davies focused his efforts on online tournaments, heads-up SNGs, and pot-limit Omaha cash, and it wasn't long before his was winning again. In fact, he was doing so well in heads-up SNGs that he set his sights on the $10,000 Heads-Up Championship at the WSOP. He tried to win his way in via $550 satellites in both 2012 and 2013, but despite making the finals both years he came up short.
"In both years, I was all in, with the chip lead, with the best hand, with one card to come," Davies says with disgust. "And in both years, I got rivered for the seat. I had fully intended to play the seat if I won, so it was super painful not to get in."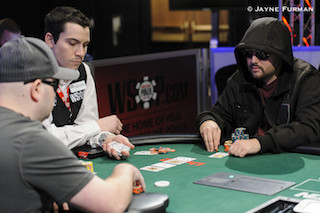 In 2014, Davies opted to forgo the satellite and bought in directly. It proved a fruitful decision as he went on to finish fourth for $111,942, which was the largest score of his career.
"That was an important event for me because I've always taken a lot of pride in my heads up game, so to be able to take a shot at the $10k heads up and run through the field all the way to the semifinals in my first try felt pretty remarkable," say Davies, who eventually fell in a set-over-set cooler. "It was tough not to get my shot at the bracelet, but at the same time I walked out feeling like I proved to myself and perhaps others in the poker community that I was really turning the corner in my career."
With some cash in his pocket, Davies opted to pursue another passion of his – travel. The goal was to circumnavigate the world, compiling life experiences while playing the occasional poker tournament. Thus far in 2014 his journey has included stops at faraway lands such as Nepal, Qatar, Vanuatu, and Australia. It was at the "land down under" in October that Davies turned his attention to bracelet hunting at the WSOP APAC.
The series featured 10 bracelet events, but aside from a 12th-place finish in the AU$1,650 Pot-Limit Omaha event, things weren't going according to plan for Davies.
"Leading up to the main, I decided to take a few days off entirely from the Crown and enjoy Melbourne," Davies explains. "Had a great time exploring the city, had some nice meals, and played a little bit of online poker. By the time the Main Event rolled around, I was in a great place mentally."
The WSOP APAC Main Event attracted 329 players and created a prize pool of $2,712,896. Davies caught fire on Day 2, which included a memorable orbit at his table where he won every pot, and bagged one of the bigger stacks in the room. Two days later, Davies found himself at the final table, albeit as the short stack.
"I wasn't desperately short though as I had around 15 big blinds," Davies remembers. "At that point I made the decision that I was willing to go out in ninth. I didn't want to give up on a chance to go for the bracelet to ladder up as winning this tournament was far too important. This was a WSOP Main Event, would be shown live on ESPN, and the payout structure was very top heavy, so I decided to go for it."
Sure enough, Davies began three-betting more frequently and then doubled when his
held up against
. He then doubled again holding
against the
of Frank Kassela, and soon found himself holding the chip lead with seven players remaining. From there, he plowed through the competition until he was heads up against Jack Salter, who was previously highlighted in the PokerNews feature Worth His Salt.
The two were extremely deep-stacked, and given their experience everyone was settling in for a long night. It seemed only a cooler would end things, and that's just what happened in Level 26 (25,000/50,000/5,000) on Hand #85 of the final table.
Salter opened for 105,000 and then called when Davies three-bet to 300,000. When the flop came down
, Davies bet 175,000, Salter called, and the
peeled off on the turn.
Davies bet what appeared to be 330,000, Salter raised to 930,000, and Davies took a moment before three-betting to 1.8 million. Salter thought for nearly two minutes before announcing that he was all in and Davies snap-called.
Salter:

Davies:
Salter had flopped trip tens, but Davies had flopped sixes full. Both players were on their feet with Davies' arm slung over Salter's shoulder. They watched together as the dealer burned one last time and put out the
. Salter missed and finished as runner-up for $448,714, while Davies took home the $737,907 first-place prize and more importantly the gold bracelet.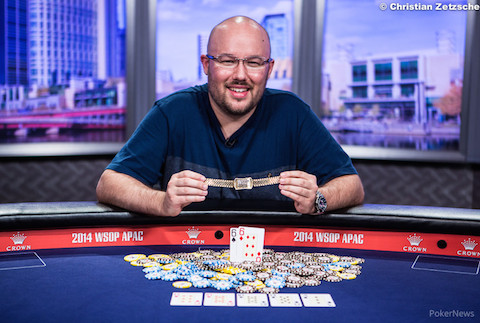 "Absolutely, completely, unequivocally amazing. A dream come true," Davies says when asked what the bracelet meant to him. "To have it broadcast back home live on ESPN made it that much more special. I can't believe how many people that I know stayed up all night watching poker on TV for the very first time. The outpouring of support that I've received has been unbelievable. I've worked really hard to get to this point, and winning something like this just makes it all worth it. For the rest of my life, I'll be a WSOP bracelet winner. That's pretty cool."
After the win Davies took his local supporters out to Nobu, and set some money aside for what he calls a "good wife gift," which always come after a big score. Past gifts have included jewelry, a trip to Qatar and Italy, and even a Mercedes, but for his WSOP APAC win he had something a little more special in mind – a second honeymoon to celebrate their 10th wedding anniversary. He also plans to put some of the money to good use by paying off his six-figure student loan debt.
Poker isn't an easy game, but Davies' victory serves as inspiration for the tens of thousands of grinders around the world. He showed that it is possible for someone to work their way up from $300 buy-in tournaments to $10,000 championships — all it takes is a dream, a good work ethic, and of course a little bit of luck. Clearly Davies had all three in Australia, but he hopes to keep the ball rolling by taking a few more shots including a return trip to the Crown for the 2015 Aussie Millions and then taking aim at a second bracelet at the WSOP.
"I think I'm playing at the highest level of my career," Davies concludes. "But there is still so much I can do to continue improving. I intend to do just that."
*Various photos courtesy of Scott Davies.
Get all the latest PokerNews updates on your social media outlets. Follow us on Twitter and find us on both Facebook and Google+!