2015 European Poker Tour Deauville: Where To Stay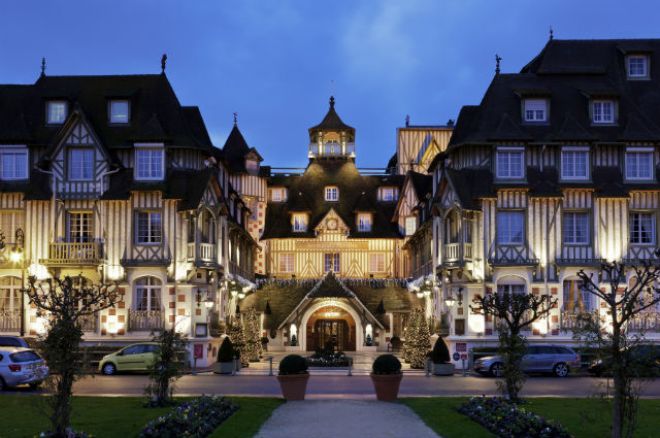 After a great break in the Caribbean for the PokerStars Caribbean Adventure (PCA), PokerStars is about to bring the European Poker Tour (EPT) back to Europe for a new and exciting appointment in Deauville, France.
If you plan to join the action or you simply want to see for yourself how one of France's most exclusive gambling destinations looks like - here you have some useful tips about where to stay in Deauville during the EPT.
The Normandy Barrière
If you are looking for an accommodation in Deauville and you do not need to be too careful with your money, you should then have a look at the five-star Normandy Barrière (in the photo).
Located only a few hundred meters from the Casino Barriere, this luxury hotel will give you the opportunity to enjoy services like an indoor swimming pool, a Spa and a a fitness center.
If you decide to book your room via PokerStars, you can get rooms for rates going from a minimum of €229/night (for a single room) to a maximum of €339/ night (for a deluxe double room with Ocean view.).
Built in 1912, the Normandy Barriére is also home to the French restaurant La Belle Epoque, to a whiskey bar with 123 varieties of whiskeys and has also been used as the set for Hercules Poirot's movie Murder on the Links.
For more information about the hotel and the services offered, you can visit the hotel's official website.
Hotel du Golf Barrière
If you prefer something more quiet but as luxurious as the Normandy, you can opt for another Barrière run hotel - the Hotel du Golf.
Located a few kilometres from the casino (players can move using a free shuttle bus) and right on a 18-hole golf course, Deauville's Hotel du Golf is a top class establishment that gives you the opportunity to combine your poker experience with a nice, relaxing time off Deauville's beaten bath. The rates available on PokerStars move from €149/night for a single room to €169 / night for a double or twin room.
Some more valid alternatives
If you are not planning to use the EPT in Deauville as an excuse to taste the life of an high-roller or of one of the wealthy Parisian businessmen that flock to the city during the weekend, you have some other interesting alternatives.
The three-star Almoria Deauville is only 250-meter far from the tournament's venue (and Deauville's beach) and offers you rooms starting from €100 a night. Ranked as the fourth best hotel in town by TripAdvisor, this no-frill accommodation is all about location and easy atmosphere.
PokerStars' EPT Travel gives you access also to discounted rates at other hotels as the Mercure Deauville Centre (from €92/night), the Inter-Continental (from €81/night) and to the two-star Hotel Elios - probably the best choice for those who do not want to be swamped by Deauville's unfriendly prices.
Last-minute offers on AirBnB
If you are looking for something more personal than a hotel room, or you simply want to share your accommodation in Deauville with a group of friends, AirBnB offers you some pretty interesting deals.
Among the places still available there is a central studio for two (€69/night - without Internet connection), a 52 Sq. meters flat located only 500 meters from he casino with access to a heated swimming pool, a sauna and a jacuzzi (€128/night - no WiFi) and a charming house in the centre with private garden that can accommodate up to eight people for a total of €286 a night - WiFi connection included.
To those who really want to spoil themselves and experience something truly unique, AirBnB offers a 700 sq. feet apartment for four people located in a castle built in 1907 by the architect Marcel Madeline for the Baron O. Bouwens Van Der Boijen.
Image courtesy of LaTourdeMerville.com
Get all the latest PokerNews updates on your social media outlets. Follow us on Twitter and find us on both Facebook and Google+!