Inside Gaming: Nevada Sportsbooks Readying for Action on Super Bowl XLIX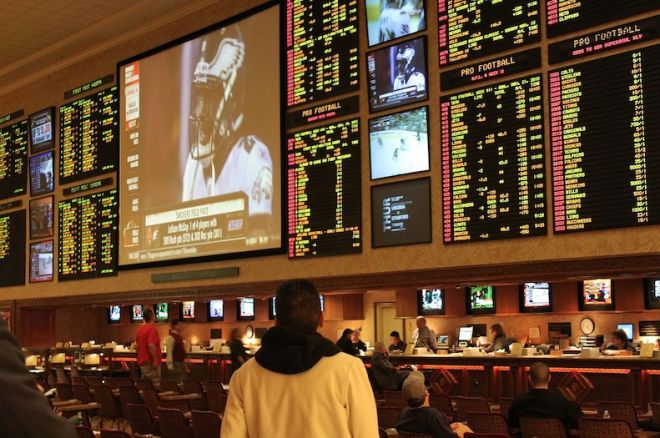 It's that time of year again — Super Bowl Sunday is just two days away, a day greatly anticipated by the gaming industry. And for good reason.
A year ago sportsbooks in Nevada drew $119.4 million in bets on Super Bowl XLVIII in which the Seattle Seahawks crushed the Denver Broncos 43-8, including bets on the game itself as well as the many prop bets and opportunities for in-game wagering available. That broke the previous record from two years ago when $98.9 million was wagered in Nevada on Super Bowl XLVII when the Baltimore Ravens edged the San Francisco 49ers 34-31.
Last year's Super Bowl also represented a memorable day in terms of the profits realized by Nevada sportsbooks. As Matt Youmans reported for the Las Vegas Review-Journal last year, "the state's 183 books held $19.67 million, a win percentage of 16.5." It was the biggest Super Bowl winning percentage for Nevada sportsbooks since the 17.0% realized in 2005.
Heavy betting on the favored Broncos translated to those big gains by the books a year ago. In order to get a better idea about betting on this weekend's Super Bowl XLIX between the Seattle Seahawks and New England Patriots, I spoke with PokerNews columnist and Global Poker Index American Poker Awards nominee Rich Ryan to get his thoughts about the game.
Currently the line in most places is either a pick'em or New England is a one-point favorite, but early on Seattle was a favorite. What happened there?
It is actually very similar to what we saw last year. A year ago the Seahawks opened as 2.5-point favorites and then the money started pouring in on Denver and the line moved all of the way to Denver being a 2.5 favorite — a 5-point shift. That seemed remarkable, but when you break it down any number that's less than three is somewhat insignficant because statistically speaking very few games end with 1- or 2-point margins.
The same thing happened this year — the Seahawks opened as a favorite, money came in on the Patriots, and it's kind of stopped right now.
Explain a little further what causes a line to move.
The line moves in response both to volume and to who is betting. If a lot of public money is coming in, the sportsbooks probably won't want to move the line unless they want to even out the bets, but if a sharp bettor comes in and bets one way, it can influence the line. They also have to be wary, though, of people betting early in order to move the line to buy it back — somebody could come in and bet a lot on the Pats because they want Seattle to be a dog, then later come in huge on the 'Hawks money line and get good odds to win. Of course it takes a lot of money and influence to do that.
I will say, though, with this line... when I wrote Pigskin Diaries I often consulted a site called Football Outsiders who do their best to quantify every single play in the NFL. Their database goes back to 1989, and according to their numbers this is the closest Super Bowl ever. They say there's just a 1% skill-level difference between New England and Seattle, which makes a line of pick'em or close to it appropriate.
What effect is there on betting when teams are essentially even and there's not really any significant spread to consider?
What is interesting to me — as someone who is planning to wager on the game — I think the late money is going to come in on New England. The public generally doesn't bet on the Super Bowl the day after the conference championships. Usually they wait and listen to a couple of weeks' worth of opinions and speculation, then on Friday or Saturday they'll make their one bet of the year on the Super Bowl and sweat the game on Sunday. So the Pats might push a half-point or point here before kickoff, though they won't get up to as much as a field goal.
To answer the question, the public traditionally loves to bet favorites — as in a field goal or more — and overs. But a -1 or pick'em game presents something different. For casual bettors it actually presents an opportunity for them, because most of them don't ever think about sporting events in terms of lines. Rather they just think "I want this team to win" or "I want that team to win." So a pick'em game might be more inviting to them. It's possible the "handle" — or the amount bet on the Super Bowl — could increase again this year, which would be crazy.
You mentioned all the speculation and talk during the two-week lead-up to the Super Bowl. How do you think the betting public is responding to (or will respond to) all of the "Deflategate" talk, stories about Marshawn Lynch's press conferences, and the other side stories?
People are influenced by narrative. It's how many of us think about teams and how they might perform. We don't just think about what they've done on the field, but we try to create some kind of narrative or context in which to understand them and help us predict what they are going to do.
In this case, for the New England "truthers" and those who were already upset about Spygate [another controversy involving the Patriots from 2007], this latest story with the deflated footballs is only going to make them want to bet Seattle even more. Which is funny because a year ago with the whole Richard Sherman thing, Seattle was made out to be the bad guys going into the game which helped cause more money to be bet on Denver. This year both teams could be considered "villains" depending on your point of view, so I don't know how it's going to go.
So who have you got — Seattle or New England?
I like the 'Hawks. As I mentioned I'm going to wait until the absolute last minute hoping there's a little more money put on New England so the money line for Seattle might perhaps get a little juicier. But I just think what Seattle does defensively is so effective. They don't change their scheme — it doesn't matter who they play — they just go out and do what they do, and it just puts opponents in precarious situations. They are just in your face constantly and don't allow teams to complete passes against them and move the ball.
Finally, the Super Bowl is always great for a huge variety of prop bets. What are some of your favorite props this year?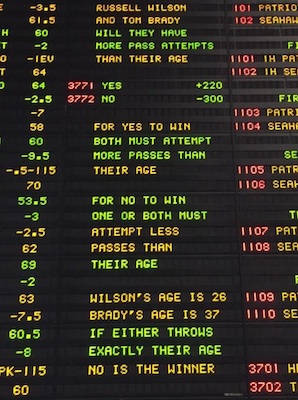 There's a podcast I like called Behind the Bets hosted by Chad Millman who is Editor-in-Chief of ESPN the Magazine and ESPN.com. Each week he talks with Bob Scucci who directs the sports book for Boyd Gaming Corp.. Every year they have people submit Super Bowl props and they will actually select one and put it on the board. That is, as long as it complies with Nevada Gaming Commission and relates to something that can actually be measured on the field — unlike those unregulated books that can take bets on all sorts of crazy things like what color the Gatorade that gets dumped on the winning coach will be and the like.
This year the one they accepted was a good one, I thought: Will Russell Wilson and Tom Brady have as many pass completions as their combined age? Brady is 37 and Wilson 26, so the line is 63. (Photo of the board at right via Millian's Twitter.)
As I mentioned before, people love to bet overs, which means there is often some value in betting unders with these props. I think betting the under, say, on how many passes Rob Gronkowski catches, or how many yards receiving Gronk has, could be a good one. Or on whether [Pats WR] Julian Edelman scores a touchdown, betting "No" rather than "Yes," you might get a favorable line and get some value.
And everybody knows the biggest lock in the Super Bowl is betting the over on how long it takes for the National Anthem to be sung. Bet the over — lock it up!
Photo: "Las Vegas sportsbook," Baishampayan Ghos. Creative Commons Attribution ShareAlike 2.0 Generic.
Get all the latest PokerNews updates on your social media outlets. Follow us on Twitter and find us on both Facebook and Google+!