Ronaldo on Poker in Brazil: "It Can Become Like Football"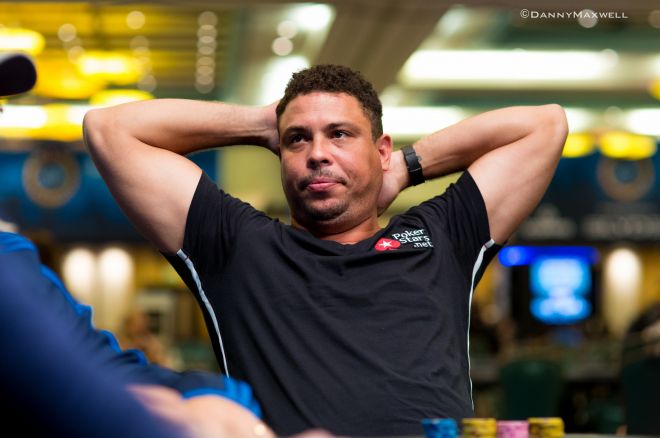 When PokerStars signed Brazil's football legend Ronaldo as a member of its SportStar Team, many people were sure the two-time FIFA World Cup champion was nothing but a big face to be used as a branding opportunity.
Known as O Fenomeno (The Phenomenon) during his football career, Ronaldo has been to European football what Chris Moneymaker has been to online poker, at least for the supporters of the teams he played for.
During the years he spent playing for top football teams like Barcelona, Inter Milan, Real Madrid and AC Milan, Ronaldo managed to warm the hearts of his supporters like no other - helping them (and the whole industry) to celebrate victories and growth.
Yet, football is football and poker is poker, and it surely takes more than an excellent football player to make a difference in the game of poker.
Poker is about complicated calculations, multi-level thinking, strategy and deception. Football is about colorful boots, shorts and balls to be kicked. Poker is all about psychology and math, while football is more about being able to run faster than the others and kick a round and bouncy ball.
For how true that may be, those who thought that Ronaldo did not stand a chance to get anything out of poker forgot that the two sports do have something in common that only real champions excel at: dedication.
For the young and fast Ronaldo Luis Nazario da Lima it took years of hard work and dedication before we was recognized as 'Ronaldo' or 'O Fenomeno.' And now, as he puts the same hard work and dedication into his new adventure, the 38-year old former striker from Rio de Janeiro is finally starting to get a name also in the poker world.
After he was sent to the kitchen of the Hippodrome Casino in London after a game lost to Spanish tennis legend and fellow member of PokerStars' Team SportStars Rafa Nadal, Ronaldo did what he does best: continued to work hard and play as much poker as he could.
"I always look for challenges," Ronaldo told PokerNews' own Remko Rinkema in an interview from the Bahamas, where he showed up to play the 2015 PokerStars Caribbean Adventure (PCA). "I never stop," he continued.
"I love this game and I will continue to play poker," Ronaldo explained to PokerNews. According to the three-time FIFA World Player, the energy and dedication he has put to become a better poker player are finally giving some positive results, as he is sure to have improved since the time he started this adventure.
"I have improved a lot, this is sure," Ronaldo said. He also explained that, although he is becoming a more and more familiar face at some of the world's top live poker events, he is also seriously engaged in some online action.
"I love to play online. Every time I have nothing to do, I go to my computer and play online poker," said Ronaldo, who believes he has improved "a lot."
However, for how engaged he may be in the online games at PokerStars, Ronaldo confessed that the room's Sunday's calendar may not be enough for him to forget about his past on the football field. When asked about what does he miss the most about his previous career, he mentioned the thrill of his Sunday's football games.
The 2015 PCA as a turning point
Ronaldo's improvements in poker became a lot more than just words said in front of a camera during the 2015 PCA Main Event, where he not only survived Day 1, but he also closed with an honorable 26th place finish for $42,000.
"It's amazing to be here and it's amazing to play poker in a place like this one," Ronaldo told PokerNews before he was sent to the rail by countryman Eugenio Mattar, Brazil's 26th richest man according to Forbes.
"I have started to play poker when I was at Inter Milan back in 1999," he went on. "We used to play when we were in a hotel, waiting for a game to start. Since then, I have never stopped."
The good run at the PCA, however, is not going to let him lose focus and make him forget how much he still needs to do before he can consider himself a professional poker player.
"I would love to play at the World Series of Poker (WSOP), to be there and to see how it is - but the WSOP is too much for me. What is sure, however, is that I will play a lot of poker around the world during 2015."
According to Ronaldo, 2015 may be an important year for poker in Brazil. "Poker is still growing and I think it has the potential to become like football" in terms popularity.
Asked to comment on his former football career, Ronaldo mentioned the 2002 FIFA World Cup won by Brazil's national team in Japan and Korea as his best and most powerful memory. "It came after a very complicated injury, and that's why it's my best memory."
For news, updates, and more follow PokerNews on Twitter and Facebook.