Chess Prodigy Jeff Sarwer Says "Respect is What Makes You a Dangerous Player"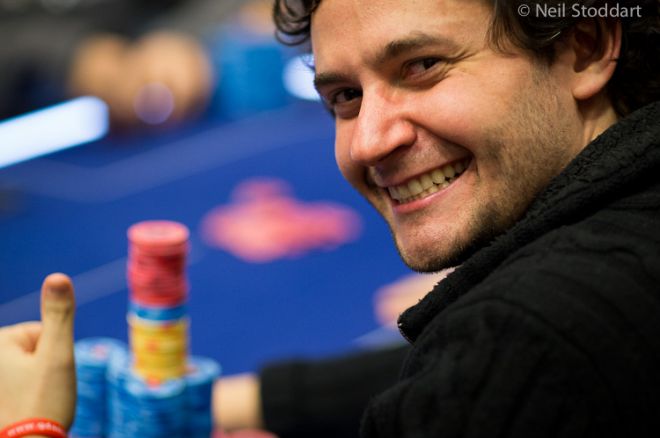 If there ever was ever someone who could personify the word "unconventional," this would be Jeff Sarwer.
Defined by Jonathan Aguiar as "probably the greatest mind to enter the tournament poker world in history," the 36-year-old former chess prodigy and poker pro from Ontario, Canada, has already put together a number of experiences and adventures that many won't happen to live in a full lifetime.
"To play poker for a living probably is the least alternative thing I have done in my life," Sarwer said. "In a way, the career I have in poker is my entry in the society."
A true star in the world of chess since the age of 10, Sarwer's childhood and teenage years were marked by a sister who made him discover the game, an abusive father who tried to keep him away from it, and years spent in a foster home and on the run. Since then, Sarwer has lived in Amsterdam, New York, Montreal, Ottawa, Gdansk, and where he is based now in Helsinki, and he has also managed to transition successfully from chess to poker.
Putting together results like a third-place finish at the European Poker Masters in Tallinn in 2009 for $37,589, a third-place finish at the European Poker Tour Villamoura in 2009 for €156,170, and a second-place finish at the EPT Berlin High Roller for €110,000 in 2010, Sarwer rapidly managed to convince everyone that he has the skills to make it in poker.
In Tallinn, Estonia, where Sarwer was to play at the King's of Tallinn event, he sat down with PokerNews to talk about how to become a better poker player, and to explain why he believes that curiosity, humility, and respect for the others are what separate the best players in the world from the rest.
PokerNews: Recently, Chessmaster Jennifer Shahade took home the title in the biggest open-face Chinese poker live event held to date during TonyBet's Poker World Championship in Prague. Before that, as soon as you started to play, you seemed to be able to crush the game as if you had years of experience. Is it me, or do good chess players have an edge in poker?
Sarwer: I think there is something else that needs to be mentioned here, something that goes beyond some specific skills — especially as you mentioned the Shahade family. Jennifer's brother is a very talented chess and poker player as well, and her dad is also a Chessmaster.
I don't know Jennifer's dad very well, but I know that both her and her brother grew up in an environment where games were taken very seriously, and that is something that can help you even more than many skills. If you grow up with such things at a very young age, you feel it in your blood — and that can make a difference.
Speaking about games and about the way people deal with them, you have lived in a number of countries and continents already. How different is the way people think about poker in Canada and the European countries you have been in?
If we were to compare how things are in Canada and Poland, for example, I would probably say that Poland is a little bit behind right now. Things are changing everywhere now that people have access to the Internet and forums, but I have to say that many people seem to think still that poker is just a form of gambling. Most people are still unaware that poker is a game mainly of skill.
This change, however, is a double-edged sword. You see, the more the people think that poker is gambling, the easier the fields are going to be. Similarly, the more the people realize that poker is a game of skill, then the tougher the game is going to become and the smaller the edge is going be.
What about you, then — do you classify poker and chess as games of skill or as sports?
I have always answered this question by saying that they are both mind sports, and I am not going to change my answer now. I don't think you can classify them in any other way — mind sports is the perfect classification.
They can't be considered to be only some "games." Just think about all the games that there are out there. Tic-tac-toe is a game — is poker the same as tic-tac-toe? Can you really put poker, chess, and tic-tac-toe in the same basket? There's a group of games that are true mind sports, and chess and poker are a part of this group.
Your story says that you got into poker because you got curious about the game and that as soon as you hit the felt you started to put together some good results. How do you keep up with the game? Do you simply rely on your natural skills, or do you keep yourself busy studying?
Oh, no. There's no much improvisation there. I spent a lot of time trying to become a better player, and this has been possible especially thanks to the help of other very good players. I have spent a lot of time watching them play and trying to listen to their advice as best as I could. I have been around some great players during many of their poker sessions, and later I filtered out what I decided to keep and what not to keep.
Somehow, I tend to relate my poker studies to homeschooling. By learning alone, you learn to be a free thinker and to question everybody, no matter how much their authority is. You learn that you can appreciate and respect everyone, but you don't idolize much. At the same time, I also do that with myself, as I am very hard on myself all the time.
Tell me more about your relationship with poker. You started to play because you were curious about the game, but that was over five years ago. What keeps you at the poker table?
Well, I am still curious! In a way, I just want to see other hands. There's still so much to learn about poker, it is a never-ending process.
In a way, this works for anything else in life, too. We only live 70 to 100 years, and that's not much time to master anything. Do you know any scientist or any doctor who says that they have learned everything about their field?
Your evolution in chess was influenced by the presence of a legend of the game, Bruce Pandolfini. Is there any figure in the poker industry that did for you what Pandolfini did in chess?
I have been extremely lucky to have someone like Bruce in my life; he is a great man and an even better mentor.
In regards to poker, I don't think it's much of a secret that many of the top Swedish players babied me for a few years, and I am talking about guys like Anton Wigg and Michael Tureniec. Every time I go to Stockholm, I have a lot of friends that are very good poker players and that I can learn from.
Over the years, I have been around these guys so many times, whether they played from home or a hotel room during an EPT event. Trust me, the opportunity to learn from good poker minds like theirs is priceless.
You often give the impression to be an extremely self-confident person. What about your relationship with competition, though? How competitive are you?
I am a very competitive person; there's nothing else I can say about that. But competition, for me, it's something that means more than just the desire to win. Let's use martial arts as an example, as I have noticed two very important things about people who are very good at martial arts that are also extremely true in poker.
The first one is the great respect they have for all their opponents. People who excel in martial arts have respect for everyone, and you should realize that once you have a lot of respect for the people you play against you become extremely dangerous because you are much more aware of their skills. If you truly respect all your opponents, you are not going to be caught because you do not take anything for granted. And, in competitions, this is absolutely essential.
The second thing that I want to mention is how in martial arts there is no such thing as "something too simple." Masters continuously practice basic beginner moves to try to execute them to perfection.
Some people will ask them why don't they do other fancy stuff, and that's because they don't realize that the fact that we are human leads us to make mistakes all the time, and it prevents us to get really perfect in anything. Trust me, in martial arts as in poker and life, humility — if it's genuine — goes a very long way.
What about your 2015 then? Do you already know what events will you play during the year?
Well, I have two small children now, and they are wonderful, but this means that I don't travel to tournaments like I used to.
I don't think I will make it to Las Vegas for the World Series of Poker this year. I think I may play at an EPT or two, but I haven't thought much about that. It's just talk right now. The EPT Malta sounds great, though. I have been there for the European Masters of Poker once, and I have liked the place. I am not sure I'll go, but I'd be happy to stay there for a little while. But I don't make all the decisions, anymore — now I have to discuss things at home with my advisor (laughs).
For more on Sarwer, his start in poker, and his life, check out the two-part Seat Open series with him below:
Get all the latest PokerNews updates on your social media outlets. Follow us on Twitter and like us on Facebook