2015 Global Poker Masters Day 1: Team USA Wins Playoff Round; Team UK Eliminated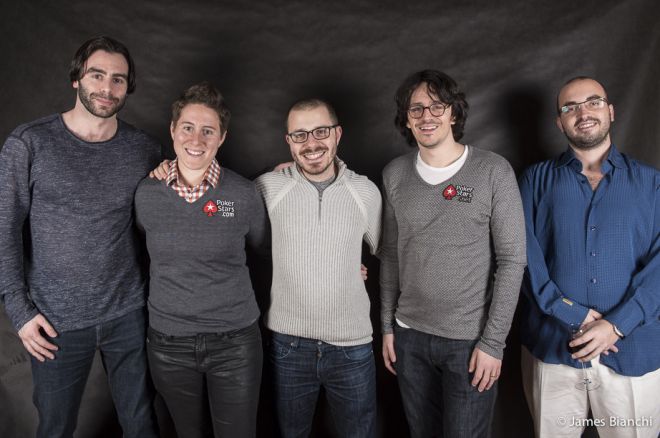 The day was long, the day was tough, but most of all the opening day of the first-ever Global Poker Masters World Cup was extremely exciting. When all was said and done, it was the stacked Team USA who locked up a bye into the semifinal while a very well-balanced Team UK was eliminated after finishing in eighth place.
Results After Playoff Round
| Place | Team | Points Earned |
| --- | --- | --- |
| 1 | Team USA | 68,000* |
| 2 | Team Germany | 67,000 |
| 3 | Team Italy | 62,000 |
| 4 | Team Russia | 60,000 |
| 5 | Team France | 52,000 |
| 6 | Team Ukraine | 50,000 |
| 7 | Team Canada | 43,000 |
| 8 | Team UK | 23,000** |
*Team USA has earned a bye to the final table.
**Team UK has been eliminated.
After the highly-anticipated GPM draw party on the night before the event, all players knew the task at hand. Five heats of five eight-handed matches were set to be played on the playoff day, and each and every one of them was filled with action and lots of pressure. During the first two heats, players were openly discussing the points system, but as the day went on the action grew more intense and those open discussions turned into private conversations amongst team members.
The top four in matches from every heat would score points in the following order: 9,000 for first, 5,000 for second, 2,000 for third, and 1,000 for fourth. During the first heat, it was Team Italy (20,000) who took a 1,000-point lead over Team Russia (19,000). Team Ukraine had an abysmal first heat with only Oleksandr Gnatenko managing to score the team points with one fourth-place finish. During the second heat, things started to shape up as Team Germany and Team USA climbed the ranks into first and third place.
Team Ukraine continued its struggle, as the team only added 2,000 points in the second heat. Fortunately for them, Team UK was not far ahead with 9,000 points after two heats. Team Italy, however, maintained a very strong position in second place, but that was mainly due to one man.
The unofficial MVP title went to Italy's Guiliano Bendinelli after his incredible performance for his team. He won his first two heats and narrowly missed out on winning the third. His pocket sixes were cracked by Ami Barer's ten-six on the final hand of the heat. He also scored with a fourth-place finish. To put his performance in to context, he outscored the entire UK team by 6,000 points.
The third heat was dominated by Team Canada, as both Barer and Andrew Chen managed to win their heats. Marc-Andre Ladouceur finished third in his, and all of a sudden Team Canada jumped into second place. Ukraine remained miserably at the bottom, but that would all change very soon.
Bendinelli has already been mentioned as the best individual performer, but best team performance went to the Ukraine. Of course the USA performance was amazing, but Team Ukraine achieved something special today. Written off as massive underdogs by bookmakers before the event, a lack of confidence in expectations may have overcome them early as they were at the bottom of league table after three heats. Everyone likes a comeback story, though, especially if it surrounds the underdogs. Ukraine scored a staggering 24,000 points in the fourth heat after four of the team's players scored points, including two wins and one second place.
Before the final heat, it became very clear that today wasn't the Team UK's day. Olivier Price did the best he could and scored 17,000 points, but the other team members were extremely unlucky. Sam Trickett (1,000) managed to lose every all in he was involved in, while Simon Deadman (1,000) and both Salter brothers — Louis (2,000) and Jack (2,000) — could not get anything going. During the final heat, Trickett was one of the first players to get knocked out, and Team UK finished ingloriously in eighth place.
Most of the glory of the first day went to Dan Smith, the clear winner of the hand of the day. The Team USA player was chip leader three-handed in his last heat, knowing a victory would take his team to position where they couldn't be overhauled by Germany or Italy. He was in the big blind and both opponents had moved all in blind before he looked at his hand. He peeked down and the players stood behind him erupted in laughter as they saw what he saw — he had woken up with pocket aces. He called, busted both opponents, won the heat, and confirmed the top spot for his country.
With that, the first day of the Global Poker Masters has come to a close. Team USA (68,000), Team Germany (67,000), Team Italy (62,000), Team Russia (60,000), Team France (52,000), Team Ukraine (50,000), and Team Canada (43,000) all successfully reached Day 2's quarterfinal round, which will start with teams in second through seventh places battling in a round of heads-up matches. Team USA will have a bye and has automatically advanced to the final table, which is the semifinal round. The team that finishes last during the heads-up round will be eliminated on join Team UK on the rail.
Action kicks off on Sunday at 12 p.m. local time, and you can follow all of the action on PokerNews.
Get all the latest PokerNews updates on your social media outlets. Follow us on Twitter and find us on both Facebook and Google+!