How to Play Daily Fantasy Baseball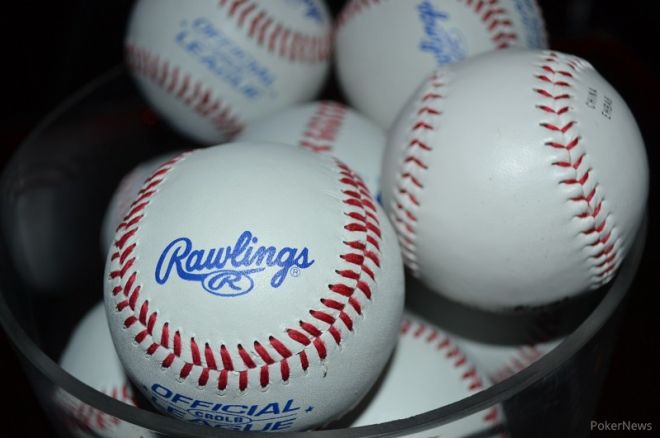 Birds chirping. Sun shining. The smell of fresh cut grass. All of the sounds, sights, and smells of spring have arrived, and with them comes America's pastime. Pitchers and catchers have long since reported, spring training is in full swing, and the MLB season is so close that the familiar rhythmic sound of 95-mile per hour heaters slamming into a catcher's glove over and over already rings faintly in my head. Jon Lester will wind up and hurl the first official pitch of the season on Sunday, April 5, which means it's high time to get our brains into daily fantasy baseball mode. The rest of the teams will be in action the next day, with Daily Fantasy Sports (DFS) sites rolling out some huge contests such as DraftKings' 500K Opening Day Slugfest, so we need to be ready.
Choosing a Game
Once you've moseyed on up to your browser's address bar and headed to your daily fantasy sports website of choice, your first decision will be what kind of game you want to play. Generally speaking, most DFS games fall under one of two categories.
The first type and the one most DFS ads trumpet is the guaranteed prize pool (GPP) massive field contest. These tournaments often have thousands, sometimes tens of thousands of entrants, and prize distribution is sometimes very heavily weighted towards first (it allows the sites to advertise things like "winning $10,000 for just a $3 entry!"). A poker equivalent would be a multi-table tournament on a major site pre-Black Friday. Similar to such poker tournaments, winning requires an insane amount of luck and a fair amount of skill, but you can earn substantial chunks of change for some moderate entry fees, such as the aforementioned Opening Day Slugfest, which will pay out $50,000 for just $20.
For those looking for a less risky option offering more readily-accessible prizes, there are the contests in which a set percentage of the field takes home a cut of the prize pool. For a poker player, think of these like sit-n-goes. They can range in size from a few thousand players down to just two, known as a head-to-head. Head-to-heads and "50/50s," both of which feature half of the contestants collecting payouts and half coming up empty-handed, are the most commonly played of these variants.
Plenty of varying stakes are available for players with any size bankroll. Even the dead broke among us can get in on the action; DraftKings offers daily freerolls in their MLB contests giving away tickets to "Step 1" tournaments. These tournaments allow a player to slowly build up through higher buy in "steps," starting at $2. Each step is a league (either 10 or six players), culminating in Step 4, which pays out $200 to the top two. DraftKings also has a number of tournaments for just a quarter that can get the micro grinder rolling. Each site also offers plenty of satellite-type tournaments that will be familiar to poker players as a means of getting into bigger buy-in events for a cost as low as $1 on FanDuel and 25 cents on DraftKings.
Use the sub-headers and filters on your DFS page to sift through the games and find what you're looking for.
Drafting a Team
Now that you've picked out your game of choice, it's time to get down to the nitty gritty (also the fun part): drafting your team.
Most DFS sites give you a set amount of salary with which to start. It's up to you to decide how to distribute that salary amongst the positions, which will vary slightly depending on which DFS site you are on. On FanDuel, for example, you may only select one pitcher, while DraftKings lets you choose two hurlers that you fancy for the day. Each limits you to one selection at each infield spot, so unlike other sports where you can double up on certain positions with flex and utility slots, you're going to have to be selective.
Another factor that must be taken into account when deciding which players to buy is your DFS site's scoring system. Baseball scoring varies wildly across the different DFS sites, keep that in mind before you send your friend a bragging text about your 45-point FanDuel lineup (one point for a single, four for a home run), as that would be a laughable score on DraftKings (three points for a single, 10 for a home run). Different skillsets can be rewarded more and less heavily on different sites, so be aware of that when attempting to evaluate the players. For example, both FanDuel and DraftKings award points for taking a base on balls, but FanDuel scores it the same as a single. Over on DraftKings, a walk is worth two-thirds of a single, so be less inclined to draft hitters who rely on a good eye at the dish. FanDuel and DraftDay, meanwhile, more heavily weights pitcher wins than other sites, so make sure your prospective hurler has a good offense backing him.
Things to Think About
Drafting a team can be a long, involved process that takes hours of poring over research and relevant articles, or it can be a 30-second process that's done in a few short clicks. It's all up to the user and what kind of experience he or she wants to get.
If you're looking to do a bit of due diligence before you draft your first team, here are some things to keep in mind before you start spending that fake dough.
Get Your Nose in a Book – A sportsbook, that is. Make sure you look over all of the Vegas lines for the games. If a team is -200, that's a huge line in baseball, so the starting pitcher should be a safe bet to grab the win and some key fantasy points. Along the same train of thought, looking over the totals should give you a good idea of how many runs will be scored. Anything over eight rates to be a barnburner, meaning you should load up on the bats and fade the pitchers. If it's seven or less, expect the guys on the mound to rack up the fantasy goods.
Venue Views – Always factor in where the game is being played, as different baseball stadiums encourage different styles of play. Maybe you love Brandon Moss' match-up against the opposing pitcher, but if the game is being played in Tampa Bay, you might want to rethink things. Moss gets much of his offensive value from his prodigious home run power, but Tropicana Field depresses home runs by about 20 percent compared to the average MLB park. A fly ball pitcher like Jered Weaver, meanwhile, is going to thrive in cavernous parks like that.
Pick the Right Side – Many baseball players have a wide gulf between how effective they are against left-handed and right-handed opposition. Some pitchers struggle to get opposite-handed batters out, so look for opportunities to grab opposing lefties if you such a right-handed pitcher scheduled to take the mound. Some managers won't let certain players start against same-handed pitchers (this is called a platoon), so look for specialists who are set to start and will likely come cheap.
Public Perception – If you're playing against a large field of opponents, it's important to think about which players they are likely to be buying. Has Mike Trout been on a tear and ripped off five homers in a 10-game stretch? You can bet his ownership (and price) will be sky-high, so look for an opportunity to fade him for an edge over the field if he has a poor game.
Lineup Moves – Sometimes, if a player is struggling or excelling, his manager will shuffle him up or down the lineup in an effort to maximize the offense. This can greatly affect fantasy value, as a move from the top of a good lineup to the bottom means a player is less likely to be driven in to score runs. By the same token, if a player gets hot for a stretch and gets swapped into the leadoff spot for a struggling teammate, expect a solid boost in runs.
Similar to poker, DFS is simple enough to grasp and play but has plenty of layers once you dive into it. The intricacies of the game will come as you gain experience, but have fun and draft a few teams in the process. Eventually, putting in the work will make a world of difference in being a winning player!
For daily lineups and stategy advice, be sure to visit FantasyWired.com.