How to Play Daily Fantasy Golf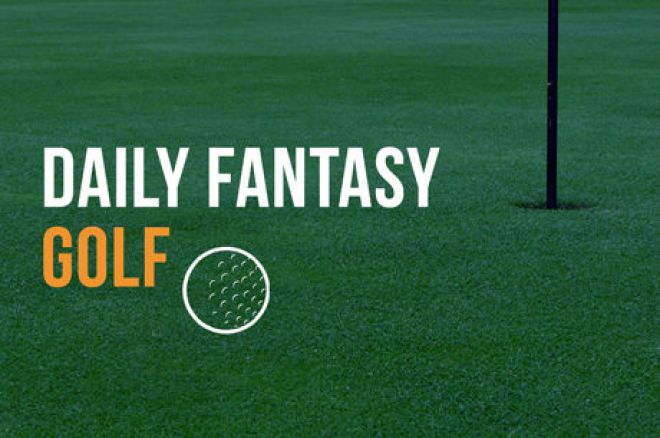 As Daily Fantasy Sports (DFS) continues to grow in popularity, the hosting sites continue to expand their offerings with a wider variety of sports and more varied contest options. We've gone over the basics on how to play football, basketball, and hockey DFS, but DraftKings rolled out an unprecedented $2.2 million guaranteed Millionaire Maker golf contest for The Masters, raising the interest in driving, chipping, and putting to new heights. If we're going to get in on the action, we need to learn the fundamentals.
Choosing a Game
Unlike other daily fantasy sports such as football and basketball, which are offered everywhere, golf DFS is still in its infancy. A plethora of major DFS sites still haven't debuted a fantasy golf format. DraftKings, DraftDay, and FantasyFeud are among those already offering the games, though others are sure to follow suit to catch their competitors. If your favorite site doesn't offer fantasy golf yet, make a deposit at one of the above sites so you can play. Once that's squared away, we have our first decision.
The first type and the one most DFS ads trumpet is the guaranteed prize pool (GPP) massive field contest. These tournaments often have thousands, sometimes tens of thousands of entrants, and prize distribution is sometimes very heavily weighted towards first, allowing you to have a huge return on a small investment. A poker equivalent would be a multi-table tournament on a major site pre-Black Friday. Similar to such poker tournaments, you will often have to top a massive field, such as the 125,900 players that the DraftKings Millionaire Maker is capped at. So, be ready for plenty of variance.
For those looking for a less risky option offering more readily-accessible prizes, there are the contests in which a set percentage of the field takes home a cut of the prize pool. For a poker player, think of these like sit-n-gos. They can range in size from a few thousand players down to just two, known as a head-to-head. Head-to-heads and "50/50s," both of which feature half of the contestants collecting payouts and half coming up empty-handed, are the most commonly played of these variants.
Plenty of varying stakes are available for players with any size bankroll. Those with lighter pockets or less confidence can start small. DraftKings offers fantasy golf freerolls giving away tickets to "Step 1" tournaments. These tournaments allow a player to slowly build up through higher buy in "steps," starting at $2. Each step is a league (either 10 or six players), culminating in Step 4, which pays out $200 to the top two. Both DraftDay and FantasyFeud offer GPPs as low as $1, and DraftKings runs satellites into their big contests all the time. You can qualify for the Millionaire Maker for as little as $0.25.
Use the sub-headers and filters on your DFS page to sift through the games and find what you're looking for.
Drafting a Team
Now that you've picked out your game of choice, it's time to get down to the nitty gritty (also the fun part): drafting your team.
Each DFS site gives you a set amount of salary with which to start. It's up to you to decide how to distribute that salary amongst the players. On DraftDay and DraftKings, you'll choose six golfers, while FantasyFeud lets you pick 10. Of course, Rory McIlroy and Adam Scott are always going to cost a large chunk of your salary, while you can snag someone like Geoff Ogilvy for a relative bargain. Do you want to load up on the heavy hitters and hope to find some diamonds in the rough in the bargain bin? Or do you want to balance your roster with solid golfers?
One thing to consider is your site's scoring system. Scoring can vary widely based on the site you're using, so be sure to pore over it because it can drastically affect player value. A huge inflection point in golf is whether or not a guy makes the cut, a scoring line (often at the halfway point) that varies from tournament to tournament depending on the overall scores of the field. Making the cut (having an equal or better score to the "cut line") means a golfer continues to play through the end of the tournament. Missing a cut (having a worse score than the cut line) means the golfer is done and can no longer score you any fantasy points, if you get any at all. For example, FantasyFeud uses a scoring system strictly based on finishing order, so players who don't make the cut represent a sunk cost and zero points.
Things to Think About
Drafting a team can be a long, involved process that takes hours of poring over research and relevant articles, or it can be a 30-second process that's done in a few short clicks. It's all up to the user and what kind of experience he or she wants to get.
If you're looking to do a bit of due diligence before you draft your first team, here are some things to keep in mind before you start spending that fake dough.
Hole-by-Hole? - Does your site award (and take away) points for every hole played or is scoring strictly based on finishing order? Golfers who are known as boom-or-bust guys are going to cost you huge in hole-by-hole scoring if they crap the proverbial bed, while guys who consistently make the cut will be able to continue accruing points even if they don't bank a high placement.
Public Perception - This isn't as much of a concern in the 50/50s where you only need to beat half of the field, but in a large-field contest with top-heavy payouts, you need beat almost everyone to hit it big, so you want a lineup that's not easily copied. Rory McIlroy is going to be widely owned, this is a given, so if you're dead set on playing him, you need to make sure you scour the margins for guys nobody else will be buying. The same goes for a top player coming off of an impressive win or hot stretch. Plan your contrarian plays accordingly.
What are the odds? - Perhaps the clearest indicator of how a golfer is likely to perform can be seen by scanning the odds for that player to win the tournament. These should theoretically be closer to accurate the nearer the event is to starting. Look over the odds for each golfer and compare them to their respective salaries, and a few plays should stand out right away. Be warned though, others will be doing the same, so this can also be a good way to figure out when others are zigging and you should zag. If a guy you like is paying 100-to-1 to win the tournament, you can be confident he'll be underowned, so make him a crucial part of your game plan.
Course and Player History – Golf courses are like baseball stadiums – different venues play to the strengths of different types of players, in contrast to sports like basketball and football where the playing field is static. Look at past winners of courses to see what types of golfers excel there (or just grab the past winners since you know they've had success). If players who blast the ball off the tee have typically claimed wins at this week's course, build around those guys. Likewise, before drafting a player, see how he has played at that course in the past and how sharp his game is. If he has missed some cuts recently, he may be out of form or nursing a minor injury, and a single missed cut could kill your lineup.
Like most things, you will get out of golf DFS what you put into. The game is still in its infancy, so everyone's still figuring things out. There are tons of resources available to help with stats, player histories, course histories, and betting odds movement. Many players will just give this stuff a cursory look, but putting in the work can make a world of difference in being a winning player.