Hard Work Pays for Dutch Player $teezy: "Don't Have To Be a Poker Genius To Make It"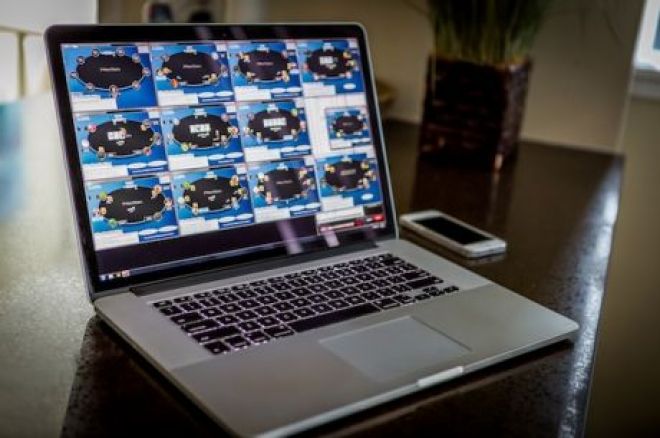 Poker interviews often focus mainly on the success stories. Occasionally, you will read an interview with a rich amateur player who just happens to like poker, but doesn't pay attention to bankroll management and statistics. In general, though, the attention goes to the men and women who have made it big time.
Most frequently you read stories of players who have built up a bankroll with freerolls and found their way to higher stakes, but for every talent that has a storied start from nothing, there are hundreds of players who struggle with much lower limits and don't succeed in climbing the ladder.
According to many players, the game of poker has become much more difficult, and it is very hard to quickly grind your way up. Dutch poker pro Floris van der Ven confirmed in an interview that the time that talented players quickly could reach the highest limits is over.
And it's true. Most of the players nowadays need to study hard and analyze the ins and outs of the game to be able to earn their money with poker. Where once it was enough to just play poker, nowadays many players work with heads-up displays (HUDs) to calculate situations, watch videos of respected players, pick the brains of fellow players, and browse through online forums looking for new insights. Then there are those few who enroll in an almost full-time program, where you have to do homework assignments, make videos with difficult situations that can be discussed with other players, analyze different hands on a forum, and spend at least two hours per week consulting a coach. One of those few people is Bas, a Dutch online player who lives in Malta and plays under the name "$teezy".
Recently, PokerNews Netherlands editor Frank Op de Woerd spoke with the 27-year-old player from Heino, Netherlands, to explore his mission to become a better poker player.
PokerNews: You live in Malta, but you didn't move there for the poker. Is this correct, and how did it all happen?
I was already playing poker for some time, but I went there during my studies. Every now and then I won something, but it didn't always go well. I never really had a lot of money, actually. I just played recreationally. As soon as I finished my studies, I had to go find a job. In the Netherlands, I found nothing that I really liked. My girlfriend is from Brazil and she couldn't find anything either because she doesn't speak Dutch. At one point, I heard about a company in Malta where they were looking for Dutch and Portuguese speakers.
We had an interview over Skype, and both of us were hired. We embarked on the adventure and just went there. It was nice that both of us were able to earn an income and could start working on our future.
That was a big step, could you elaborate more?
It was indeed. I come from the eastern part of the Netherlands, from a small village near Zwolle. This is certainly a very different life. But I am an adventurous person, so I'm enjoying it. Besides, Malta is not that far away. Within three hours you're back in the Netherlands, so it's not that bad.
You went to Malta as a translator, but now you are playing poker full time. How did that transition come about?
I actually always wanted to be my own boss. To earn my own money sounded like the ideal situation. I was living in Amsterdam for a few months before I went to Malta because I was looking for a job there. But after three months, I still didn't find a job, so in the end we decided to go on an adventure to Malta. During these three months in Amsterdam, I often visited Jonathan Rozema, a professional poker player whom I already knew, to see what it was like to play poker full time.
I've learned a lot from him. There was a world of difference between how I played poker and how Jonathan did it. I just randomly played tournaments without any strategy, but he was already very disciplined. He analyzed every move of every player and was really serious about the game.
When I went to Malta, I kept in touch with him and asked him what I should do to become a better player. He gave me many tips. Thanks to him, I started focusing more on cash games instead of tournaments. That didn't go too bad. So when that went well, I thought, "Why not give it a try?"
Last summer, I quit my job and decided to start playing poker full time for half a year. If it went well, I would continue, and if it didn't I would forget about my dream of becoming a full-time player. The first month it went really well. The second not so well. At one point, I got an email from Gordon Gekko, a coach whose video series I had already bought once on the site BestPokerCoaching.com. In that email, he told me he had a special program to improve players, and he explained me all kinds of things. I looked into it, and I decided it would be a good step for me to take.
What does the program look like? What does a typical day look like for you, for instance?
I get up at 12, and then I enter the forum of the program to analyze the different hands that other players have posted. Then I give my feedback. After that, I do what I need to do for the program.
If, for example, the day before I had an hour of coaching, I will make a summary of everything I learned during that session. Or if my coach gave me any homework, I will do my assignments. This week, for example, I had to do my equity exercises, but sometimes I also have to analyze something specific in my Hold'Em Manager database. I tape my screen on video, so my coach can see what I've done. Then, I play poker for a few hours. After that, I post some hands on the forum myself and after a break I play some more poker in the evening.
That's what I do for six days a week because that's how the program works. It's true that my social life and my poker life are a little bit unbalanced, but I think it's great. If you want to achieve something, you'll have to put in time and energy. It's just a really nice experience. I spend most hours of my day playing poker, that's true, but it is also my hobby so I really enjoy spending my day like that.
And you also have to contribute a part of your earnings, right?
You only need to contribute as soon as you make a profit, of course. But I'm prepared to do that, because if I get through this, my real poker life will take off. That's how I see it. And it really is a great program. I'm learning many things. It's not just about poker, but also about everything surrounding it. Now I'm having an interview with you, for example, only because my coach made me think about how I should present myself.
You did not want to work for a boss and therefore you started with poker. But if I hear you talking about it, it sounds very intensive. Now you are also accountable for what you're doing. How do you like that?
The first two months that I was playing full time, before I applied for the program, I noticed that there were still many things about my attitude that I needed to improve. For example, when I lost a few buy-ins in one day, it could happen that I didn't feel like playing anymore for three days in a row. Mentally, I was not that strong.
This program gives me real guidance; it's just my job and there are certain things I need to do. I like it very much, actually. I still do my own thing. I do this to improve myself. I only talk to my coach for two hours per week. The rest of the time I decide for myself how to do things.
What's the opinion of your girlfriend about all this, because I suppose she has different working hours?
Yes, that's right. We are very open about it, and she is very happy that I'm pursuing my dream. Therefore, she is very positive about it. She stands behind me and supports me in this.
How is the poker going since you started playing full time?
I started at 100NL and so far I've made a profit every month. I was somewhat disappointed in the beginning. If you play poker recreationally, every now and then for an hour or so, you think, "Wow, if I would continue like this I could earn a lot!" But in reality that turns out to be a little bit disappointing.
I already had 10 years of experience playing poker, but I also developed some bad habits. I had to change my old poker habits, because not all of them are useful when you start playing professionally. I am now in the fourth or fifth month of the program and it's starting to pay off. I am now looking at 200NL, so I'm moving in the right direction.
What games do you play?
I play six-max — not Zoom, but ordinary tables. I play mostly on PokerStars, but also on other websites.
And what about those videos? Especially the rap videos.
(Laughs) Like I said, for the program I have to put a video online every week. But I don't like to share my win rate or graph every time. It is not in my interest to put my results online. So I chose to do something else, something that I thought would be fun to watch.
In the past I used to rap sometimes, so I decided to make a couple of raps. There's no deeper motive, it just seemed more fun for others to watch. I'm pretty creative and I enjoy editing videos myself. My nickname "$teezy," which by the way is also is related to rap. It comes from the name of the Dutch rapper "Sticky Steez Opgezwolle." I used to be a fan of him, so when I had to choose a name when I started playing the game Soldier of Fortune, I chose "Steezy." I kept on using it when I started playing poker.
How much time do you have left before you finish the coaching program?
I hope to complete the coaching program within six months. By that time, my trial period of playing professional poker will be over. But I realize now that I can make it as a professional poker player, so I will continue playing. It really has become my calling.
I don't know how many people will read this article, but if people are not sure yet whether they want to play poker full time or not, or if they don't have the confidence yet to give it a try, this will show them that you don't have to be a poker genius to make it.
But listening to what you are telling us, you have to be disciplined, or at least be open to a disciplined approach. Are there other things that characterize you that help you in poker?
I am a fighter, and I'm very competitive. I think that helps. I always want to give the best of myself. I'm also very productive, I think. Furthermore, I am down to Earth, so I will not take things too seriously. And, I have a positive attitude.
Do you also play live poker? Have you been in the Portomaso Casino?
I've been there a few times, but that's something else. It does not feel as comfortable and familiar as playing tables online. If I have eight tables open online, there are also lot of dollars and Euros involved, but if I do the same thing live, somehow it is not as easy for me.
I don't keep in contact with other Dutch poker players in Malta. I only meet up sometimes with two guys that I know through my website, who also live in Malta.
Translation by: Niels Juist
Get all the latest PokerNews updates on your social media outlets. Follow us on Twitter and find us on both Facebook and Google+!