EPT Malta Champion Jean Montury: "The EPTs Are the Toughest Tournaments to Win"
Gregoire Huvelin

Giovanni Angioni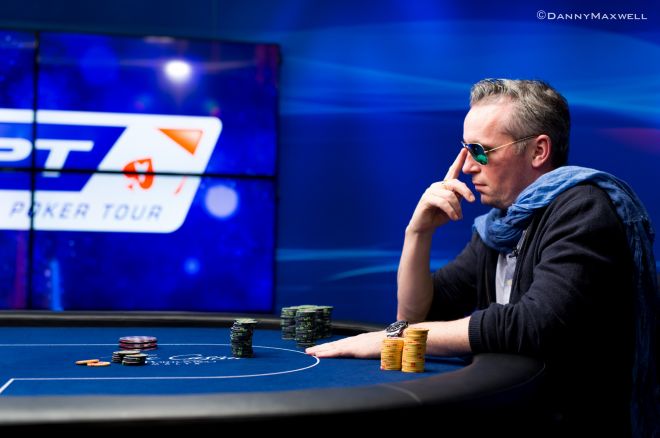 Last week, French golf course owner Jean Montury won the €5,300 Main Event of the first-ever European Poker Tour (EPT) in Malta. To earn the title, Montury had to defeat fellow countryman Valentin Messina.
Montoury's remarkable result at the Portomaso Casino in St. Julians allowed him to come back home with the honor of one of poker's most sought after trophies, a SLYDE watch, and a €687,400 top prize.
Back from his intense week in Malta, the fresh, new EPT champion met with PokerNews.fr's Gregoire Huvelin to talk about some of the most important moments in the tournament and share some of his future plans.
PokerNews: Less than a week ago, you took down the title at the first edition of the EPT Malta. Can you tell us a little about that, how did it feel?
Jean Montury: I am extremely happy about what happened in Malta. It gives me a great joy, but it also makes me very proud about what I did. I have been waiting for this moment for a long time. It's the result of a lot of work, and I like to think of it as the first of a number of successes to come.
Was the EPT Main Event victory the title that you hoped for in order to get your name in the spotlight of the poker world?
To win an EPT is always something very big. These are the tournaments with the toughest fields in the world, and therefore the most difficult to win. In the aftermath of that triumph, my ambition is to win another major title to consolidate my leadership in the French poker rankings and prove to the entire poker community that I haven't just been lucky — that Malta has not been just an episode.
You played a very tough final table, especially with the presence of Poland's Dominik Panka and Messina. Which player was the most difficult to play against, and how did you manage to handle them?
Panka, with his history, his coldness, and his aura, is an extraordinary player. But he was the short stack at the table and I had position on him. This helped me to keep him under control.
As for Valentin Messina, his big stack made him a very tough player to have there. During the final table, my strategy was to play as many pots as I could post flop, making sure that I would keep a solid and precise game.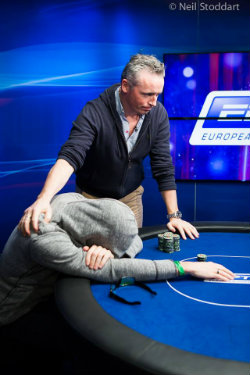 What's your relationship with Messina? We have all seen how you went to comfort him at the end of the final table
Valentin and I ended the Day 1 and 2 at the same table and then, somehow, we both kept running very well until the heads-up [match]. Besides some different views on the way I should have played a hand against Panka in the early stages of the final table, we have also continuously supported each other throughout the event.
If you ask me, I believe Messina is a great player who has an excellent technical analysis of the game. The beautiful picture taken by Neil Stoddart shows a very spontaneous moment that comes at the end of a five-hour heads-up [match].
During the EPT festival in Malta, you made three more final tables playing poker variants that are currently not allowed in France. What do you think about the restrictions imposed by the French poker legislation?
I have been playing different poker variants for a long time in private parties and when I travel to Vegas. My favorite variant is the seven-card stud hi-lo. Personally, I think it's very bad that France decided to ban these poker games.
What about your future in poker? Are you considering to become a professional player?
Obviously, my EPT win somehow pushes me to consider that possibility. Yet, above all, I would like to put together some more big results at the international level and consolidate my success.
An EPT main event win can also be a good chance to score a sponsorship contract. Would you be interested in that?
A sponsorship is something that every player would like to achieve, and I think I would make a great ambassador.
You came back from Malta more than €687,000 richer. How do you plan to invest your winnings? Are you going to invest them in your golf course?
Right now, I want to focus on playing more poker tournaments, and this goes hand-in-hand with a lot of expenses. Then, I have also some personal projects like the purchase of a new home.
To get onto something bigger, I will have to win something more. Like the World Series of Poker Main Event, for example.
We noticed that you have the Wynn Las Vegas & Encore Resort tattooed on your right arm. Why did you do that? Do you at least get a free accommodation for the advertising?
No, I have never asked for anything, but I like your idea, especially as that's where I always stay when I go to Las Vegas for the WSOP. In all seriousness, that tattoo is something very personal. I love the typography and it also has a very particular meaning for me.
Before you got into poker, you have been the leader of France's team in pool. What did you learn from that game?
To play at the highest level in any discipline, it is essential to have the right will and concentration. As a leader of France's pool team, I won two world championships, and that gave me a great confidence in my skills. It also helped me to learn how to adapt to different situations.
You know, when you play at the highest level, it is not enough to believe that you can make it, you also need to understand what's going on, analyze the weaknesses of your opponents, and make sure your game progresses steadily.
Speaking from your experience, are there any similarities between poker and pool?
I think in both games it is essential to have a clear mind and your life well sorted out, as these are two important preconditions to be able to focus and be efficient at the table.
How did you start to play poker?
My relationship with card games started many years ago. I began to play with my grandmother and I always liked that. As for poker, I discovered Texas hold'em in Las Vegas back in 1995 and I have been playing at live events for quite some years now.
Things in France are not great for the game. What's your opinion on the situation of poker in your country?
I am really sad about France losing the EPT, and I am also sad to see Barriere losing such an important event. I think that the group has the competences and the experience to deserve to organize important international poker competition.
What is your program for the coming months?
I will play the World Poker Tour events in Montenegro and Venice, and then I will also head back to France for the Barriere Poker Tour in Deauville. After that, it will be time for some international must-play events such as the EPT Grand Final in Monaco and the WSOP in Las Vegas.
Get all the latest PokerNews updates on your social media outlets. Follow us on Twitter and find us both Facebook and Google+!