Five Thoughts: RAWA Hearing, Global Poker Masters, Urbanovich, and More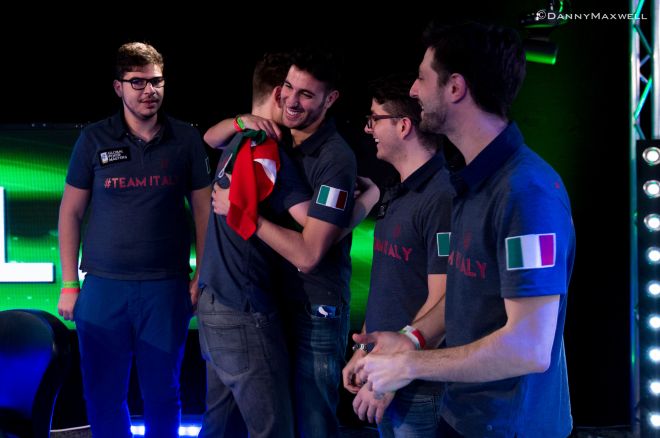 Wednesday's hearing on Capitol Hill regarding the Restoration of America's Wire Act (RAWA) was amusing. Not "Look at that Sheldon Adelson-Led Train Wreck, We're Definitely Going to Win" amusing, rather "Do These People Realize What They're Saying and Does Anyone Actually Take them Serious?" amusing.
The scary part is that, yes, people do take Jason Chaffetz (R-Utah) seriously.
Chaffetz, the lead sponsor on the bill, takes himself so seriously that he bounced before the proceedings ended. I'm sure he will catch up on the final testimonies when the minutes are released, or one of his staffers will brief him. I'm also certain that everything sensible will fly right over his head, or simply fall upon forcibly deaf ears.
Five professors, directors, and attorneys offered their testimony on RAWA. One of them compared online gambling to crack cocaine, one of them favors the prohibition of state-sponsored gambling, one of them wrongly associated the three regulated markets in America with offshore operators, and two of them gave thoughtful, sensible testimonies.
Let's dive right in.
1. RAWA Hearing
It's hard to remain unbiased when watching someone who is sworn under oath recite Dr. Seuss rhymes without any reputable data to support their argument.
"Click your phone, lose your home. Click your mouse, lose your house."
That's pathetic.
Professor John Kindt is someone with the power to influence a bill that could result in millions of dollars and thousands of jobs gained or lost in this country, and he is sitting on the Hill making green eggs and ham. Even more puke-worthy, Kindt also busted out the tried and true "crack cocaine" analogy a bit later, comparing the accessibility of the Internet to the chemical powers of baking soda and an open flame.
He also made some insane Vladimir Putin reference, praising the Russian Czar President for his anti-online gambling stance.
Les Bernal, the national director of Step Predatory Gambling, is against all forms of gambling. His testimony focused on the negative economic effects that are associated with state-sponsored brick-and-mortar operations, claiming that no one actually wants to be able to gamble.
"Citizens are not clamoring for these extreme forms of gambling," Bernal said. "States, in partnership with commercial gambling operators, are forcing these gambling games onto the public. If not the federal government, who will step in to protect the rights of individuals, your constituents, against these practices by an active, predatory state?"
Apparently this dude has never read TwoPlusTwo. There are countless individuals who want to bet online. Look at the explosion of daily fantasy sports in this country, and the popularity of offshore, unregulated gaming sites. Americans want to gamble with their expendable income.
U.S. Assistant Attorney Michael Fagan questioned the power of technology, saying, "Realistically, no police force or regulatory body will be big enough, skilled enough, or funded enough."
I wonder what David Rebuck, Director of the New Jersey Divison of Gaming Enforcement, thinks about this. Is it safe to say that Fagan still uses Map Quest in order to traverse the streets of America? Hell, let's be honest, who can trust GPS? Realistically, no computer or satellite is accurate enough, skilled enough, or funded enough.
Chaffetz echoed Fagan's fears before abruptly leaving, calling Nevada's advanced firewalls "fictitious borders."
"It is fiction for anyone to believe they can virtually create these borders," said Chaffetz.
That kind of statement makes me think that if you transported Chaffetz to any previous century he would always land on the wrong side of history.
Insert Family Guy montage of Chaffetz saying, among other things, "It is fiction for anyone to believe that the world is round."
Parry Aftab, Executive Director of WiredSafety, and Andrew Moylan, Executive Director of the R Street Institute served as the voices of reason. Aftab actually acknowledged that there are three regulated states in America, and that their "fictitious borders" were actually working. Likewise, she informed the committee that each state's regulatory body was effectively protecting underage citizens with the use of government-issued identification like social security.
"With the exception of a handful of incidents which were quickly addressed, all stakeholders are safer and minors are being locked out of online gambling sites," said Aftab.
Boom. Goes. The. Dynamite.
Finally, someone with actual data from actual operators in the U.S.
Moylan, while not necessarily pro-online gaming, is in favor of states' rights. He testified that RAWA has no right to restrict these states' rights to legalize and regulate, as long as they are doing so safely and effectively. Remember, this is a bit of a double-edged sword because the same 10th Amendment argument can and will be used against the federal legalization of online gaming.
While frustrating and a bit scary, the hearing gave me hope. Neither Aftab nor Moylan have a lot riding on the line with RAWA — they aren't operators looking to prosper economically — yet they were the only two people called to the stand that offered relevant data. That makes me think there are more smart, thoughtful individuals out there that will see the merits of allowing states to regulate their own online gaming.
Going further, maybe they will even see that regulating a market that is already being abused by unregulated operators, thus protecting consumers while generating untapped tax revenues, is a good idea.
2. Italy Wins the Global Poker Masters
Team Italy won the inaugural Global Poker Masters, aka poker's "World Cup," this week, thanks to Mustapha Kanit, Rocco Palumbo, Dario Sammartino, Andrea Dato, and Giuliano Bendinelli. Bendinelli, the MVP of the competition, joined the PokerNews Podcast to talk about his victory:
"A dream come true," Bendinelli says. "It's the best day of my life."
Italy defeated Team Russia in the finals, sweeping the first three heads-up matches decided. Italy entered the finals with a big advantage over their Russian opponents, and according to Bendinelli there was no doubt about their impending victory.
"To be honest, before the final, I was so confident. I think 95 percent of the time we win," Bendinelli said.
Team USA held a commanding chip lead in the semifinals, but hit a bit of a rocky patch during the six-handed sit-n-go. In the end, Dan Smith five-bet shoved with pocket sevens against a four-bet from Sammartino, who held pocket aces. The aces held up, and the Italians were off to the finals with a massive chip lead.
| Place | Country |
| --- | --- |
| 1 | Team Italy |
| 2 | Team Russia |
| 3 | Team US |
| 4 | Team Germany |
| 5 | Team Canada |
| 6 | Team Ukraine |
| 7 | Team France |
| 8 | Team UK |
While not perfect, and at times very confusing to watch, the Global Poker Masters did something that I haven''t seen in many of these country-driven poker events. The players really cared. Even the teams that didn't prepare seemed to get really serious once the cards were finally in the air, and although there was no buy-in, the spewing was very limited.
In previous team or country-driven events, the spewiness was a bit laughable. To be fair, many of them were made-for-TV events where being entertaining was valued more than winning. If you aren't committing any money and can't win anything for succeeding, you might as well put on a show to help build your own brand.
The first quick fix I would make is the structure of the playoffs. Eliminate the time limit. There is a way to design a tournament structure so that it will finish at a desired time (plus or minutes a level or two). Yes, this will make these turbo sit-n-gos, but there is a certain skill set needed to succeed at turbo sit-n-gos. Ending the heats and then assigning points based upon chip counts seemed a bit sloppy, and was a departure from what tournament poker is all about; winning every chip on the table.
Also, by making the rules simpler there will be less confusion for the viewer. We all know how to assign points by finish.
I'm excited to see how Alex Dreyfus and his team improve the GPM for 2016, and to see if Bendinelli and his countrymen can defend their title.
3. Urbanovich Owns Malta
Speaking of Dan Smith, remember when he won three €5,000 buy-in tournaments at the EPT 8 Grand Final? He topped fields of 101, 175, and 98 to win nearly $700,000. For kicks and giggles, he nearly won a $5,000 bracelet a few months later at the WSOP, finishing third for $368,943.
Smith's performance in Monaco was one for the ages, but what Dzmitry Urbanovich just did at EPT 11 Malta is utterly absurd.
Prior to the festival, the Polish native only had $261,675 in career live tournament earnings. In Event #5, the €25,500 buy-in high roller, he defeated a field of 88 entries to take down his first career EPT trophy and $605,929. En route to the victory, he outlasted an extremely tough final table:
| Place | Name | Country | Payout |
| --- | --- | --- | --- |
| 1 | Dzmitry Urbanovich | Poland | €572,300 |
| 2 | Connor Drinan | USA | €397,800 |
| 3 | Daniel Dvoress | Canada | €263,000 |
| 4 | Nick Petrangelo | USA | €205,900 |
| 5 | Dani Stern | USA | €166,000 |
| 6 | Piotr Franczak | Poland | €129,400 |
| 7 | Sam Greenwood | Canada | €102,400 |
| 8 | Martin Finger | Germany | €79,800 |
Urbanovich followed up his massive win with an eight-place finish in a midnight hyper turbo, then reached four final tables in the next five days, winning three more events.
In total, Urbanovich cashed for a combined $776,457 at EPT Malta, bringing his career live tournament earnings to more than $1 million.
| Event | Field Size | Finish | Prize |
| --- | --- | --- | --- |
| €25,500 EPT High Roller | 88 | 1st | $605,929 |
| €550 Midnight Hyperturbo | 183 | 8th | $2,580 |
| €1,100 Deepstack Turbo — Big Ante | 156 | 1st | $38,077 |
| €5,200 Turbo | 62 | 1st | $118,991 |
| €1,100 Stud Championships | 27 | 2nd | $28,647 |
| €220 Crazy Pineapple — Turbo | 56 | 1st | $3,573 |
Prior to Urbanovich, no player had ever won four events in a single EPT festival. Of note, there were more events at EPT Malta (69) than any previous EPT festival. That doesn't make Urbanovich's feat less impressive, rather it may make it less replicable moving forward.
4. DPeters Keeping the Dream Alive
If you haven't been tracking, I'm not off to a hot start with my 10 Poker Predictions for 2015. I foolishly doubted Phil Ivey, I allowed my optimism to predict massive fields all around the globe, and I was blinded by patriotism when predicting the results of the Global Poker Masters.
We are on pace for 64 millionaires in 2015, however, and the WSOP hasn't even started. We can add nine more to that total since the entire Main Event final table will receive seven figures, so let's make it 73. Oh, and don't forget the $500,000 buy-in event at Aria this summer. That will surely add to the total as well. We may even eclipse 100.
David Peters is also keeping one of the predictions alive - he's our million (and-a-half)-dollar baby in 2015. For too long Peters has gone deep without running good when it counts, and finally he binked a big one in Malta.
Peters topped a field of 304 entries to win the €10,000 High Roller and, more importantly, $653,552. Add that to his only other cash in 2015 ($2,200 for an event at the PCA), and we're up to $655,752. The American is 43.7 percent of the way home, and on pace (ridiculous and insignificant extrapolation, I know) for more than $2.6 million.
| Place | Name | Country | Payout |
| --- | --- | --- | --- |
| 1 | David Peters | United States | €597,000 |
| 2 | Ivan Luca | Argentina | €397,000 |
| 3 | Viacheslav Goryachev | Russia | €290,500 |
| 4 | Artem Metalidi | Ukraine | €234,500 |
| 5 | Charles Carrel | United Kingdom | €183,800 |
| 6 | Nick Petrangelo | United States | €139,000 |
| 7 | Igor Yaroshevskyy | Ukraine | €102,000 |
| 8 | Sylvain Loosli | France | €75,000 |
| 9 | Nicola D'Anselmo | Italy | €62,200 |
Peters was due. He's played so well for so many years, and with this win he nearly doubled his previous largest score of $355,093. In his winner's interview with Sarah Grant, Peters, who is very quiet during play, was beaming from ear to ear.
Let's go, DPeters!
5. Devilfish Fights On
Dave "Devilfish" Ulliott, known for his singing, blunt honesty, and bedazzled wardrobe, is reportedly fighting a battle against cancer.
According to PokerNews, sources close to Ulliott say he is in a good spirit and fights his new battle from the comfort of his home.
Although he's a bit of a controversial figure, Ulliott's sickness has only been met with support from the community, especially from poker professionals, players, and fans in the UK. Vicky Coren-Mitchell took to Twitter to say:
One of the most blazing, funny, unforgettable characters in poker, @devilfish2011, is unwell. I wish you love and strength, my friend.

— Victoria Coren M. (@VictoriaCoren)
It feels like we're hearing bad news each week regarding the health of someone we care about in the poker industry, but it's refreshing to see the community band together to show love and support in tough times. Best of luck to you, Mr. Ulliott, in your battle against cancer. You're in our thoughts across the pond.
Get all the latest PokerNews updates on your social media outlets. Follow us on Twitter and find us on both Facebook and Google+!