Maria Ho to Host 2nd Annual Chad Brown Memorial Poker Tournament on Thursday, July 2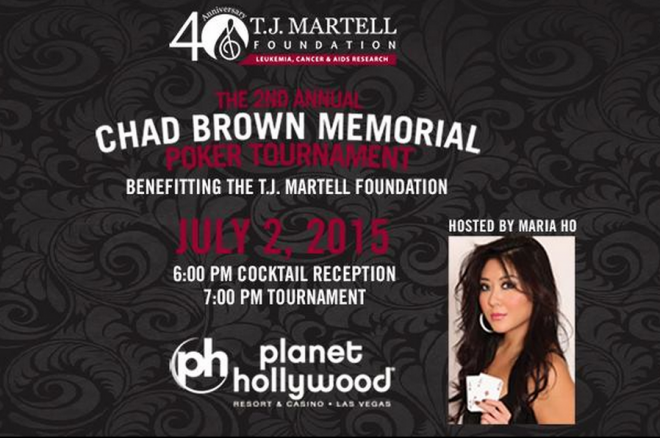 On July 2, it will be one year to the day beloved poker pro Chad Brown, 52, passed away after a three-year battle with cancer. To honor him, friends and poker players from around the world are invited to participate in the 2nd Annual Chad Brown Memorial Charity Tournament, a part of the "Suck Out Sarcoma" campaign, on Thursday, July 2, 2015 at Plant Hollywood Resort & Casino.
According to the event's website, last summer the World Series of Poker (WSOP) honored Brown with the first-ever honorary WSOP Championship Bracelet. Shortly thereafter, on July 2nd, 2014 Chad lost his battle with sarcoma surrounded by family and friends in New York City. This year's tournament takes place one year to the date of his passing.
The event will start at 6:00 p.m. with a cocktail reception and silent auction, and then at 7:00 p.m. a charity poker tournament will be held to benefit the T.J. Martell Foundation for Leukemia, Cancer & AIDS Research. Tournament entry is just $200 + $40 with $100 rebuys and add-ons.
"We are very proud of the association with the Chad Brown Memorial Poker Tournament and Planet Hollywood," said Laura Heatherly, CEO of The T.J. Martell Foundation. "Presently, besides our other cancer research programs, we are supporting cutting-edge sarcoma research at flagship hospitals in the United States. We look forward to the day when we can conquer this devastating disease."
Here's some pertinent information on the event:
When & Where: July 2nd, 2015 at Planet Hollywood Hotel and Casino (6 p.m. Cocktail Reception; 7 p.m. Cards in the air)
Entry: $200+40 (50% to the prize pool, 50% to charity)
100% rebuys to charity
3,000 Starting Stack
$100 Rebuys – 1,500 chips
$100 Add-On – 5,000 chips
20 min levels
There are also some incredible prizes being offered to those who make the final table:
Tournament Prizes
1) $10,000 WSOP Main Event Seat (value $10,000)
2) $10,000 PokerStars PCA seat – PokerStars (value $10,000)
3) PPC Poker Tour Main Event entry at Tampa Bay Downs (Tampa, Florida), 4 night hotel stay & $300 airfare credit (value $1,200)
4) WPT500 at Aria July 3rd-5th 2015. A seat to the $2 Million Guaranteed 2015 WPT500 Las Vegas at Aria Resort and Casino. Seat can be redeemed on any starting day from July 3rd to 5th, 2015 (value $565)
5) WPT Travel $500 credit – can be used toward accommodations, flights, car rentals and tournament entries.
6) Heartland Poker Tour qualifier seat at any of the 2015 locations except Daytona or Vegas ($375 entry) + $75 Swag Pack. (value $450)
7) WPT Five Diamond Poker Classic VIP Experience package includes VIP access to the televised WPT final table on December 19, 2015. A guided tour of the WPT set and the chance to meet the WPT cast, including anchor Lynn Gilmartin and commentators Mike Sexton & Vince Van Patten. Premium seating and the opportunity to appear on television alongside the Royal Flush Girls at the Monster Bar. You and your guest will also enjoy one night's stay at the Bellagio Resort and Casino. (value $500)
8) The Poker Academy complete No-Limit Hold'em course – 12 online sessions with 90 videos and more than 25 hours of instruction with Rep Porter and 2014 Chad Brown Tournament Champ, Rick Fuller Includes 166 page course guide. (value $499)
9) Zen Poker Training – 1 day training session with some of the best pros in the world today. Valid for one year to any training session. (value $497)
*Prize order is subject to change if more sponsors contribute.
*There is no cash alternative to any prizes.
Last year, poker pro Vanessa Rousso, who was previously married to Brown, hosted the inaugural charity event. Given Rousso is currently participating in Season 17 of the hit television show Big Brother, Maria Ho was asked to fill in as host. PokerNews had the opportunity to catch up with Ho during the 2015 WSOP.
PokerNews: Did you becoming host have something to do with Rousso's selection to appear on Big Brother?
Ho: Yeah, it's definitely because of that. I mean obviously she's the natural choice to be hosting the Chad Brown Memorial Event, but they already had this in the works. Six months ago they had all the prizes set, the Planet Hollywood as the venue, but then she got the opportunity to be on Big Brother shortly thereafter. Of course she wanted to try and honor this commitment, so she asked me to host it in her place, and I'm very honored to be doing that.
Chad was a personal friend of mine as well, and Vanessa and I have been very close throughout her and Chad's marriage and when he was first diagnosed all the way up to his passing. It's just as meaningful to me, it is to a lot of people in this poker community that interacted with Chad, and in general everyone knows someone who either is suffering from cancer or has passed because of cancer. I think this is just something everyone can get on board with.
There are some great prizes to be had. What would you say to those who might be interested in playing?
I think everyone is in town to play the WSOP Main Event, and what better way to get into that tournament than on a $240 buy-in that's also going to a great cause. There are also additional great prizes at the final table, and there's just going to be a really good group of people there. People will get to interact with a ton of pros and celebrate Chad's life. People are going to be there sharing great stories about him.
Having appeared on a CBS reality show yourself, did you and Vanessa chat about strategies before she left?
We didn't actually chat about it much. We had talked before she was going to be on Big Brother just about the potential of being on a reality show. Actually Chad and her had applied to be on Amazing Race, unfortunately they didn't get cast. Vanessa is a gamer at heart, she's a strategist. She's going to get in there and do what she needs to do to win.
Want to stay atop all the latest from the 2015 WSOP? If so, make sure to get PokerNews updates on your social media outlets. Follow us on Twitter and find us on both Facebook and Google+!