Joe Hachem Makes 2015 WSOP Debut; Reflects on Main Event Win 10-Year Anniversary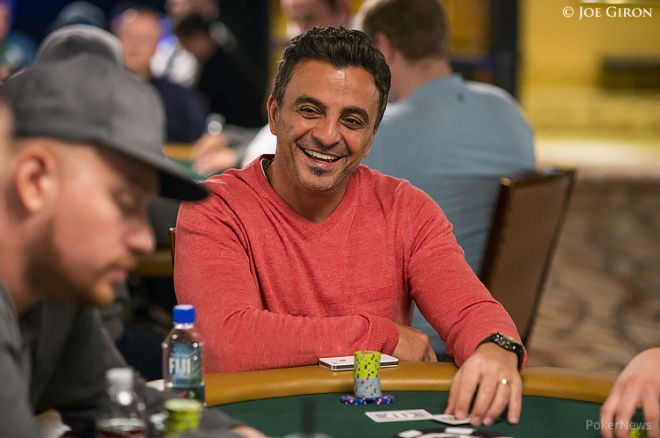 Ten years ago, a little-known former chiropractor named Joe Hachem shook the poker world when he topped a field of 5,619 players to win the 2005 World Series of Poker for $7,500,000. He did so be defeating a final table that included such blasts from the past as Scott Lazar, Andy Black, Tex Barch, and of course Steve Dannenmann.
It's hard to imagine it has been a decade since Hachem won poker's most coveted title. Since then, Hachem has amassed 17 WSOP cashes totaling $8,064.600, including a runner-up finish to Dutch Boyd in the 2006 WSOP Event #5: $2,500 No-Limit Hold'em Six-Handed for $256,800.
Hachem hasn't had much success in recent years – his latest cash came last summer when he finished 43rd in Event #48: $1,500 Pot-Limit Omaha Hi-Lo for $5,779 – but that hasn't stopped him from making the long journey from Melbourne to Las Vegas each and every year.
Hachem had been missing for the early part of the 2015 WSOP, but on Sunday night he was spotted playing his first tournament. PokerNews caught up with him to have a little chat.
PokerNews: You're making your 2015 WSOP debut here in Event #31: $3,000 Pot-Limit Omaha Hi-Lo. Fan of this game?
Hachem: I love this tournament. This is the one tournament outside of the Main Event I look forward to every year, because everyone is so bad. People won't tell you, but even the people that think they're good, they're absolute shit. It's a fun tournament.
The great thing about this game is you don't need huge stacks to play because it's pot-limit, there are no antes, and the blinds go up relatively slowly. If you're patient and take your time, you pick them off because they make too many mistakes. They enter pots they shouldn't. Eventually it's going to catch up with them. Whether you're the one that catches them or not is a different story.
We're now a few weeks into the 2015 WSOP. What took you so long to get here?
I got here on Thursday. I had a long battle with a chest infection, which turned into pneumonia. I changed my flight from Thursday, to Monday, to Friday back to Thursday the following week. I'm finally here now. The reason you're seeing me all bundled up is because the cold is really not good for someone who has just had a chest infection. It's much colder than last year.
What's your schedule looking like for the rest of the summer?
I think I'll probably max out at 12 tournaments, which would be top end for sure. I never play that many.
It's 2015, the 10-year anniversary of your WSOP Main Event win. How do you feel about that?
I didn't know it was my 10-year anniversary, really [sarcastic laugh]? It's been the topic of much conversation for me for the past few months. Where has 10 years gone? Were you even in poker 10 years ago? Where does 10 years go? When I think about how my life has changed, and the great things that have happened, how much the game has changed, it all happened in the blink of an eye really. It's just incredible.
How's your restaurant down in Melbourne, Australia going for you?
It's going awesome. It's probably one of the best things I've done. The family is loving it. The kids are all grown up now, and they're all at Uni, they've got their own lives going on, but it keeps them all together. They've got something in common.
We're in the process now of remodeling. Probably by the end of November it'll be totally remodeled and rebranded. The current name is Lorca, the new name will be Eliana Lulu, which is Tony's daughter's name, so we're naming it after her.
Speaking of your family, are any with you here in Vegas?
My son is with me. My wife, daughter, her fiancé, and my other son will be here next Wednesday. I think Tony will be here on the 22nd. It's hard for him with a seven-month all. He really wants to bring her and Jessica along, but they're not comfortable bringing an infant to Vegas. He wants to get out here so bad.
For more on Hachem, check out the video PokerNews shot at his restaurant earlier this year:
Want to stay atop all the latest from the 2015 WSOP? If so, make sure to get PokerNews updates on your social media outlets. Follow us on Twitter and find us on both Facebook and Google+!