Erasmus Morfe's WSOP Main Event Cinderella Story Ends in 19th Place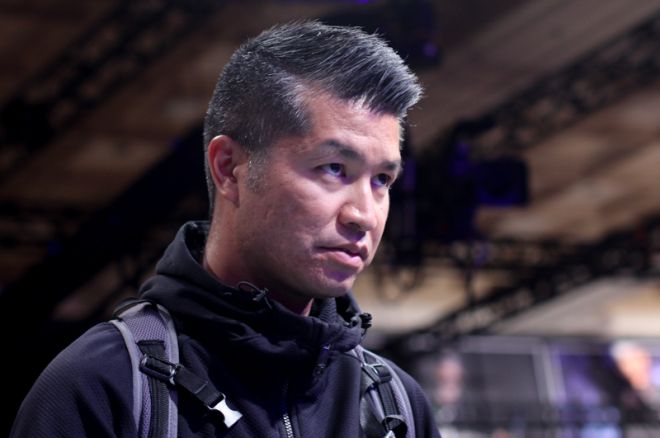 Erasmus Morfe came into the last day of the summer in Las Vegas with the third biggest stack, and his dream of making the November Nine was within reach. Yesterday, we chronicled Morfe's Cinderella story leading up to the biggest moment of his life as a poker fan, but the dream shattered into a million pieces when he busted out in 19th place for $262,574.
Elated, proud, and very disappointed, Morfe had plenty of emotions running through him.
"Obviously there is disappointment, but I actually feel great," Morfe said. "I got a smile on my face, which is genuine because it really exceeded all my expectations. So, from that perspective, it's great."
Morfe just missed out on another pay jump for the top 18 and a dream that almost became a reality.
"It is really disappointing and I won't lie," Morfe said. "Every night I had these dreams of making the November Nine. On Day 1 and 2, the dreams were really fuzzy, and every day as you get closer, the dreams become clearer and clearer. Every day I was near the top of the chip counts, and I would drop down a little bit but always build it back up.
"At the start of the day, I had a top-three chip count, so it kind of sucked to go in 19th place. However, other than that last hand, I wouldn't change a thing. The whole tournament I was playing small ball and making great calls with under pairs, and people kept bluffing me. But today was the one time where I made a big call on the river and I wasn't correct."
A little while later, the most important hand of his tournament played out, as he lost a big chunk of his stack with ace-king.
"The first hand back from break, I get ace-king," Morfe started to recall. "I must look pretty silly on that hand, because I winked at him before the flop! If he had moved all in, I would've re-shoved, but he called and I bet on the flop. He raised and I called. I should've maybe folded on the flop, but I thought that with an ace or a king on the turn I could've won the pot."
The turn was neither, and Morfe folded to the bet of his opponent. Down to 15 big blinds after that hand, he shoved a few times before getting knocked out by Thomas "Butters" Kearny, who held sevens against Morfe's ace-king.
Overall, Morfe looks back on an amazing run in the biggest poker tournament in the world, and he had nothing but great things to say about the experience. The outpour of support was something that he never could've imagined.
"I woke up really early this morning and my phone was just blowing up with all the texts and all the support," he said. "It just snowballed; all my buddies on the email chain messaged me — their friends and family, my family, my family's friends, Facebook, and everything else. It was just so great to have random people say things like, 'This is the best story of the summer' and 'Hard not to root for this guy.' That makes me feel good. Poker should be fun. You should have joy in everything that you do."
Morfe said he won't play much more poker in the future, but he might dabble again in the $30/$60 limit hold'em game his local Ameristar Casino casino.
"I'm pretty sure everyone there will be happy to hear that the fish is coming back," he laughed.
The fame Morfe has earned here during the WSOP won't be over anytime soon, as the ESPN broadasts of the Main Event are just a few weeks away. As the doctor from Colorado went deeper and deeper, he'll be very likely to see himself on the biggest sports channel in the world.
"It's going to be so much fun watching the broadcast on ESPN, and I'll probably have friends over to watch," Morfe said. "I think there will be a couple of hands that will make it onto the broadcast, and those will be fun to watch."
Finally, before signing off, Morfe gave some inspiring advice to people just like him, the home-game heroes looking to live the dream.
"If you have a small bankroll there are so many small satellites, and you can try to make it work," he said. "Why would you not give it a shot if you have some time? You just have to have realistic expectations, and obviously, I would've been disappointed if I hadn't won that satellite, but still it was great coming out here.
"The reason the World Series of Poker is so great is because every year there's a story like this. Somebody is always coming out of nowhere, and for the people that are in poker it's great to see the big names do well, but for the casual fan it's always great to see someone and say, 'Jeez, that could be me! That dude right there who cashed for over $250,000, it could be me!' Because it was, I was that dude playing a $40 home game with my buddies, and now I'm here. If I can do it, anybody can do it."
Want to stay atop all the latest from the 2015 WSOP? If so, make sure to get PokerNews updates on your social media outlets. Follow us on Twitter and find us on both Facebook and Google+!