Erasmus Morfe Wins Satellite with Seven-Deuce; Still Living Dream in Main Event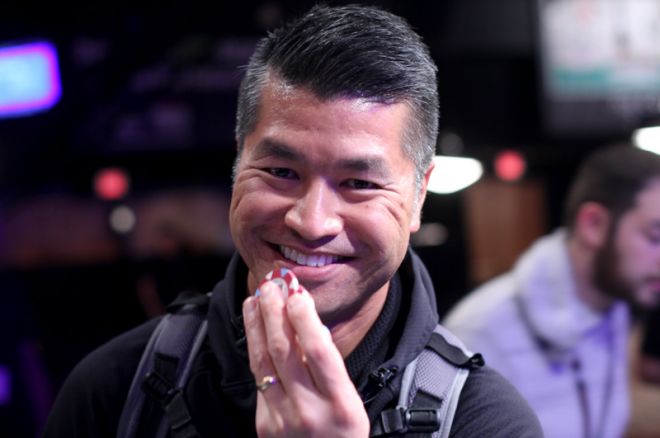 The energy with which Erasmus Morfe talks, acts, and carries himself is contagious. The doctor from Highlands Ranch, Colorado, finds himself running out of superlatives to describe what is happening to him, and as long as he doesn't wake up the dream will keep on getting better and better.
With 27 players left in the 2015 World Series of Poker Main Event, Morfe is one of the bigger stacks, sitting on 12.085 million entering Day 7. Just six days ago, things looked a lot different, as the poker tourist and enthusiast reached into his pocket to fire off the final $300 he had left to play poker with in a $1/$3 cash game at the home of the WSOP, the Rio All-Suite Hotel & Casino.
"I came to Las Vegas with a $1,500 bankroll, my wife, and my son," Morfe said. "We drove up here on Friday, my daughter flew in later, and I played the WPT500 event on Saturday. I busted that, played the online qualifier on Sunday on WSOP.com and busted that as well. I heard on the PokerNews Podcast that Donnie [Peters], PokerNews Editor-in-Chief, was going deep in that one, but I couldn't even get a sweat!"
Passionately, and eagerly building up to the good news, Morfe continued, "On Monday, I played the $535 mega satellite for the Main Event, and I busted that one like a donk. At that point I'm like, 'I don't want to go home, we just got here!'
"So, I buy into a Rio $1/$3 cash game, I run it up to $1,060, which was exactly what I needed for the $1K turbo the next morning on Day 1c of the Main Event."
At this point, Morfe said that he texted his wife and made her decide on his next move.
"I said, 'I'm either going to put it all on the hard-eight and we can go home, or I'm going to play the turbo,'" Morfe said. "She goes, 'No, I want you to enjoy yourself so go play the turbo.'"
Morfe got up early in the morning, made sure he was fully focused for his final shot to win a Main Event seat, and his dream slowly but surely started to become reality at 8 a.m.
"The levels were only 10 minutes long, and as we were getting closer to the bubble, I was all in twice for less than a big blind," he said. "The first time I had two live cards and rivered a straight. The second time there were just 20 players remaining. The final 19 got at least $5,500, and there were 18 seats.
"At that point, I think, 'At least I can get to the $5,500 and then perhaps I can talk my wife into giving me the other half so I can go and play the Main Event. On the stone freaking bubble, I'm in the big blind for less, the chronic tankers are killing me, and the guy on the button puts it in. I don't look at my cards, but flip them over one by one. I got the mighty seven-deuce!
"He had king-high, our table was right on the rail, and there were all these Spaniards yelling. I don't remember the board, but [the dealer] burned before the river and put out a two! All the Spanish guys standing behind me, who I didn't know, were screaming 'Siete-dos! Siete-dos!' and running around.
"That was a bigger sweat than actually making the money in the tournament. When we made the money in the Main Event, I didn't even yell, but when I got that satellite seat I jumped up! I was yelling, 'I won the satellite!' and I believe there was even a camera on me as I went to register, because the Main Event was already going on."
That day, Morfe played from eight in the morning until deep into the night, and right now he's in the final three tables of the Main Event.
"It's completely surreal," Morfe said. "I'm living a dream. I listen to the PokerNews Podcast when I'm driving or walking the dog, and just start daydreaming, 'Man, I wish I could be that guy,' when you hear all the updates of the events. When the podcast is over, you go back to real life and it's over."
But right now, it's not over for Morfe, who's very much alive to be that guy everyone will talk about for many years to come. The doctor from Colorado might inspire new players and convince home-game heroes to take their shot in a satellite.
This is what we, the amateurs, all want, and I feel like I'm representing all the home-game guys that dream about this.
"I played the Main Event before in 2011 after getting lucky in the Sunday Million on Super Bowl Sunday," he said. "I binked fourth place and got my money off before Black Friday. Most of the money was used to pay bills, but I used some of it to play the Main Event."
By now you must be thinking that Morfe has a bit of game. After all, he has described several tournament attempts and a fourth-place finish in the Sunday Million. If you ask him, though, he'll humbly remind you that he's only an amateur.
"I live in Colorado, where there's only a $100 betting limit, but there's a great $30/$60 limit game I play in sometimes at the Ameristar Casino in Black Hawk," he said. "I'm strictly a recreational player. I work full time as a doctor, and I'm a full-time dad and full-time husband. I was playing once a week for while, but that just took up too much of my time, and it was getting unhealthy. I did not have a roll to play with when I came out here, so this run is just the greatest thing ever!"
With each player that got knocked out, Morfe took one step more in the direction of making the final table.
"I can't say it enough, it is just a dream scenario," he reiterated. "Every time we have a pay jump, I text my wife and tell her what the number is. I've been doing this since I made the money, and I would've been satisfied going home with $15,000. I would've been like, 'Babe, here's 10, and I'll take a couple of thousand to play with,' and now I'm like, 'Let's pay off the medical school loans, let's pay off this, let's pay off that,' and I'm actually surprised that I'm not paralyzed by it."
Paying off some loans and pocketing a nice chunk of change will certainly be glorious for Morfe, and he's already guaranteed $262,574. But there's some other perks of the position that he hopes to unlock.
"It would really just be the ultimate dream come true, if I could make the November Nine," he said. "Of course, in life it's not the happiest I'll ever be, but from a poker perspective this is the ultimate thing. You can use any analogy you want; called up from the minors, qualify for the US Open — it's the pinnacle, and it's crazy because I've dreamed about this. I just hope to make it, do all the media, and be on the PokerNews Podcast."
Going back to referring to himself as an amateur recreational player, Morfe did add that he feels he's representing so much more than himself out there on the felt — he's living the average guy's dream and hopes to represent those just like him to the best of his ability.
"You know the World Series of Poker is for the professionals, but in reality it's actually for the amateur," Morfe said. "This is what we, the amateurs, all want, and I feel like I'm representing all the home-game guys that dream about this. I'm in this email chain with all my buddies, and we all used to play a $20 home game together. We then upped it to $40, but nobody wanted to go further than that. To think that I went from playing there to this!
"I guarantee you, there are way more people like me. The dreamers that are looking at PokerNews and watch ESPN, more than the typical grinder. It's just great that this is possible, and I can't say it enough."
Want to stay atop all the latest from the 2015 WSOP? If so, make sure to get PokerNews updates on your social media outlets. Follow us on Twitter and find us on both Facebook and Google+!