Full Circle: Kristy Moreno Sweating Her Husband Deep in Main Event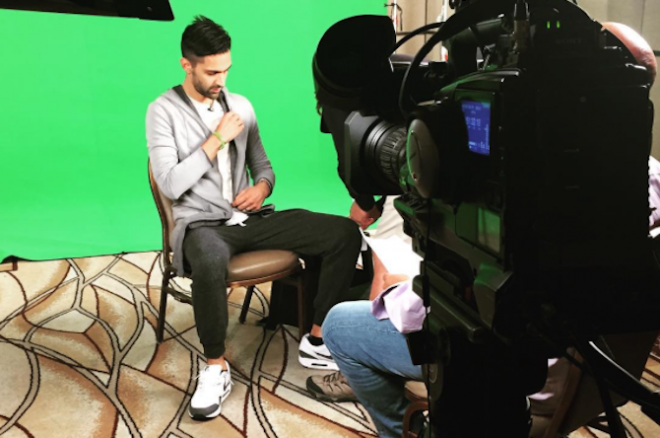 One might think poker industry veteran Kristy Moreno would be right at home sweating her husband Andrew Moreno at the poker table, especially considering that's about where she was when they met.
"When we first met, she heard me talking about poker, and then I played in this big tournament back in Indiana," Andrew said. "It was a $300 buy-in with a couple hundred people maybe. First place was $10K, which was so much money to us."
"Like mind-blowing money," Kristy added with a laugh.
"I made the final table and I had just met Kristy and I was trying to impress her," Andrew continued, adding that he finished third. "It's come full circle to where we are now."
Where they are now is a tournament with an entry fee equal to that first tournament's top payout. Andrew has made his way deep in the 2015 World Series of Poker Main Event, holding a top-10 stack of more than 5.3 million with 69 players remaining heading into Day 6.
Just as it was in Indiana 10 years ago, Kristy, now his wife of four years, is on the rail watching closely. Having spent years in the poker industry, including a four-year stint with PokerNews when she was known as Kristy Arnett, apparently doesn't make it easy to watch a loved one make decisions for massive sums of money.
"I'm reporting on him for all of our friends and family, but it's so nerve-wracking," Kristy said. "Because I play, I feel like I have a better grasp on what's happening. But at this point, I'm pretty much just closing my eyes and hoping he wins."
Andrew, a cash-game pro currently based in Southern California, and Kristy have been down this road before. In 2012, he ran deep in the Main Event before busting 177th for $44,655. That made him hungry for more tournament success.
"Going deep in something like this is something that I wish for everyone because it's so much fun — the atmosphere and everything," he said.
Andrew began Day 5 with 1.049 million, which put him in 64th of the 237 remaining players. He got off to a rocky start at a tough table but got moved to one of the featured tables, where his fortunes turned. He said he "got a new lease on life" when his
cracked another player's
. Now back among the leaders, he looks to have plenty of play left.
He also would seem to have a top-notch adviser at the ready. Kristy also fired in the Main Event and plays plenty of poker herself. She also has an eye for reading players, having spent so much time working at some of the biggest tournaments in the world, plus serving as the PokerNews Strategy Editor for a period of time. But whether it be on break or between hands, Kristy said the two aren't talking shop.
"I'm talking absolutely no strategy right now," she said. "Whatever he's doing is working, and he's in the zone right now."
Photo via Kristy Moreno's Instagram.
Want to stay atop all the latest from the 2015 WSOP? If so, make sure to get PokerNews updates on your social media outlets. Follow us on Twitter and find us on both Facebook and Google+!