Ultimate Railbird: For 10 Years, Paul Gilbert Has Seen It All at the WSOP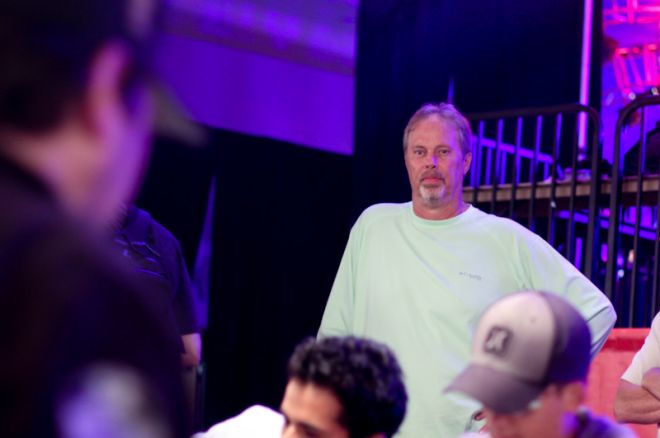 The Main Event of the 2015 World Series of Poker is now in full swing, and players are set to cash for hundreds of thousands of dollars in the most sweltering pressure cooker in poker in the coming days. Hordes of eager poker fans will fill the halls of the Rio All-Suite Hotel & Casino and line the rails, pressed against the barriers and craning their necks as they try to get a whiff of the action.
One man among the masses will just be going through his daily routine. He won't need to strain very hard to see what's happening on the felt, since he stands 6-foot-7 and towers above most of his fellow spectators, allowing an easy view of the greatest tournament in poker. That man is Paul Gilbert, and he has done this every day of every WSOP since 2006, when he watched Jamie Gold win $12 million.
Gilbert lives in California, where he works as a biology and astronomy teacher at Corona High School. When the school year ends, he migrates to his second home in Las Vegas, where he spends most of the summer as the most consistent railbird at the WSOP. He used to be present at the Rio throughout each day, but nowadays spends only about four or five hours observing the action, usually clad in his trusty white basketball shorts.
"One of the jokes is that I'm the one in every ESPN shot," the former Cal-State Fullerton basketball player said with a laugh. "I think ESPN finally started cutting me out. They probably got sick of me."
Over the course of 10 years, Gilbert has watched almost all of the major happenings at the WSOP. However, he's never plunked down the cash and actually entered a tournament here himself, which gives him a different perspective than most who have spent time at the WSOP.
"I've been able to experience the WSOP in a different way," he said. "For 10 years, I've been right in the middle of everything."
He rattled off some of his keenest memories. Brian Rast defeating Phil Hellmuth to claim the Poker Players' Championship in 2011. The first Big One for One Drop. The commemorations of Jerry Buss and Chad Brown.
Gilbert has also gotten to observe the evolution of the player pool. He sees players rise, fall, and sometimes rise again. That constant ebb and flow, the lack of consistency, says something about the game, Gilbert feels.
"Players have success and make a final table and then they're here for years afterward," he said. "Then, they disappear. It shows me poker's harder than we think. It's hard to stay on top."
Gilbert does enjoy playing a little bit of poker himself. He's been playing since age 20 and is mostly a limit cash player, with his main game being $20/$40 with a full kill. In fact, in his second year attending the WSOP, Gilbert watched as a regular from his home venue, Pechanga Resort & Casino, took down the Main Event.
"Jerry Yang is living proof that anyone can win the Main Event," he said.
That "anyone can win" attitude has encouraged many to test out a career as a professional poker player. Gilbert says he does well in his game more often than not, and he found himself tempted to try to play for a living during poker's boom period. He bought the house he now owns in Las Vegas. He sold a different property he owned and found himself flush with cash.
With no family obligations, all Gilbert had to do was walk through the door. He had an epiphany, though.
"I came to my senses," he said. "I decided I need a steady paycheck. I can't live this up-and-down lifestyle."
It's a decision he's glad he made.
"Tournaments are very stressful," Gilbert said. "I live vicariously through other players when I'm out here. I work hard as a teacher, and in the summer I'm on vacation. I just want to enjoy myself."
Because he's busy teaching during the school year, Gilbert can't make it back out to Las Vegas in November for the final table of the Main Event. He named the advent of the November Nine as one of the two biggest changes he's observed over the years at the WSOP, the other being the massive change in sponsorship landscape after Black Friday.
Gilbert has endured the ups and downs, continuing to show up at the Rio every day and sweat his favorite players and events. He was raised in a conservative Christian household and finds himself rooting most for Doyle Brunson, Daniel Negreanu, Jeff Lisandro, Jason Mercier, and Hoyt Corkins, all of whom "set good examples for Christian faith" in Gilbert's eyes. As for his favorite events to rail, Gilbert much prefers the preliminary events to the Main Event, when he has to look harder to find recognizable players in a sea of unfamiliar ones.
Once, he found a very familiar face at the WSOP — one of his former students, Sam Chauhan, who briefly made a name in the poker world as a mental coach a few years ago. He boasted clients such as Antonio Esfandiari and Josh Arieh.
"He remembered me, it's kind of amazing," Gilbert recalled. "He was some kind of mind coach or positive thinking guru. I guess that was a fad because he disappeared."
For the most part, though, Gilbert's life as an everyman school teacher and his life as the ultimate railbird at the WSOP stay separate from each other. After spending the early summer going through his daily motions in Las Vegas — he gets up and swims for a few hours every day before heading to the Rio for a sweat of a different sort — Gilbert flies to Hawaii each year after the WSOP, where he relaxes until the school year fires back up.
"I love the WSOP," he said. "But by the time it's over, I'm burned out like everybody else."
Over the course of the next nine months or so, that feeling dissipates though, slowly replaced by anticipation and the excitement of another World Series.
"When the school year goes by, I can't wait to get here again," he said. "It never gets old."
Want to stay atop all the latest from the 2015 WSOP? If so, make sure to get PokerNews updates on your social media outlets. Follow us on Twitter and find us on both Facebook and Google+!