Jason Les: "We Will One Day See an Unbeatable Heads-Up No-Limit Bot"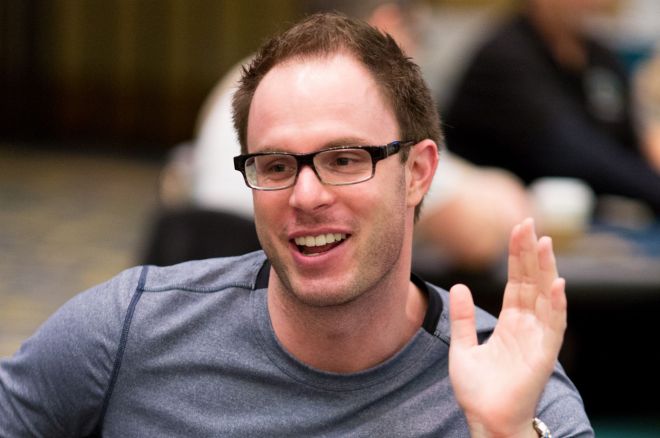 This past spring, man proved better than machine at no-limit hold'em after four professional poker players joined forced to defeat 'Claudico', a poker bot powered by artificial intelligence (AI) that was developed by a computer science team at Carnegie Melon University (CMU).
During their challenge, the group of four poker pros played 80,000 hands of heads-up poker against Claudico, winning $732,713 in the process.
From April 24 to May 8, Doug Polk, Bjorn Li, Dong Kim, and Jason Les each dedicated two weeks of hard play against the poker bot. While many players would be ready to throw in the towel after such a long and grueling battle against a computerized opponent, Les is open to a new challenge once the bot is reporgrammed.
Perhaps one of the reasons Les is waiting to engage in a new, exhausting battle is that he was the only person of the group not to best Claudico — he lost $80,482 in his 20,000 hands against the program. This, however, doesn't tell the entire story, since Les had a great comeback against the bot after being down $228,066 after the first week of action.
PokerNews recently spoke with Les to get his thoughts on the competition, to discover how it may helped his game, and to explore the possibility of a rematch.
"I first found out about CMU's heads-up no-limit A.I. following an article released about it sometime this past fall," Les said on how he got into the competition and the way it worked.
"I was impressed, and I wanted to see how it would fare against some top human players. Unbeknownst to me, discussions were already underway between Dr. Sandholm and Doug Polk about getting a challenge together. In April I got a call from Dr. Sandholm asking if I'd be the fourth player to compete and I was happy to accept. One week later, I was in Pittsburgh firing off against Claudico."
The competition evolved through many different forms as different ideas were floated by the Pennsylvania Gaming Board to see what could be approved.
You have to give credit that it was able to hang at that level versus the best players in the world
"The final result was an 80,000-hand match (20,000 hands per player) to be played off in pairs with mirrored hole cards, in an attempt to reduce variance. It was Doug Polk and I on one team and Dong Kim with Bjorn Li on the other."
"All the hole cards and boards I would play versus the bot, Doug would have the reverse of," Les continued. "If I had
and Claudico had
on an
board, then simultaneously Doug would have
and Claudico would have
on the same board. For this reason, we had to be separated during the challenge. One of us would play in an isolated room upstairs and the other would play downstairs in the River's Casino Levels Bar, where spectators could come rail the action."
We asked Les about how Claudico compared to a human opponent, and he said: "Claudico played very well overall. Even though we achieved a 9 bb/100 win-rate as a team, you have to give credit that it was able to hang at that level versus the best players in the world. I think the bot would be beaten by most people who are competitively playing heads-up no-limit for a living versus other professionals. However, that is not a huge list of people so I would say Claudico would have an edge against most of the poker playing public."
Les also opened up about some of the difficulties of playing against Claudico. "What made Claudico most difficult was the perfect randomness which it did things. It was capable of doing every thing at any time and with all different types of hands, so it was very difficult to ever put Claudico on a hand or range of hands. It randomized all of this perfectly like only a computer could do, the human mind will always have a bias."
"The other challenging part of Claudico's game was the insane overbets it was capable of throwing out there on the river at any time," Les continued. "There could be $500 in the pot and Claudico might jam $19,750: think about how difficult that is to appropriately play against. Claudico put us all in many tough rough decisions there, a lot of which I think we got the best of, but it certainly owned us a few times as well. "
In case you didn't follow the match at the time, it was highly publicized with play streaming over Twitch.tv, and when the contest ended, many poker enthusiasts were left wanting more.
While we still don't have an answer as to if and when there will be another contest, Les said the following: "We have nothing concrete down in the way of a rematch yet. I know the CMU team is going to be working on a new bot and will want to do a competition again, when that is we don't know. If we do do this again I think there will need to be a new round of negotiations on terms of participation. The Brains vs AI challenge was a huge drain on us physically and was also a huge opportunity cost to each of us. I'm open to doing another challenge though, I look forward to seeing what we can work out."
Les also feels players learned more and more about Claudico as time went on, but whatever knowledge was gained would not necessarily apply to a new contest.
"The humans picked up on a few things we were taking advantage of on Claudico," Les said. "However, whatever bot we face next time will be a whole new version so it's hard to say what mistakes will definitely carry over. One thing in particular we took advantage of was that for the most part Claudico neglected blockers."
"A couple times we made some really big calls on the river with not-so-great hands because we blocked the hand that Claudico was trying to represent. That being said, the CMU team is aware of this so I imagine they will be taking blockers into account much more in the project's future iterations."
It's very likely we will one day see an unbeatable heads-up no-limit bot
After a Russian pot-limit Omaha bot-ring was accused of winning an estimated $1.5 million from unsuspecting poker players on PokerStars --and perhaps other sites as well-- many poker players wonder how far advanced no-limit bots are. After all, many believe that pot-limit Omaha is a more advanced game to "solve" than no-limit hold'em. It is not unfathomable to believe that one day there could be an unbeatable heads-up no-limit bot.
Les agreed with this sentiment stating, "I believe it's very likely we will one day see an unbeatable heads-up no-limit bot, or at least a version that is so close to Nash equilibrium that the top players will only have a very small win or loss rate against it. Dr. Sandholm and his team are incredibly talented at what they do and we've witnessed them make sizable progress on their A.I. over the past year. I think if we enter into another Brains vs A.I. challenge in 1-2 years we'll see a very tough new A.I. that will result in very close match.
"This is actually an issue we discussed with Dr. Sandholm at the end of the challenge that he expressed concern about, a future match being truly too close to call. If either side is only able to obtain a small win-rate then with the standard deviations we have observed thus far we would need a lot more hands to have a true statistically significant result.
"I believe he even threw out 160,000 as an estimate to land us in the 95% confidence interval. As humans, we can only play so much poker in a day before our results and personal happiness begins to decline. In this past challenge, we played as much as 15 hours on some days and were getting minimal sleep at times as we had to be there on time everyday.
"Eventually, we made adjustments to the logistics of things and we were able to keep the days shorter. But as you can see, taking on double the amount of hands in a future would be a huge time commitment for four people to do. We were only able to play one table this time, as just that one table requires an incredible amount of computing power, but hopefully in the future we can play two tables simultaneously and get in the statistically significant volume required."
Shortly after battling Claudico, Les experienced a couple of close calls at winning his first World Series of Poker (WSOP) bracelet. His first cash during the series was a second-place finish in the WSOP Event #4: $3,000 No Limit Hold'em Shootout for $124,696 before finishing third in the WSOP Event #15: $10,000 Pot Limit Hold'em Championship for $142,747.
Since Les is mainly known as a heads-up ring game specialist, we were curious if his time with Claudico helped him prepare for tournament action on poker's center stage.
"People have often asked me what I've been able to learn from playing Claudico," said Les. "There are some things about its strategy that I thought were interesting, but the biggest educational part of this experience was playing that many hands and working with Doug Polk, Dong Kim and Bjorn Li in developing counter-strategies."
"Just getting in so many hands and constantly thinking about poker I believe helped me develop as a player even if there is not any concrete thing I can say I learned. So with that in mind, yes it was helpful for me as I came into the WSOP with a sharp poker mind that was conditioned to the long grind that tournaments are."
Now that the WSOP is over for Les, he is looking forward to some time to relax.
"It's been a long three months for me," Les told PokerNews. "It started with me playing Claudico all day everyday, then straight to Vancouver for the SCOOP and HU cash games online, and now here to the WSOP for a full load of tournaments. I've had a great WSOP and I'm very happy with the experience, but I'm looking forward to a few weeks of relaxing now before heading to EPT Barcelona."
Want to stay atop all the latest from the poker world? If so, make sure to get PokerNews updates on your social media outlets. Follow us on Twitter and find us on both Facebook and Google+!