Fedor Holz Discusses His Big Day 5 Bluff in the WSOP Main Event

Remko Rinkema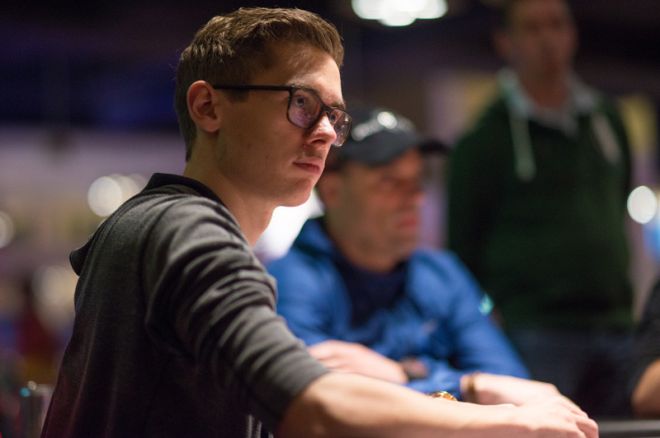 One of several first-time World Series of Poker players we were looking forward to seeing this summer was Fedor Holz. And he's not been disappointing to say the least, having produced both solid results and a lot of excitement for those of us watching him play.
Holz was already starting to become a familiar face last year after cashing in several events in Europe, then winning a side event and cashing in the Main Event at EPT Barcelona. A month later, playing as "CrownUpGuy" on PokerStars, Holz won the $5,200 buy-in World Championship of Online Poker Main Event, topping a field of 2,142 to earn a huge $1.3 million first prize.
Holz continued his winning ways this spring on the EPT, collecting several cashes including final tabling the EPT Malta Main Event and final tabling both Super High Roller events at the EPT Grand Final in Monaco. Then leading up to the WSOP Main Event he picked up three more cashes in Las Vegas, including finishing third out of 259 players in the $10,000 No-Limit Hold'em Six-Handed Championship for $268,463.
The WSOP Main Event has gone well for Holz so far, too, where this afternoon he'll be rejoining the 69 who remain from the 6,420-player field. Holz enters Day 6 with a stack 1.945 million (in 44th position), where he finally settled after a day full of big swings and several interesting hands — including one in particular with recent WSOP bracelet winner Upeshka De Silva that had everyone talking afterwards both in the Amazon Room and online.
The hand arose near the start of Level 25 (20,000/40,000/5,000), the last level of the night. After play concluded, Holz was nice enough to discuss the hand and the strategy involved.
PokerNews: We saw that huge hand you played against De Silva. Can you talk us through the hand and what happened, exactly?
Fedor Holz: I opened
from middle position [for 90,000]. I wasn't really opening his big blind too widely, because he's calls a lot. He then three-bets [to 245,000], and
is one of the worst hands [with which] I'm calling, so I call.
The flop is
, and he bets a little — around half-pot [345,000]. I feel like he's probably bluffing a little too much in that spot, so I call.
The turn is the
, which brings a second flush draw. Now he checks to me and he has about 1.3 million behind. [Note: Holz has about 2.3 million.] I feel like this is one of the worst hands I have here, and I want to bluff against him. [I'm thinking] he rarely has
and
here and he's not trapping me on the turn - he might have
or spiked a queen I'm bluffing against, but the way he tanked and thought about it on the turn I was very sure he had
so I wouldn't have bluffed a blank on the river. His range is just extremely capped and my range includes all strong hands plus I'll go thin for value, because I realize that.
So I bet 425,000. He tanks and calls, and now I'm 95% sure he has
. He's probably not three-betting
out of the big blind.
The river is the
, the perfect card for me which hits my complete range. I mostly have zero bluffs in that spot, and I end up [having the] only [worse] hand I can ever have there to bluff. Like all hands that I would bluff there are better than one pair. I would probably bluff
. I will value bet everything that is better than
, because he just never has it — he's not trapping in that situation. And he doesn't have a
. He's not three-betting me with
or something — he's just calling pre.
So... yeah... I shove. And I feel very comfortable about it. He tanks for like 10 minutes and calls with
, and I think it's a bad call [laughs].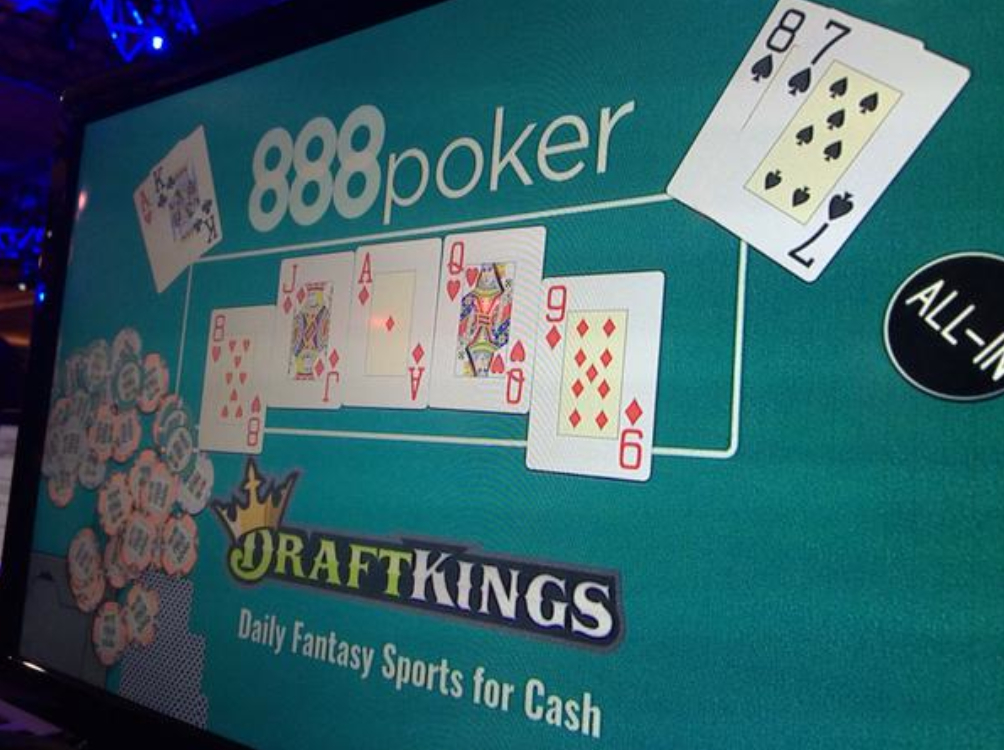 Were there any rivers you were going to give up on, or was your plan all along to keep firing with the way the board looked on the turn already?
I would have definitely given up on the super-blank rivers, because I already felt like he's going to call me light. But I think he was just over it. I had pushed him around before — [for example,] I five-bet shoved and showed the
during the first level. So, I don't know, I think he was just over it. Because I think it's a big losing call, but that's just my thoughts.
Right from the moment you sat down, the tendencies you were showing at the table were extremely aggressive. Was that your game plan to establish a presence immediately?
Yeah, obviously. I mean it's kind of the thing I'm doing. People think I'm super-crazy, and then in the big pots I just always have it.... In four big pots I played [today], I just had it. And then I just take the really good spots to bluff in big pots... and people just don't understand that and pay me off the whole time.
At any point today, did you get nervous about the chance of getting knocked out because your stack was having huge swings?
I mean, I started pretty short. [Note: Holz began Day 5 with 403,000, 180th of 237 players.] Obviously when you play that aggressive and people start trying to play back and start three-betting and four-betting you... I'm just playing my hands. If I have
-suited and someone three-bets me, I'm not going to fold. So if they start firing against me I just go into passive mode and call down, and it worked out pretty well.
It was just this one hand where, I don't know, I think I made a pretty good bluff and it just happened that he called me.
It's your first Main Event, and you've made Day 6. You don't get to be in spots like this too often in your life. Coming into today, how do you feel about your position in the tournament? Do you feel confident?
I mean, I feel amazing. I think I played really great poker today. I took really good spots. There were just one or two hands — really one hand where I wasn't too happy with [the way I played]. But the 7-8-suited hand I'm super, super happy with. I think I played it good, and that's all that counts.
* * * * *
Thanks to Fedor Holz for discussing strategy with us at the end of a long day of intense poker. Play resumes at 12 noon today. Stick with PokerNews for continuing coverage of the WSOP Main Event.
Want to stay atop all the latest in the poker world? If so, make sure to get PokerNews updates on your social media outlets. Follow us on Twitter and find us on both Facebook and Google+!