Phil Hellmuth Says "I Inspire Hundreds of Millions of People"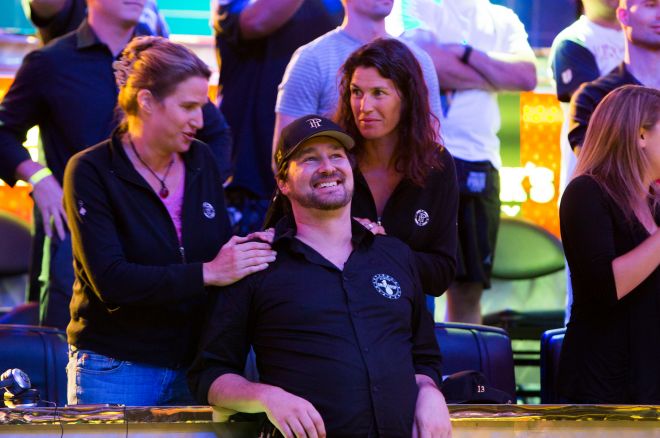 With more than $1,000,000 in earnings during the 2015 World Series of Poker, gold in a championship event, a final table in the biggest buy-in of the summer, and a deep run in the Main Event, 14-time bracelet winner Phil Hellmuth can all but look back on yet another successful Las Vegas summer.
However, the Main Event ended abruptly when he lost a big coin flip against Daniel Negreanu on the ESPN feature table on Day 4. Hellmuth, who is also known for his love for the cameras, did not leave the WSOP, though, and he has been lurking about the Amazon Room in support of his friend Mark Kroon.
As Hellmuth lingered in the shadows surrounding one of the feature tables, he reflected on the tournament he once won back in 1989.
"It was a rough day yesterday, but all I can hope and pray is that I can play this good every World Series of Poker Main Event, because I've blown a lot of them or haven't played it right," Hellmuth said. "That's just the way it is."
Maybe more so than anyone else in the room, Hellmuth knows how much of a grind poker can be, and sometimes all it comes down to is the way the cards fall.
"I played great, but it felt like the cards just weren't there for me," he said. "I just never got anything going. When I reraised with ace-queen of hearts, the guy had aces. When I raised with a weaker hand, someone would shove with ace-seven and I wouldn't get there."
I've made my living trusting my instincts.
"The flow wasn't quite there, and when I had ace-king late in the day, I just folded to a reraise because I had a very bad feeling about it," Hellmuth continued. "I don't know if they guy had it or not, but I've made my living trusting my instincts, so my timing wasn't perfect. I kept waiting for spots, and I don't think I flopped a set all day yesterday."
Hellmuth, as confident as ever, went on: "But when I come in here, and play like a 14-time bracelet winner, playing my best poker, I don't need much to go further than this."
Whenever Hellmuth played somewhere near the rail during the Main Event, the crowd surrounding him was three or four rows deep. The added pressure of the fans on the rail inspire Hellmuth, and he feels like he does his part inspiring so many others to play great poker.
"I like it when there are a lot of people, and I like doing my thing," Hellmuth said. "I like inspiring people and I know that Tiger Woods, as a golfer, inspires people. I know that Michael Jordan, when he was the best in the world, inspired people.
"When you watch the best in the world do what they do at the highest level, then you see, 'Wow, this is what's possible.' I understand that I inspire hundreds of millions of people all over the globe, and I accept that responsibility and I like it. I like it when I'm playing great and when people are watching."
Speaking of the best in the world, there's another player named Phil who is widely regarded as the best poker player ever — Phil Ivey. Even Hellmuth recognizes that Ivey is one heck of a player and someone who will be pushing him for years to come.
"Phil Ivey and I are going to have a really nice bracelet race, so let's see what it looks like in 20 years," Hellmuth said of the challenging atmosphere between the two.
But it might be the big cash games Ivey plays that keep him from chasing bracelets as hard as Hellmuth does. Knowing how much Ivey has always talked about his legacy in the game and how bracelets are often the biggest judge of one's poker talent, those cash games must be really, really juicy for Ivey. Hellmuth knows that.
"'Phil, I missed the whole World Series of Poker, how good do you think they are?'" Hellmuth recalled Ivey saying to him about the cash games before adding his own sentiments. "Not necessarily good, but big. They are playing $4,000/$8,000 and $5,000/$10,000 blinds, and in a game like that you can win seven, eight million in one night. He was over there and sacrificed the Series. I thought he didn't want to be here because it's such a grind and it's so hard, and I know that two years he didn't cash very many events. Then last year he won a bracelet, which is uber rewarding, but it is tough and it is a grind, but then I found out that he wasn't here because the cash games in Macau were so big."
Want to stay atop all the latest from the 2015 WSOP? If so, make sure to get PokerNews updates on your social media outlets. Follow us on Twitter and find us on both Facebook and Google+!