California Dreamin': On the Road with Negreanu for Final Leg of PokerStars Pro Tour

Donnie Peters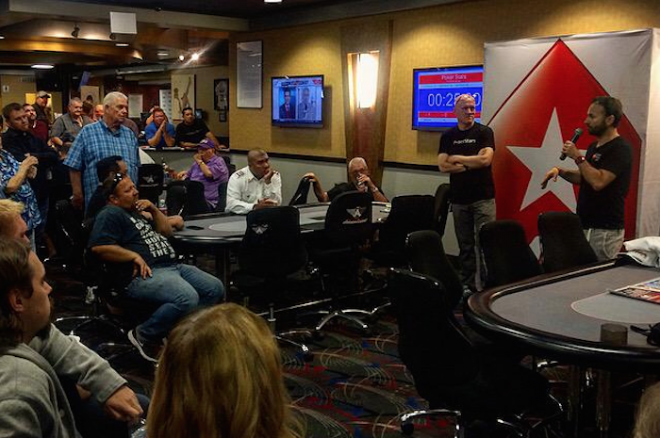 "It's really important for poker players to make their voices heard among the decision makers in California and tell them 'Let California Play'," said Daniel Negreanu.
The wheels of the PokerStars Pro Tour have been turning since the middle of July, picking up steam with every stop as PokerStars and its team of star players continue the trek across California to promote awareness and support for legally, regulated online poker in the state. The events have garnered a lot of attention and attracted large crowds, and PokerNews has the pleasure of tagging along with the tour for its final leg to see just how far this movement has come.
Negreanu, who is headlining the final leg of the tour alongside Vanessa Selbst, was the main attraction for Thursday's event at the Aviator Casino in Delano, California, and it rated very high on his list.
"The Aviator Casino stop was my favorite event we've done so far," Negreanu told PokerNews. "I really enjoyed engaging with the people, and the room was really nice. I knew the owner already, everyone was accommodating, there was great conversation... I felt really comfortable, and I just really engaged. I was wide awake, and it seemed like everyone had fun."
From everything we saw, those in attendance certainly had fun. In fact, they had a blast. For many of them, it was one of the biggest moments of their lives to not only meet one of the game's biggest stars, but play with Negreanu as well. Heck, Negreanu even hopped up and grabbed the karaoke microphone after he busted from the tournament to belt out Eminem's Stan. That in itself was worth the price of admission.
When we talked to him, Negreanu said that it's seeing and interacting with these players that shows the heartbeat poker still has, despite the naysayers.
"It's fun to see people play poker at a lower level," he said. "You know, everyone talks about 'Oh, poker is too tough now,' but if you travel around to these small casinos there's a lot of beginning players still out there."
The message the PokerStars Pro Tour is promoting aims to help better inform the poker-playing public about the benefits of regulated online poker, backed by PokerStars working directly with a selection of card rooms in California. From Friday through Sunday, the remaining card rooms involved and attended by the tour include Diamond Jim's Casino, Club One Casino, and the Turlock Poker Room. One can find the complete schedule of events on the Californians for Responsible iPoker website.
By putting on these events, with the help of Negreanu, Selbst, Chris Moneymaker, Jason Somerville, and Liv Boeree as the "main attractions," PokerStars has helped grow the movement for online poker regulation in California.
"The main reason I'm here is to get these guys to sign up to Californians4iPoker.com, so every time we do the Q&As I try to remind [the people] why we're here because their voices need to be heard," said Negreanu about his role in promoting the message. "The whole purpose of this is to get as many people signed up as possible, so that when we make a push down the stretch run the politicians know, 'OK, this is an issue that people care about.'"
Not only that, but some of the events have worked with various charities to help raise money for good causes, showcasing the positive reach poker can have on communities. The 500 Club Casino event saw 100 percent of the tournament's proceeds donated to Valley Children's Hospital in Madera, amounting to over $12,000. At the Stones Gambling Hall stop, PokerStars donated £10,000 to Make-A-Wish.
Upon arrival at the venue, PokerNews quickly became aware how big the tour has grown and the enthusiasm of poker players in the area. The regular patrons of these card rooms are often only connected to players like Negreanu and Selbst via a television screen or social media, but on Thursday the entire Aviator Casino was abuzz as "Kid Poker" did his thing for the fans.
A meet-and-greet portion of the day started shortly after 3 p.m. with Negreanu addressing those in attendance, highlighting the reason he was there: to help bring everyone possible onboard in the push for online poker. The six-time World Series of Poker gold bracelet winner then fielded several questions from the audience and provided informative responses with a fun twist.
One of the questions directed towards Negreanu was if he had any poker tells. Negreanu quickly responded with "I have so many!" before his energetic laugh led into a story about how he once blinked too many times on an episode of High Stakes Poker that allowed his opponent to pick off a big bluff. Seeing someone of Negreanu's poker stature acknowledge that even he makes mistakes and it's cost him in his play resonated greatly with the audience, as many were seen laughing along with a nod as if to say, "Heck, if Daniel can make mistakes, then so can I."
After the meet and greet, people were ecstatic to have met Negreanu and couldn't wait to get a chance to play with him in the $65 buy-in tournament that was set up for later in the afternoon.
"He is such a great guy, this is so cool!" said one fan to a friend while showing off the photo he had taken with Negreanu.
"Oh my god, he's my favorite!" exclaimed another, an older woman who was talking to her husband about meeting the player she's always idolized. "I told him, 'You know, it's just so nice to meet you. You're my favorite player.'"
It's this fan-friendly, good-natured personality that allows Negreanu to relate so well to people, and that's something Al Adler, owner of the Aviator Casino, truly appreciates.
"I think it's the intangibles beyond being just a poker player," Adler said. "When I made the introductions, the thing I pointed out was that everybody knows how great of a poker player Daniel is, but the thing that we really recognize and why we think he has such appeal is because he's pristine — the word I used was class, he's got class."
Adler went on to add that Negreanu does a lot for the game, citing the PokerStars Pro Tour and Negreanu's willingness to get out there and help promote the growth of poker.
"It's really nice from a customer standpoint and from a branding standpoint that when you have a true gentleman like Daniel and ambassador of the game, in the truest sense, that's what is really neat," Adler continued. "I don't care what anyone says — yes his TV appearances matter, yes his results matter, but the fact that he's a great guy in combination with that stuff is why everyone's here."
Of course, Adler understands the message extends beyond getting people in the doors to meet Negreanu and participate in the event. It's about growing the game, which would certainly be done with the addition of online poker to California, and that's why he's taken the steps to get the Aviator Casino on board with PokerStars for this push.
"Poker growth is great all around, completely," Adler said, without hesitation. "We've seen statistically that when you look at when Black Friday hit in the United States, table hours in our state and others started to decline. It's not huge, but it's noticeable and it's now a few years deep. Having PokerStars here to help promote their message is something we saw as of a necessity in the path to poker expansion."
Online poker also serves as a great way for new players to practice, learn from mistakes, and eventually take their talents to the live felt. Instead of online poker and live poker being seen as two different animals, it's important that the industry work together and see the connection between the two. For Adler, this connection has to do with how online poker serves as a feeding ground for live players.
"When you look at the demographic of young males and women first getting into poker, the biggest impediment to them playing in brick-and-mortar casinos is that they are scared to make a mistake," he said. "They're scared to do something that they get chastised for — like the blinking poker tell Daniel talking about earlier. How cool is it that when you're getting your sea legs, as I call them, you can be in the comfort of your own home learning the game online at your own pace? You can just do your thing, and we all get better after we make some mistakes. That's how we learn. You look at Doyle Brunson's book where he was with Johnny Moss and Amarillo Slim taking ace-king versus tens in the hotel room over and over to figure out if it was a good hand to go with or not. Through trial and error, that's how we all learn. When you make the environment more accommodating to people to learn the game, however it is that they get to love poker, you help bridge the gap with new players to get them into live poker rooms. That's where the dream of winning the WSOP Main Event or a World Poker Tour title happen; online poker helps bridge that gap."
As the PokerStars Pro Tour continues on throughout the weekend, you can stay tuned to PokerNews for more coverage from the events.
For more information on the PokerStars Pro Tour, visit the Californians for Responsible iPoker website.
Want to stay atop all the latest in the poker world? If so, make sure to get PokerNews updates on your social media outlets. Follow us on Twitter and find us on both Facebook and Google+!