Five Thoughts: Conniff Ships WPT World Championship, Seidel Ships $2M in Monaco and More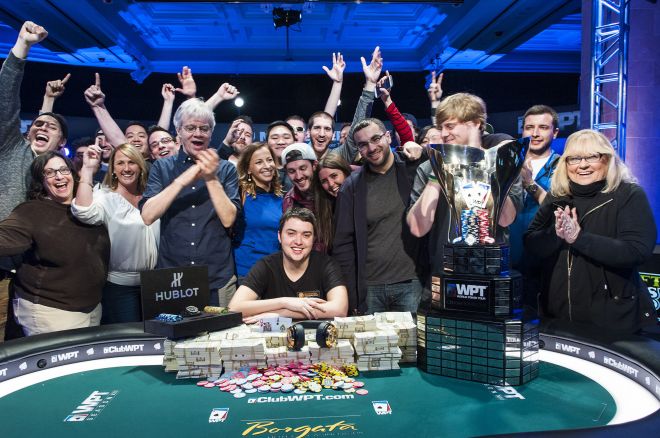 In October of 2012, I somehow navigated through a field of a few hundred players at the PARX Poker Room to reach the final table of their Saturday tournament. There are only two hands that I distinctly remember playing, and I lost them both. This is typical considering I probably ran extremely well in order to reach the final table. It's so easy for us to key in on the hands where we should have won, even during profitable sessions.
One hand was simple. We had just formed a final table of 10, and the effective stack at the table was no bigger than 30 big blinds. A very tight, older gentleman o my right, who I played several hours with, opened to two-and-a-half times the big blind from under the gun, and I looked down at
. With 20 or so big blinds, my options were limited, and after assessing what the gentleman's range could be and incorporating the fact that eight players would still act after me, I folded. I don't recall if the gentleman's hand was shown down, but maybe that's a positive sign that I was swayed by confirmation bias in a limited sample.
The second hand that I remember actually cost me a fair chunk of change. We were four-handed at this point, and I had amassed a significant chip lead. There was about $12,000 in the prize pool and roughly $5,000 was designated for first place. With my chip advantage, my goal was to either win outright or negotiate a deal that would get me as close to first-place money as possible without having to deal with any pesky variance. The third-place player had around 15 big blinds, and the fourth-place player had around six or seven big blinds. The short stack was eventually all in against me holding a suited
, I had him at risk with an
, but unfortunately he paired his king and doubled through.
Not long after, the third-place player eliminated the short stack, and all of the three remaining stacks were fairly even. We agreed upon an even chop, guaranteeing all of us more than second-place money.
One of the guys I chopped with was this kid from Brooklyn named Asher Conniff. He found me on Twitter that night, and responded to that tweet.
I gave Conniff a follow, but looking back I didn't even favorite or reply to his tweet. Total jackass move.
Over the next two years I'd spot Conniff at the Rio during the World Series of Poker, grinding in some of the smaller buy-in events. I didn't get a chance to play at PARX as much because I was living with my girlfriend (now wife) in Trinidad and Tobago, and all of my trips to the U.S. were to poker tournaments for PokerNews.
In December, Conniff's name popped up in my feed when he qualified for Poker Night in America at Rivers Casino Pittsburgh. Unfortunately for him he didn't run too well against Phil Hellmuth and company, but he was very positive when reflecting upon his experiences under the lights.
"Cash games have never really done it for me," Conniff confessed. "The endgame and strategic elements of poker tournaments have always been my favorite part of poker. Over the years, I've played a ton of poker hands, all different disciplines and stakes, but over time I've settled into being a mid-stakes tournament player, one aiming to reach the top level."
A few weeks ago, Borgata Hotel Casino & Spa kicked off the Borgata Spring Poker Open with a $1 million guaranteed, $560 buy-in event. Conniff's name popped up on my feed once again when he reached the final table. He eventually reached heads-up play against Matt Stout, and the two struck a deal. Conniff defeated Stout for the trophy and the additional money they set aside, banking the first six-figure score of his career.
One week after his big win, I arrived at Borgata for the season-ending WPT World Championship. To my surprise, Conniff was in the field. Despite winning more than $100,000, a $15,400 investment was still quite large, and I never saw Conniff as a player that would take unnecessary shots to try and gamble it up. Little did I know that Conniff had qualified on BorgataPoker.com, when he accidentally registered for a satellite during the New Jersey Championship of Online Poker. He won the satellite, and after a few failed attempts to unregister from the tournament and collect the money, he took his seat in the Signature Room at Borgata.
Conniff crushed, and by the end of Day 3 he was the chip leader with 23 players remaining. On the penultimate day, he relinquished the chip lead to Russian Alexander Lahkov, but was still sitting pretty entering the televised final table of six.
Before the cards were in the air at the final table, I approached Conniff for a brief interview for the PokerNews Podcast. I knew there was no chance he'd remember that time we chopped the Saturday tournament at PARX. It was a very small buy-in nearly three years ago, and since then he's played thousands upon thousands of hands with a plethora of random faces. I agreed to not even bring it up, fearing that I might come across like Chris Farley interviewing Paul McCartney.
Me: Hey, Asher. Hey, remember that time we chopped that poker tournament?
Asher: Yeah.
Me: That was awesome.
Conniff and I made our way to a quiet corner on the television set to conduct the interview, and en route he mentioned that we had once played together. I blurted out a confirmation, thrilled that he remembered.
"I didn't think you'd remember who I was," he admitted, grinning. "You see so many poker players all of the time."
You can guess who I was rooting for to win that night.
1. Conniff Wins WPT World Championship
The final table of the WPT World Championship at Borgata was filled with storylines. Conniff was on the heater of his life, Carlos Mortensen was looking to break the record for most career WPT wins, Raw Deal host Tony Dunst was making a return trip to the WPT World Championship final table, Alexander Lahkov was a Season XIII WPT champion, Ray Qartomy made the final table of the WPT Borgata Poker Open earlier in the season, and Brian Yoon is a two-time WSOP bracelet winner.
No outcome at this final table would've been underwhelming, and ultimately it was Conniff who defeated Lahkov after a very short heads-up battle to capture the title, nearly $1 million, a pair of Monster 24K® Headphones, and a Hublot Oceanographic 4000 watch.
Final Table Results
| Place | Player | Prize |
| --- | --- | --- |
| 1 | Asher Conniff | $973,683 |
| 2 | Alexander Lakhov | $573,779 |
| 3 | Brian Yoon | $330,358 |
| 4 | Carlos Mortensen | $267,764 |
| 5 | Ray Qartomy | $208,647 |
| 6 | Tony Dunst | $173,873 |
Conniff was forced to postpone a European vacation in order to play the event, and said after the final table that he was "theoretically supposed to be on a flight" the next morning.
"It depends on how hungover I'lll be," Conniff admitted, grinning.
Several hours later, as I was finishing my last drink at around 3 a.m. at Borgata's famed B Bar, Conniff and his friends rolled up to keep the night going.
He didn't make his flight the next morning.
Conniff did play a $300 buy-in event at PARX not too long after, which pulled at my heartstrings a little bit, and on Thursday he appeared on Good Day NY. Despite being surrounded by ignorance, Conniff did a fantastic job.
When asked if he is going to continue "gambling," Conniff confidently answered the he will continue to play poker.
2. Seidel Ships €2 Million
The €100,000 buy-in PokerStars and Monte-Carlo® Casino EPT Grand Final Super High Roller attracted a jaw-dropping 71 entries, and the last player standing was yet another New Yorker, Erik Seidel. Seidel pocketed €2,015,000, the second-largest score of his illustrious career, and leapfrogged Phil Ivey and Dan Colman on the all-time money list.
Only Daniel Negreanu ($29.97 million) and Antonio Esfandiari ($26.41 million) rank higher than Seidel ($24.07 million).
Seidel defeated Poland's Dzmitry Urbanovich, who earned €1,446,600 and, even more so than Conniff, is on the heater of a lifetime. Urbanovich of course won four events at EPT Malta, including the €25,000 High Roller, and leads the 2015 Global Poker Index Player of the Year race.
Unsurprisingly, the final table featured all legends, including Max Altergott, Igor Kurganov, and Scott Seiver.
| Place | Player | Country | Prize |
| --- | --- | --- | --- |
| 1 | Erik Seidel | USA | €2,015,000 |
| 2 | Dzmitry Urbanovich | Poland | €1,446,600 |
| 3 | Max Altergott | Germany | €940,300 |
| 4 | Dario Sammartino | Italy | €709,500 |
| 5 | Igor Kurganov | Russia | €551,000 |
| 6 | Thomas Muehloecker | Austria | €427,100 |
| 7 | Fedor Holz | Germany | €337,500 |
| 8 | Scott Seiver | USA | €261,800 |
| 9 | Vladimir Troyanovskiy | Russia | €199,620 |
Kurganov joined the Remko Report with Liv Boeree and two other representatives from Raising for Effecting Giving for a very spirited conversation about the benefits of meta charities and philanthropic endeavors:
Seidel's victory led Donnie to write a piece asking if the eight-time WSOP bracelet winner was the GOAT (greatest of all time). It's a very fair argument. Seidel's tournament résumé was tremendous even before he won this event in Monaco, and includes one of the most impressive single-year performances ever. In 2011, Seidel absolutely crushed everybody, winning four events, reaching 11 final tables, and amassing more than $6.5 million in live tournament earnings.
In addition, Seidel racked up $3,430,225 in earnings before Chris Moneymaker won the WSOP Main Event in 2003. Had he stopped playing poker on December 31, 2002, he would rank 229th in all-time earnings, ahead of names like Mukul Pahuja, Brock Parker, and Paul Volpe.
3. Neymar Jr. Joins PokerStars
Leading up to the WSOP Main Event final table, Brazilian Bruno "Foster" Politano received a ton of support from his countrymen. In one particular hype video during the #VAMOFOSTERA campaign, footballing legends Neymar Jr. and Kakà voiced their support for Politano:
"What's up, Bruno Foster?" an enthusiastic Neymar said in the video. "Want to wish you good luck! Bring this bracelet to Brazil! Let's go Fostera!"
Now, seven months later, Neymar's name is once again buzzing in the poker endemic, this time because he's signed with Team PokerStars.
In an announcement by the world's leading online poker site, Neymar said, "Growing up and playing football everyday has made me a competitive person. When I'm not playing football, playing poker and competing against my teammates on the road or in home games with friends is one of my favorite things to do."
In the press release, Neymar compared football and poker, claiming that you need the same skills to succeed in both arenas.
The Brazilian star will not be the first internationally-renowned footballer from FC Barcelona to compete in the PokerStars live arena, however. Gerard Piqué, world-class centre back and boyfriend of Shakira, has played in several events, and made a final table in a side event at EPT Barcelona in 2011.
According to the release, Neymar will make his debut at EPT Barcelona to kick off Season 12 of the European Poker Tour. He will compete in a series of "Celebrity Duels," where poker players and fans will have a chance to meet Neymar and compete against him on the felt.
Hopefully Neymar's relationship with the poker world will extend beyond a few promotional videos and select live appearances. It's nice to have huge stars like him and Rafa Nadal representing our game, but it would be even better if they put forth the effort to fully immerse themselves into poker. Perhaps they will be able to deepen their relationships with PokerStars more when they get older - for Neymar that won't be for a while - as Boris Becker and another Brazilian footballing legend, Ronaldo, have been very active on the felt in retirement.
Remko and Donnie discussed the Neymar signing a bit further while in Monaco:
[video]https://www.youtube.com/watch?&v=C6TsQedFNvM[/video]
4. Negreanu Partners with Poker Central
Poker Central, the soon-to-be 24/7 poker television network, got my attention when they partnered up with ARIA Resort & Casino for this summer's Super High Roller Bowl. Content is king when it comes to television, and the events planned by Cary Katz and company will provide Poker Central with a lot of original and interesting poker programming.
Likewise, there is a connection between Poker Central and Poker PROductions, so one can assume that they have a nice archive of content as well. This is paramount for any startup network, because there are 24 hours in a day, 168 hours in a week, 8,760 hours in a year, and they all need to be filled in 2015.
My ears really perked up when it was announced that Negreanu was officially coming onboard. Say what you want about Kid Poker, but his name is worth its weight in gold in our industry, and he isn't out here sponsoring products willy nilly like Michael Mizrachi. Negreanu is very selective, and I generally trust his instincts when it comes to poker and the business of the game. If he is willing to put his name behind this company, it certainly has potential.
Speaking of Negreanu, there is a documentary titled KidPoker in the works. According to the PokerStars YouTube channel, the doc is coming soon, and "promises to take you into the mind and soul of one of the greatest poker players to have every graced the felt."
Yes, please.
5. RIP Robert Panitch
On Monday, I received a generic email addressed to the WPT Info account from a family friend of Robert Panitch. According to the email, Panitch had passed away, and the gentleman simply wanted to let the community know. I was momentarily skeptical – hoping more than anything that it was simply a hoax from the "Uncle Krunk" parody Twitter account – but after verifying with Robert's brother Richard that he had indeed passed away, my heart sank.
Panitch was brilliant. He was quirky, kind, and brave. According to his brother Richard, he took care of their late mother for many years before traveling around the United States to play poker, and always surprised his friends and family members with random gifts. In person, Panitch always had time to say hello, even while he was playing. There are several hilarious stories about him enjoying some fraternal activities while on the circuit, but I'll allow those who were actually present to eulogize Panitch where appropriate.
I am very happy that Panitch's friend reached out, and that the industry has had a chance to pay their respects and even grieve. I can assure you that Richard, his family, and his friends are very appreciative of all of your kinds words.
Photo courtesy of Joe Giron and the World Poker Tour
Get all the latest PokerNews updates on your social media outlets. Follow us on Twitter and find us on both Facebook and Google+!