Inside Gaming: Nevada, Macau Revenue Declines; Frissora's First Earnings Call as Caesars CEO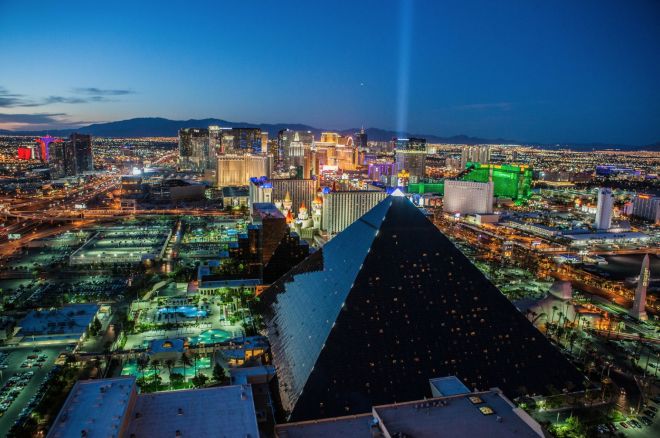 This week's Inside Gaming collects several reports of recent revenue figures of interest to the industry, starting with Nevada showing a decline in June and Macau also reporting another big monthly drop. MGM Resorts International was down, too, in the second quarter, with its CEO responding to rumors about a possible sale of The Mirage. And Caesars' new President and CEO Mark Frissora appeared on his first earnings call since assuming his new role, reporting an upswing for his new company.
Nevada Gaming Revenue Down in June
June numbers for gaming in Nevada were provided by the Nevada Gaming Control Board last week, showing a decline for the month of 8.37% year-over-year. Casinos in the Silver State had a total gaming win of $830.9 million for the month, down from the $906.9 million of June 2014.
The baccarat tables demonstrated an especially sharp decline, with the month's win amount of $58.5 million representing a 56% fall from June 2014 (which had been one of the highest months ever for baccarat in Nevada). Slots were down as well, though by just over 1%.
The Nevada Gaming Commission's Senior Research Analyst Michael Lawton told Vegas Inc. that the poor baccarat numbers were likely related to the Chinese government's anti-corruption efforts and their effect on Macau's gaming industry. "The baccarat business has changed since last year at the time," Lawton explained. "This June is a completely different world."
Speaking to the Las Vegas Review Journal, Frank Fantini of Fantini Gaming Research also suggested the hit to Nevada baccarat games could be related to what is happening over 7,000 miles away. "The question about the big decline in baccarat volume," said Fantini, "is whether it is a trend running parallel to the decline of high roller play in Macau as big Chinese players lay low."
Overall gaming revenue was down sharply on the Strip for the month, decreasing a little over 16.3% from a year ago.
With the close of another fiscal year, the NGCB also reported gaming revenue for the July 1, 2014-June 30, 2015 period was down 1.58% from the previous 12-month period, with the win amount for the year coming in at $11.048 billion.
For more on the June numbers, visit Vegas Inc.
14th-Straight Monthly Decline for Macau
Speaking of Macau — and of declines in gaming revenue — July saw the Special Administrative Region significantly slide once more in terms of its casinos' gaming win, falling 34.5% for the month when compared to July 2014.
That marks the 14th-straight month of declines in gaming revenue for Macau, with the drop being slightly less than the 36.2% endured in June. July's total 18.6 billion pacatas (about $2.3 billion USD) exceeded the 17.4 billion ($2.18 billion USD) of the previous month, the lowest revenue total for Macau since November 2010.
As Reuters reports, the decline along with other factors "has pressured gaming stocks, including Sands China, Wynn Macau, Galaxy Entertainment, SJM Holdings, Melco Entertainment, and MGM China," with those companies "stocks hav[ing] fallen between 10 and 28 percent so far this year versus a 3 percent gain in the benchmark Hang Seng Index."
The trend hasn't prevented Melco Entertainment from continuing with its plans to open a new $3.2 billion casino in Macau in late October. However, as we reported earlier this week, prospects for the new casino hinge considerably on Melco's request of the government to be allowed 400 gaming tables being granted.
Run to Reuters for more about the latest figures and future prospects in Macau.
MGM's Murren Denies Mirage Sale Rumors
Last week we led with reports of intensifying speculation regarding the possibility of MGM Resorts International selling The Mirage as part of a broader near-term plan to reorient its focus that includes as well the ongoing construction of the Park project.
More details regarding those plans were discussed in a conference call this week regarding MGM's second-quarter earnings; however, Chairman and CEO Jim Murren denied rumors regarding the sale of The Mirage, noting it was "not on the market" even if the company does from time to time discuss the topic with interested buyers "as a fiduciary responsibility," as the Las Vegas Review-Journal reports.
"It's an outstanding property we covet and respect dearly," Murren added, further insisting "we don't put a 'for sale' sign on any property."
Other details regarding MGM's "Profit Growth Plan" initiative for the Nevada-based company were shared during the call, as was a report of an almost 33% decline in 2Q earnings caused largely by its interest in MGM Macau.
For more from the MGM's earnings call, leap over to the LVRJ.
Caesars CEO Frissora Reports Positive 2Q, Declines Bankruptcy Discussion in Conference Call
We close with news from another 2Q earnings call, the first for Mark Frissora as President and CEO of Caesars Entertainment Corp. since his officially taking over the position July 1.
After sharing some early impressions of the company and broadly outlining his team's plan to "develop a strategy to drive growth and enhance performance for the near and longer term," Frissora then shared that "CEC reported a strong, very strong second quarter," with the total revenue of $1.1 billion reflecting an increase of just over 17%.
It is worth noting, however, that figures from Caesars Entertainment Operating Company — the largest operating division of CEC which filed for bankruptcy at the start of 2015 — are not included in Caesars' earnings report. "The results of CEOC and its subsidiaries are no longer consolidated with CEC subsequent to CEOC's Chapter 11 filing on January 15," Caesars explained in a press release regarding the call. As Frissora noted, even including CEOC still showed an overall increase of 8% year-over-year to $2.3 billion.
Nothing regarding the CEOC's ongoing bankruptcy proceedings or other related matters — including the recent court rulings allowing creditors to pursue lawsuits seeking approximately $11 billion from Caesars — was addressed during either the opening statements or in the Q&A session that followed.
"The restructuring of CEOC remains a fluid process and we will continue to provide updates on developments as appropriate," said Frissora. "I know that the restructuring process [and] the state of our discussions with various creditors [is] the topic of interest on everyone's minds," he added, though declined to take questions citing the ongoing nature of the proceedings.
For Caesars' highlights from its 2Q report, pedal to the PRNewswire.
Photo: "Las Vegas Strip," Anthony Quintano. Creative Commons Attribution 2.0 Generic.
Want to stay atop all the latest in the poker world? If so, make sure to get PokerNews updates on your social media outlets. Follow us on Twitter and find us on both Facebook and Google+!