PokerNews Exclusive: Jason Somerville Announces Run It UP Reno from October 20-25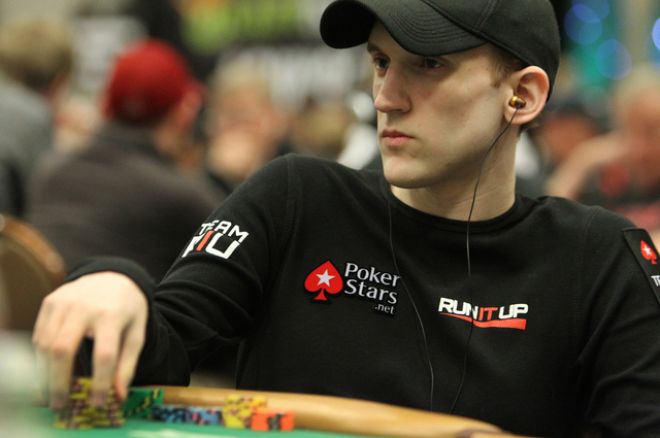 It's good to be Jason Somerville. Last week, the Team PokerStars Pro signed a new two-year partnership with Twitch to continue his popular Run It UP Show, which will resume airing on Sunday, August 16. Plus, a week before that, both he and Phil Hellmuth were revealed as studio analysts for Poker Night: The Tour, a new poker series set to debut in early 2016.
Now, Somerville, who is currently at PokerStars headquarters in the Isle of Mann, has given PokerNews an exclusive to announce Run It UP Reno, a six-day poker festival that will take place at the Peppermill Reno from October 20-25 and culminate in a $500 buy-in Main Event.
"I'm extremely excited to be announcing our first official RIU event," Somerville told PokerNews. "We've done RIU events in the past, but they've always been a part of others events, they never lived on their own. RIU Reno will be hosted at the Peppermill Reno, which is a beautiful resort."
The RIU Reno series is unlike anything that has ever really existed before in poker.
Somerville continued: "The RIU Reno series is unlike anything that has ever really existed before in poker. For me, RIU Reno is not just about playing poker, but also having a fun experience from the get go. I'm trying to invite a variety of interesting people that are going to come and make the event special regardless of how your poker goes, regardless whether or not your aces hold up during the tournament, you're still going to have a good time."
Among the planned festivities are a series of seminars, a Survivor television viewing party on Wednesday (it's well known that Somerville is a huge Survivor fan, and he suggests a former contestant may be in attendance to host the party), and as Somerville put it, "a lot more things I have in the works but I'm not ready to announce just yet."
What Somerville could say is that the Main Event is the first engineered and designed specifically for Twitch, which will live stream the final table with Somerville serving as commentator, provided he doesn't make the finale. In addition, PokerStars will soon be offering qualifiers for the rest-of-world players. However, he recommended if you plan to attend to book your hotel room today at runitupreno.com.
Somerville will also have a say in schedule and structures — which will be released over the next few weeks – and was quick to point out that the tournament slate will be complimented by a full offering of cash game action.
"I played about 100 sessions of five-card PLO during the last stream, and I am guaranteeing you for sure there will be five-card pot-limit Omaha cash games running at the Peppermill during this tournament series," Somerville revealed. "For me, man, I'm trying to make things as fun as possible."
Finally, PokerNews is happy to confirm that we will be providing live coverage and daily podcast from the event.
"PokerNews couldn't be happier to be working with Jason Somerville for his Run It UP Reno event in October," explained PokerNews Editor in Chief Donnie Peters. "The RIU brand has grown immensely, and all of Somerville's endeavors promote positive growth of the game. PokerNews shares that same vision. Having Somerville as our resident pro on the PokerNews Podcast for the past two summers has helped take our product to the next level, and we hope to do the same for the RIU event this Fall."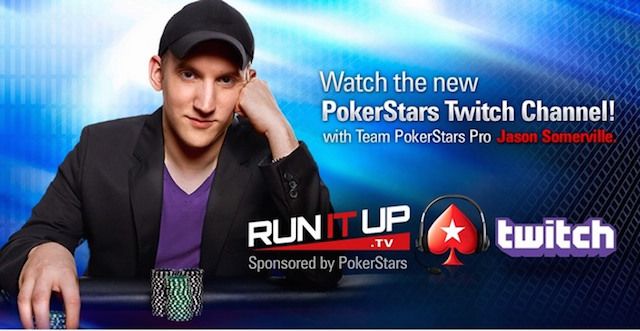 While Somerville is enthusiastic about Run It UP Reno, he was equally excited to talk about his new deal with Twitch.
"Everything is awesome, I'm super excited to have signed a new deal with Twitch," said Somerville. "Two more years of streams to come. I did 78 days in a row in the Spring, and I enjoyed every single day of streaming, all 500 hours of streaming. I know we had a ton of people enjoy the show, so it's great to be back for at least two more years."
For any RIU fan, the new deal probably wasn't much a surprise; in fact, given the show's success, it seemed a new deal with Twitch would be a foregone conclusion, which was sort of the case.
"This was something that was a slam dunk, it was just a matter of the details and how exactly we were going to work it out," Somerville admitted. "I've always been a fan of Twitch – I watch a variety of other streamers – so to be involved with them and have a partner like them, they're a phenomenal company obviously. The fourth-most trafficked website on the internet to Facebook, Netflix, and Hulu, so that's pretty cool to be spearheading the Twitch Poker phenomenon. I've really enjoyed seeing the community blossom over the last year.
"I started in Twitch Poker on October 2014. We're not even a year later now, and things have already exploded tremendously. In the Spring, my show alone had over three million unique global viewers, and we delivered 200 million minutes of poker content to consumers across the world. I think poker content had come kind of stale, and I think it's awesome to see people react positively to RIU and some of the different things I've incorporated into the broadcasting. To have Twitch recognize that and want to be a part of making it even better is something I don't take for granted."
Stay tuned to PokerNews for more information on Somerville's Run It Up! Reno event.
Want to stay atop all the latest in the poker world? If so, make sure to get PokerNews updates on your social media outlets. Follow us on Twitter and find us on both Facebook and Google+!