PokerNews Cup: Unibet Pro Quentin Lecomte Calls King's "The Best Casino In Europe"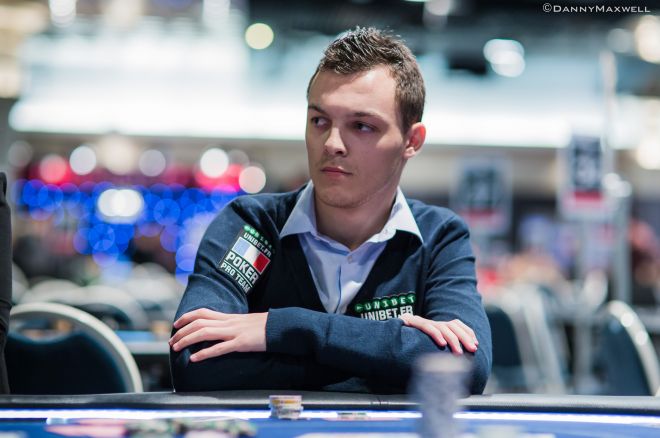 Considered one of the best and most complete poker players in the French poker scene, Unibet Poker pro Quentin Lecomte first made poker headlines in 2013, when he became his country's first player to ever win a Unibet Open Main Event.
At King's Casino in Rozvadov, Czech Republic to play in the second starting flight of the 2015 PokerNews Cup, Lecomte hit the showers early as his stack was slowly eaten up by his opponents.
"The tournament went well until the end of the day," Lecomte said. "With 1,500/3,000 blinds, I had about 50,000 in chips when someone opened for 6,000 in the hijack seat and I shoved with
from the button. Too bad my opponent had
and a third
on the flop gave him a decisive set.
"I enjoyed this event a lot, even if with such a diverse field the table draw becomes one of the most important factors. My first table was really great, as I had few bad players that helped me to grow the stack. Then I was moved to another table with two or three good players, and finally I was moved a third time to a good table again. Too bad I lost, though.
"I know that some people in the room complained a bit about the 'unpredictability' of some bad players, but it's still better to play against bad players than against good ones like Daniel Negreanu or Fedor Holz, right?"
Despite the negative result, his experience in the PokerNews Cup has been a positive one.
"It is a very nice event," he said. "During the weekend, I played with players from 10 or even 15 different countries who, for the most part, are here to have fun. Although the €250 Main Event wasn't expensive, there was a lot of money to be won with the guaranteed prize pool set to €200,000 — and this made people want to come and play."
On his way to King's famous cash games, Lecomte sat down with PokerNews to reflect on his career as a poker pro, on the dangers connected to a big win, and on why the King's Casino might a game-changer for poker players in Europe.
One Simply Can't Win Every Time
Although his entry on the Hendon Mob shows live tournament winnings for $376,508 with cashes in prestigious events like the European Poker Tour (EPT), the World Poker Tour (WPT), and the Italian Poker Tour, the young poker pro refers to his victory of the Unibet Poker Open in Cannes for €100,000 as probably the most important result in his career.
"Winning the Unibet Open has been very important for me in many different ways. I have always wanted to win a big event so that title made me feel like I have accomplished one of my biggest goals in poker," Leconte shared. "Plus, it came only a few months after signing my contract with Unibet. The timing was just perfect.
"That result helped me to become more confident and it changed a lot about myself. During the six months that followed, I was really confident about my game. It's always the same story: when you win, you always think that you are going to keep winning every hand."
After the Unibet Open I felt I needed to show everyone how good I was - that was a very stupid idea.
However, as Leconte was quickly forced to realize, the line between confidence and overconfidence is often a lot thinner than people think.
"In a way, that victory put more pressure on me because I felt that I had to prove mine was not luck," he said. "I believed I had to win something else, that I needed to show how good I was - and that was a very stupid idea because in poker you just can't win every time.
"Looking back, I think I didn't react to my win in the best possible way. Maybe I even thought that I was better than I really was, and that lead me to take many wrong decisions in the tournaments I played after the Unibet Open."
"People Like Negreanu Make Poker a Fun Game To Play"
After learning the lesson the hard way, Lecomte began to look at his position as poker pro and brand ambassador for Unibet France more responsibly and became one of the leaders of the room's Team Pro.
"The first thing you should realize when you get a contract with a poker room in France is that you are being very lucky," Lecomte admitted. "Five years ago, you only had to be known and to have some decent results to get a contract. Now, it's a completely different thing."
Well aware of the privilege he has by being a pro and by making a living doing something he loves, Lecomte shared his strong commitment to do everything in his power to bring more people into the game and to let everyone enjoy the game of poker.
"I try to be the best ambassador I can. To represent a poker room, in my opinion, is to help people enjoy poker and to be nice to the other players every single day - even when you lose."
As he drops the name of Team PokerStars Pro in the conversation twice in less than five minutes, we ask Lecomte if 'Kidpoker' is the one he looks up to. "I wouldn't say he's the one that I admire the most, but he's definitely an example for everyone. When you look at the way he behaves at the table, you simply want to be an ambassador like him. I think that if everyone behaved like him in poker, the game would be a much funnier one to play."
To represent a room is to help people enjoy poker and to be nice to the other players every single day.
"The poker pros should never forget that 90 percent of the people who play are in to have fun. Let them have a bad time, and they won't come back, which is bad for everyone. Plus, it's always better to play in a friendly environment than in a tournament where everyone seem to be silently plotting against all the other players. I want to have fun too."
"If you keep this in mind, you see why Negreanu is just the clear example of a perfect ambassador," Lecomte continued. "The way he behaves is what makes a difference. His results are important too, but the way he makes people enjoy their time at the table is a lot more than that."
King's Cash Games Are Great If You Are After Easy Money
"As someone who comes from France, I can tell you that everything is better here in Rozvadov," Lecomte said about the King's Casino. "You always get all the action you want and unless you don't look for some extremely special table, you always get a seat in less than 15 minutes. Try doing that in France."
The busy and juicy cash games are not the only reason that makes him coming back to Rozvadov every time he can. "The chairs are comfortable, the tables are great, the food and the soft drinks are free the whole time. I like how everyone at King's always do their best to make you feel important."
"Right now, this is definitely one of the best casinos in Europe. Things are not the same in many other places in Continent, where you are treated like a king only when you play slots or roulette."
Asked to comment on the games and on the level of the players that are usually in them, Lecomte smiled while saying that King's "is definitely a good spot for cash game players. If you come during the weekend you can find a lot of people who are there to have a good time and grab some drinks. They want to gamble and play so, as one can imagine, this translates into many soft tables and easy money."
Get all the latest PokerNews updates on your social media outlets. Follow us on Twitter and find us on both Facebook and Google+!