888Live Brazil: Jorge Bié Wins Main Event, Charity Event Attracts Stellar Field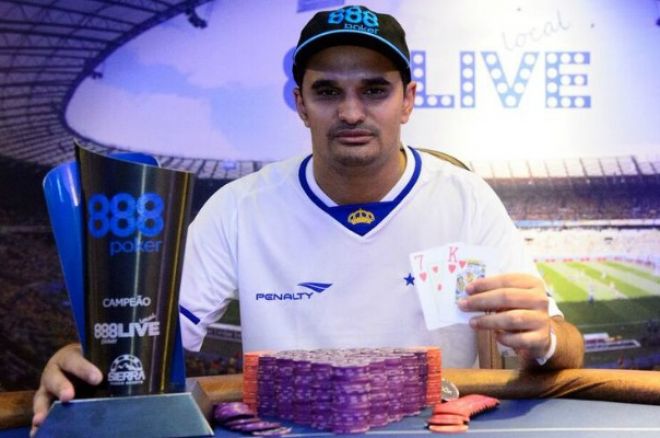 After six days of poker, parties, and great fun - Brazil's first-ever 888Live event came to a close in the early hours of Dec. 16, with local hero Jorge Augusto Bié leaving the iconic Mineirão Stadium in Belo Horizonte as the Main Event champion.
The first poker event to ever take place in a football stadium in Latin America turned out to be a great success, with a total of 2,694 players gathering at the VIP Lounge of the Mineirão Stadium to participate.
To take home both the trophy and the R$90.000 (approx. $22,990) first-place prize, Bié had to survive a field of 1,404 entries who ponied up the $490 ($130) buy-in breaking the R$500,000 (approx. $130,000) guarantee and bringing the total prize pool up to R$550,000 (approx. $140,500).
Bié's title came at the end of a challenging heads-up battle against Brazil's Rubens Bontempo. Although Bié started the match with a sizable advantage in chips, Bontempo proved to be a difficult opponent to beat as he consistently stole chips from Bié's stack.
After a long roller coaster ride, the decisive hand took place when both players went all in with Bontempo showing
and Bié showing
on a
board. Bontempo's trips put him in a good spot to score a vital double, but the
on the river gave Bié the flush to win the event.
Final Table Results
| Place | Player | Prize |
| --- | --- | --- |
| 1 | Jorge Augusto Bie | R$90.000 |
| 2 | Rubens Bomtempo | R$65.000 |
| 3 | Thiago Quites | R$50.000 |
| 4 | Marcelo Curi | R$44.250 |
| 5 | Nagib Santana | R$35.000 |
| 6 | Márcio "Codornas" | R$28.000 |
| 7 | Silvio Garcia | R$18.000 |
| 8 | Marcelo de Souza | R$14.000 |
| 9 | Guilherme Antunes | R$11.500 |
888Live for Good Raises $2,500 for Charity
The six-day long festival promoted by 888poker started with a bang on Dec. 10 when a field of sports stars, poker pros, and national celebrities gathered at the VIP Lounge of the Mineirão Stadium to play in the 888Live For Good, a special charity event.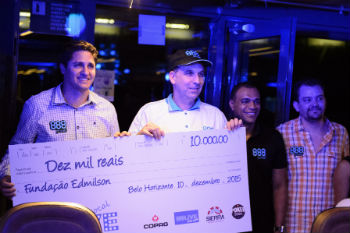 Designed to raise money for the Edmilson Foundation, an institution created by former Barcelona's and Brazil's national football player Edmilson to help disadvantaged youth, the gala event attracted many big names from the country's sports scene like 2002 World Cup champion Denìlson, long jump Olympic gold medallist Maurren Maggi, volleyball 2004 Olympic gold medallist Rodrigão and 888poker ambassadors Bruno Foster, Nicolau Villa-Lobos, and Bruno Kawauti.
"The foundation has already completed ten years of hard work, and we have helped more than 3,000 children," Edmilson said. "For us, it is always important to receive this kind of help from important partners like 888poker. This helps to contribute to, and maintain the institution and to guarantee a better future for our kids."
A similar enthusiasm was also shared by Rodrigão, who explained that he was happy to join the event, and he hopes the one promoted by 888poker is only the first one of a long series.
"It's great to have the opportunity to help those in need. This social component of poker is very nice indeed, and other sports should see this as an inspiration to do it more often," Rodrigão said. "After this major event, I am sure that this Christmas will be much better for many children."
Speaking about the event, Denìlson also praised the efforts made by his former teammate at Sao Paulo FC and the poker room. "I've known Edmilson since we played together in Sao Paulo, and after that, we played - and won - a World Cup title together. We are more than friends. Because all of that, I know Edmilson Foundation well, and its work is marvellous, they do an incredible job." Denìlson explained.
"It's extremely important to see companies like 888poker helping. Poker is growing fast in Brazil, and using its reach to do good and help children in need is something we have to praise every time".
Denílson got eliminated in the first half of the tournament but was happy with the overall experience at Mineirao Stadium. "We can see a major growth clearly happening in Brazilian poker. I have friends who play all the time and, for this reason, I started to get interested in it and wanted to play."
"I enjoyed being here and taking part in a tournament like 888Live for Good, meeting caring friends, along with the great atmosphere of playing poker in a World Cup stadium. This idea, bringing poker to Mineirao, was something beyond our expectations; it was a brilliant move".
In the end, 2014 November Niner Bruno Foster and Ronaldo Fernandes battled heads-up. With
holding against his opponent's
on a
board, the 888poker ambassador took the crown.
"It's always good to help those in need. And, even better when you can help by doing something you love," Foster commented. "I am extremely happy, not only with the win but also because we can help the children from the Edmilson Foundation."
Lead image courtesy of superpoker.com.br
Want to stay atop all the latest in the poker world? If so, make sure to get PokerNews updates on your social media outlets. Follow us on Twitter and find us on both Facebook and Google+!