Eyes On Ben "Fabaz" Farrell's Epic Heater: "This Month Has Been Insane!"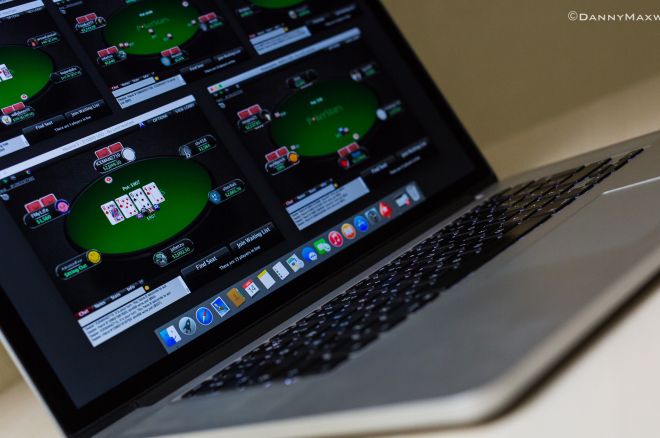 If you play low to mid-stakes online, you have likely faced off against hardcore tournament grinder Ben "Fabaz" Farrell. Farrell, who has over $1.2 million in online tournament cashes as tracked by PocketFives.com where he is currently ranked in 159th place in the site's Worldwide Rankings, has been on a heater most poker players would envy.
To get an idea of how hot Farrell has been, take a look at his big cashes on PokerStars just from November. To start, Farrell kicked off the month by winning the Hot $44 on November 1 for $9,974.40. Then three days later, Farrell took sixth place in the Big $22 for $1,880.25 before outright winning the same tournament a couple weeks later on November 16 for $8,148.37. The following day on November 17, Farrell won the $8.80 NL Hold'em [6-Max, Turbo], $6K Gtd to bank $1,533.56.
Things became even bigger and better for Farrell on November 20 when he shipped the $55 Daily Double #1, $75K Gtd for $12,750. Then on November 22, he finished first in the Sunday Storm to collect $17,286.74 as part of a five-way deal.
Straight after, on November 23, he won the Hot $82 for $9,618.75 and the $27 NL Hold'em [6-Max, Hyper-Turbo,3-Stack], $10K Gtd for $2,125.88. During his hot-streak, he also notched numerous final table appearances.
Farrell has previously had some success with his first big online tournament cash coming in October 2013 when he banked $31,470 after finishing third as part of a three-way deal in the PokerStars Sunday 2nd Chance. However, his biggest win came a year later when, in September 2014, he won $164,213 after finishing third as part of a four-way deal in the World Championship of Online Poker (WCOOP) Event #43 Warm-Up on PokerStars.
PokerNews took notice of Farrell's epic November and sat down with the British poker player to learn about his hot streak along with his poker life. Not surprisingly, the heater seemed very surreal to Farrell, as it might to any tournament grinder in the game. We asked him how the streak compared to his big cashes in the Sunday 2nd Chance and the WCOOP Warm-up.
"This month has been insane," said Farrell. "I prefer getting wins in the dailies instead of chasing the glory, but obviously I'll take the glory if it comes along as everyone would. I like the momentum you gain after getting a nice win, but at the same time making sure I am playing well and then keep moving forward. I am very self critical when I play maybe too much but I think this helps me improve daily as I like to add things into my game as I go along and discuss with my friends who play as well."
I feel I work hard, but mainly on the actual tables.
As expected, success doesn't come easy to most players. Such is the same for Farrell. However, instead of studying hard off the felt like many do, he tends to learn while playing.
"I feel I work hard, but mainly on the actual tables," Farrell explained. "I don't study as much as most people do, but I am aware of how I am playing everyday where I am winning and losing BBs from each spot. I am very self critical of every line I take. A lot of credit should go to my brother, Josh "jish1" Farrell, who has grinded with me this year. Also much credit should go to my mate Mike "Blazinchron" Bailey, who I talk to basically everyday I play. We motivate each other plus talk through spots all the time. Mike is a very good player, and I think he might even be better than me."
As part of his epic hot streak, Farrell gets to play PokerStars Team Pro member and 2003 World Series of Poker (WSOP) Main Event champ Chris Moneymaker heads-up for $1,000 for finishing on top of the PokerStars TLB Leaderboard.
Farrell is excited about playing the man who many believe was responsible for the poker boom stating that, "It should be fun. I am confident in my heads-up game, so feel I have a decent shot at the free $1,000!"
However, Farrell already has his sites set further than that looking to break into the top 10 on the PokerStars Yearly Tournament Leaderboard, where he currently sits in 14th place. He plans to pick up the volume in December in hopes that he can finish the year strong.
"I will be increasing the volume in December whilst trying to keep a decent win rate if it drops will just drop tables," explained Farrell. "Goals for the rest of the year are to just make top 10 on the PokerStars Yearly TLB Leaderboard, and play as well as I can. It will be tough to get there as I will have to get through the likes of "girafganger" and "asjbaaaf". Both players put in a lot of hard work and are good guys. So I hope we can all squeeze into the top 10."
Before Farrell began to play full-time, he had a full-time job as an IT technician. As his poker career took off, he worked less and less before taking a year off to see if he could make a run at becoming a full-time professional poker player.
"I used to work full-time as an IT Technician. I then moved down to part-time as I started taking poker more seriously," explained Farrell. "Eventually I took a year career break to give poker a shot full-time for a year so I could always go back to my job if I wanted. Although it seems like that won't happen now as there isn't an IT job available at my old company available. However, that's fine as I might do some contracting work as that type of work is more flexible anyway."
Farrell further explained why he took a year off that: "I wasn't too happy in my job and I felt like I had to give playing poker full-time a shot. I felt I was prepared for the hard work I would have to put in to make it work."
Originally Farrell felt that six months would have been enough time to understand if he had what it took to become a full-time professional poker player, however, after his big WCOOP score, he had different plans.
"The WCOOP win helped me extend the time I wanted off from work. I was looking into taking six months off before the win," shared Farrell. "However, once I had that win behind me, I chose to take a full year career break."
A question going through many poker players' minds is whether they should take a shot at becoming a full-time poker pro. We asked Farrell what people should think about before doing it.
"I would only recommend someone going pro if they had been semi pro for a couple of years already with a solid understanding for every aspect of the game, is hard working, and understands variance," elaborated Farrell. "There are many things to consider before fully becoming a pro, and with poker the way it's going only the best will survive. So if your willing to put the work in go for it."
Want to stay atop all the latest in the poker world? If so, make sure to get PokerNews updates on your social media outlets. Follow us on Twitter and find us on both Facebook and Google+!