Inside Gaming: Adelson Family Buys LVRJ, NJ Considers Casinos Outside Atlantic City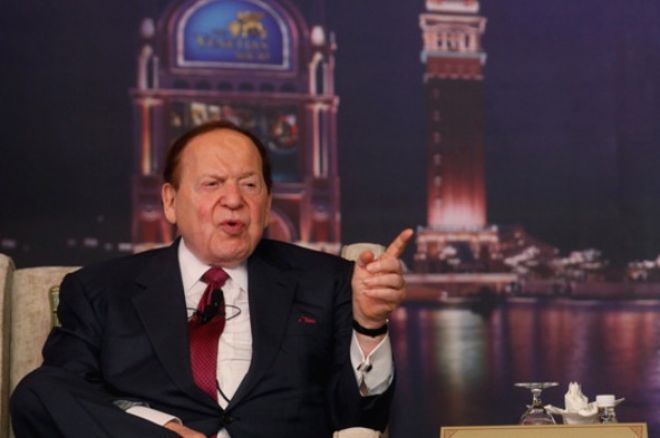 In this week's installment of Inside Gaming, the family of billionaire Sheldon Adelson finally steps forward as the purchaser of the Las Vegas Review-Journal, building can at last begin on the MGM Springfield, and New Jersey lawmakers advance legislation to allow casinos outside of Atlantic City.
Mystery Solved: Sheldon Adelson Purchaser of the Las Vegas Review-Journal
As a frequent source of information about the gaming industry in Nevada, the Las Vegas Review-Journal unsurprisingly earns a fair amount of attention from us here in this space. So, too, does Las Vegas Sands Corporation CEO and multi-billionaire Sheldon Adelson garner frequent notice thanks both to his central position in the industry and his significant efforts lobbying against online gaming among other causes.
This week saw the newspaper and billionaire casino magnate both appear in a series of stories that added up to a kind of ongoing mystery ultimately resolved by the revelation that Adelson and his family have purchased the LVRJ for $140 million — significantly more than the $102 million spent by the paper's last purchasers, the New Media Investment Group, back in March of this year.
While Adelson becoming the new owner of Nevada's largest daily newspaper would make for an eyebrow-raising story in and of itself, intrigue surrounding the sale increased considerably as the week wore on thanks to the fact that it wasn't revealed until several days after the sale who the new owners actually were.
The New York Times summarized the unusual set of circumstances yesterday, noting the consternation caused by the paper's new owners' initial refusal to identify themselves publicly, a situation that gave rise to concerns about journalistic ethics and transparency being expressed by many including the LVRJ's own reporters.
After the revelation was finally made that the Adelson family were the purchasers, an explanation was given that they had "refrained from announcing they were the paper's owners to avoid taking attention away from the Republican presidential debate, held on Tuesday at Mr. Adelson's Venetian Resort Hotel Casino in Vegas."
Questions remain, however, regarding both Adelson's intentions with the LVRJ and whether or not the paper's editorial policies will remain unaffected going forward. The NYT article discusses libel suits pursued by Adelson against others who have reported unfavorably about him in the past. Adelson's ownership of an Israeli newspaper is also noted, as is the lack of further comment from both the Adelson family and the sellers, the New Media Investment Group, whose CEO is said not to be returning reporters' calls.
LVRJ editor Michael Hengel is quoted expressing concern about possible conflicts occurring in the future thanks to Adelson's conspicuous — and at times controversial — involvement in both business and politics. "What we've got to go on right now is their statement that they are going to allow us to pursue journalism the way we should and the way we're expected to," stated Hengel. "I am going to take them at their word on that, until they prove otherwise."
Read more about the purchase and speculation about what might come next for the LVRJ at the New York Times. And for more details of the purchase and various other implications, see the LVRJ's own extensive report.
Mass. Gaming Commission Vote Allows MGM Springfield Construction to Begin
It's been over a year since the MGM was awarded a resort casino license in Massachusetts, but finally construction can begin on the new MGM Springfield casino thanks to a positive vote by the Massachusetts Gaming Commission yesterday.
On Thursday, the MGC voted unanimously to allow early demolition and construction on the planned-for $950 million casino, reports MassLive. After first receiving a license back in November 2014, the MGM can now proceed with building with an opening date of September 2018 the current target.
Still to be voted upon are recent changes to the design of the casino, including altering the original plan for a 25-story hotel tower to a six-story one. As we noted here a couple of weeks ago, those changes had been met with uncertainty by some members of the Commission, and they have reserved for a later date to vote upon them.
MassLive additionally notes how the changed design also involves other alterations amounting to a significant change in cost from $150 million to $800 million.
Read more about the vote and future plans for the MGM Springfield at MassLive.
NJ Legislation Moves Forward for Casinos Outside Atlantic City
Also on Thursday, legislators over in New Jersey moved forward with bills that would allow the state to build casinos outside of Atlantic City, including in two northern counties giving residents of New York City a shorter distance to travel in order to gamble.
Different bills were passed — one by a state senate committee and another by a committee in the state Assembly. In order to move forward to be voted upon by both houses, the bills will need either to be reconciled as a single bill, or one of the two chosen with which to proceed.
Reuters reports that in the Assembly bill "about a third of the new casinos' gaming tax revenues would be funneled to Atlantic City for the first 15 years," then a smaller portion of revenues would continue to go AC's way thereafter.
However, even with Atlantic City potentially getting a piece of the pie should casinos open elsewhere in the state, current AC mayor Don Guardian believes "expanding gambling in the state would ultimately be 'devastating' for his financially distressed city."
An especially rough 2014 saw four of the city's 12 casinos close along the famed Atlantic City boardwalk, with those that remain continuing to struggle throughout 2015.
Read more about the bills and other reactions to the prospects of NJ casinos outside of Atlantic City at Reuters.
Photo: "If Sheldon Adelson...," East Coast Gambler. Creative Commons Attribution 2.0 Generic.
Want to stay atop all the latest in the poker world? If so, make sure to get PokerNews updates on your social media outlets. Follow us on Twitter and find us on both Facebook and Google+!