Can Poker Side Bets Like Hot Poker Spot Help Attract Recreational Players to the Game?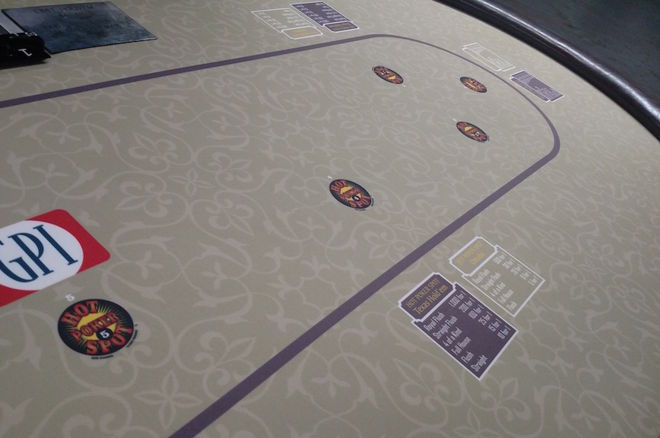 If poker is to retain recreational players and attract new ones, something needs to change. There seems to be little debate regarding that, and numerous online sites have already begun to implement such changes. However, live cash game poker has seen little innovation outside of bad beat jackpots, high-hand bonuses, and room-specific promotions.
A couple months back, I had the opportunity to attend the CGA2015 convention in Lake Tahoe, which is where I was first introduced to Hot Poker Spot, an optional side bet wager for live Texas hold'em and Omaha games. Now I know what you're thinking (because I thought it too) – a side bet has no place in poker.
If you ask 100 hardcore poker players, without explanation, whether or not they'd place a side bet in poker, I'd wager at least 90% would respond negatively. Poker players aren't much for change. However, once seeing Hot Poker Spot in action – which I recently had the opportunity to do when I visited the Gaming Partners International (GPI) headquarters in Las Vegas – I became much more open to the idea. I believe others would feel the same if they saw it in action.
At the very least, players would admit that, while they may not play the optional bet, Hot Poker Spot would appeal to recreational players and help fledging poker rooms, and let's face it, with the number of poker room closures in recent years, anything that helps them get their numbers up is good for the game.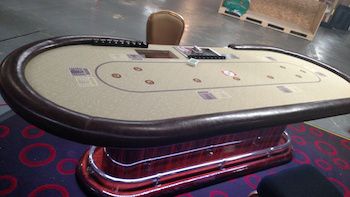 So what is Hot Poker Spot?
Simply put it's a side bet made before each hand in a regular poker game. It may sound intrusive and not at all practical, but you might be surprised. In fact, it's picked up a tremendous amount of steam after being put on display at last year's G2E expo in Las Vegas.
Right now, GPI, not to be confused with Alex Dreyfus' Global Poker Index, has Hot Poker Spot approved for play in Washington, California, Arizona, New Mexico, Mississippi, and most recently in South Dakota, where Cadillac Jacks Casino in Deadwood became the first location in the state to launch Hot Poker Spot. In early November both Ameristar Casino in Vicksburg and Pala Casino in San Diego, successfully introduced Hot Poker Spot to their poker rooms. Other successful introductions include Inn of the Mountain Gods in Mescalero, New Mexico and Casino Del Sol in Tucson, Arizona.
"This is groundbreaking," Casino Del Sol poker manager Rick Chaurette previously told Indian Country Today Media Network. "To my knowledge, we are the first casino, Indian or otherwise, to have a licensed and approved poker side bet. While blackjack has been doing this for years now, to the point where half of all blackjack wagers are side bets, there is no other active poker side bet right now and our introduction will pave the way."
It's also headed to Bucky's Casino in Prescott, Arizona, where Table Games Manager Jeff Cagan was keen to bring it in.
"I had been thinking about creating and/or bringing in a poker room side bet for years," Cagan told PokerNews. "Mixing a player-funded game such as poker and a house-banked side bet was not legal in Arizona until just recently though, so once I found out it was ok, I jumped at the opportunity."
Cagan continued: "We have now been running the Hot Poker Spot side bet for about two weeks and players have really taken to it. The transition into making and paying the bets has been easy, since most people have played side bets on a Blackjack table before and there is almost no slow down to the game for players. The side bet also makes it really worth it when you get a fairly common good hand like a full house or four of a kind. In the past, a winning full house or four of a kind hand could possibly win you a very small pot, depending on how the board looks, but with the Hot Poker Spot side bet, even if everyone folds, a full house pays $25 and a four of a kind pays $100 for a $1 bet, in addition to the pot. If a player is lucky enough to hit a good hand with a few dollars on the side bet, you can see how it can change someone's day from a bad one to a good one real quick."
While the aforementioned properties may not be the biggest venues in the poker world, plenty have expressed interest, included among them, LA cardrooms. Unfortunately, the licensing wheels move slowly for non-tribal cardrooms, and the GPI is waiting to hear back from regulators. Likewise, Hot Poker Spot hasn't been able to launch in Nevada as regulators would require the side bet, which would be house-banked, to utilize a different chip set than poker, a non-housed-banked game. Logistically it doesn't work, so for now the Silver State remains off limits.
Blackjack and other table games have featured side bets for years, but how does one work in poker? In the case of Hot Poker Spot, the game is the same – it's either hold'em or Omaha – and before players receive their cards they have the option of placing a side bet, usually anywhere for $1-$5. To win that wager, which is not determined by the other players at the table, but simply on the outcome of a player's hand (two hole cards combined with three community cards), all a player has to do is make a qualifying hand, which is a straight or better.
If they do that, without folding, they win, meaning they don't need to make a showdown to win. For example, let's say you flop quads, put out a bet, and everyone else folds. Simply show your hand and you'll still get paid. Also, if you raise a big hand preflop, like pocket aces, and everyone folds, you'll receive your wager back (anyone else who placed a wager and folded loses).
While payouts vary from state to state and property to property, Washington State has authorized the following pay tables: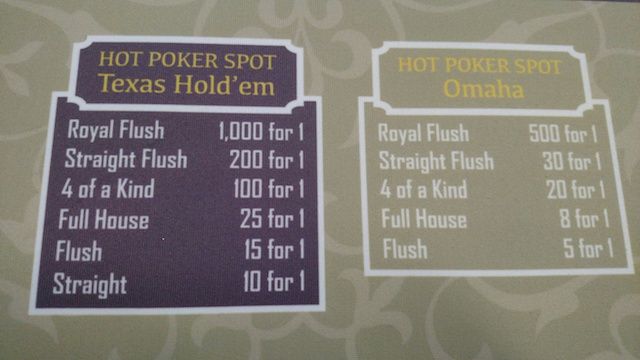 The idea of Hot Poker Spot was intriguing, but when I first learned of a list of arguments popped into my mind:
The side bet will change the dynamic of the hand.
This side bet will slow the game too much.
Dealers don't need yet another responsibility.
A side bet will further deplete the poker economy.
Much to my satisfaction, Clay Dubois, a veteran in the gaming industry and technical sales engineer for GPI, was able to address each concern.
"If it's not well thought out, it's bound to fail," he said before answering each of my questions. While some players might be more prone to chase bad hands in the hopes of hitting the side bet, the strategy of the game remained the same. As for the side bet slowing up the game, that wasn't the case; in fact, by their estimate, at most one hand an hour is lost (as it turns out it takes dealers but a moment to collect the side bet, and any winning wagers are paid out by the floor staff so as not to hold up the game).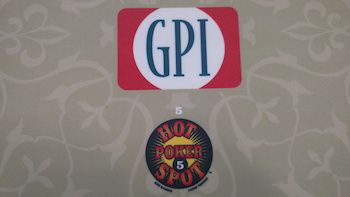 Furthermore, it doesn't take but a moment for the dealers to incorporate the side bet into their routines (it's surprisingly simple), and history has shown that dealer tokes have increased nearly 20% in rooms that have introduced Hot Poker Spot. Finally, as for the side bet depleting the poker economy, plenty of arguments can be made against it; for instance, the revenue stream will allow rooms to keep rake down and launch new player-friendly promotions, not to mention the new players (and money) the side bet can bring to the game.
Hot Poker Spot may not be for everyone. By nature, poker players are resistant to change, but modifications – be it to poker on television, online, or live — must be made if the game is to survive, at least as we've come to know and love it. I don't expect Hot Poker Spot to singlehandedly salvage live poker, but I do believe it has the potential to reinvigorate browbeaten poker rooms and help save them from closure.
I'd certainly like to see it offered in more rooms, but more than that, I'd like to see poker rooms look outside the box when it comes to bringing new players into the game. If they don't, I fear the industry will only continue to constrict.
For more information visit gpigaming.com.
Want to stay atop all the latest in the poker world? If so, make sure to get PokerNews updates on your social media outlets. Follow us on Twitter and find us on both Facebook and Google+!