Inside Gaming: Judge Censures Caesars, MGM to Charge for Parking, DFS Challenged in Texas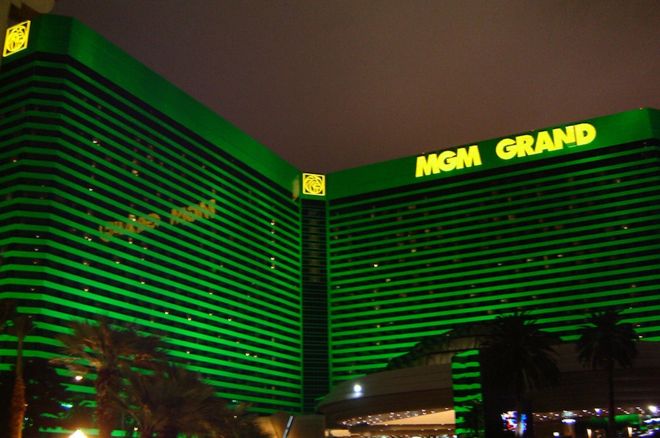 In this week's Inside Gaming, a bankruptcy judge chastises Caesars, MGM announces plans to charge for parking, and the Texas Attorney General weighs in on the legality of daily fantasy sports in his state.
Judge Objects to Caesars' Claims of Confidentiality in Unit's Bankruptcy Case
On Wednesday in a U.S. Bankruptcy Court in Chicago, Judge Benjamin Goldgar inauspiciously suggested the case involving a unit of Caesars Entertainment Corp. could "take rather a different turn from the one that I imagine the debtor and its parent and its affiliates would like to see" after learning an examiner assigned to the case was being impeded in his duties, The Wall Street Journal reports.
Goldgar's statement came in response to learning that Caesars and others believe seven million pages' worth of documents produced thus far by the investigation to be "confidential or privileged by Caesars," a position that would hinder the efforts of the examiner in the case, Richard J. Davis, when it came time to make his findings public.
In 2014 Caesars restructured into three separate units — Caesars Entertainment Operation Co., Caesars Entertainment Resorts, and Caesars Growth Properties — with the greater part of the company's $22 billion-plus debt (about $18.4 billion worth) being taken on by one of the units, Caesars Entertainment Operation Co. (CEOC). Then in January 2015 that unit — CEOC (and not all of Caesars) — filed for bankruptcy.
In response, creditors filed lawsuits against Caesars claiming the restructuring had been a ploy to avoid paying money owed. All told, those lawsuits sought approximately $11 billion from Caesars.
Representatives of the CEOC objected, stating that halting such lawsuits would enable them to negotiate more readily with creditors and eventually exit Chapter 11. But in July in the same Chicago courtroom, Judge Goldgar ruled that Caesars would have to face those lawsuits. Observers then speculated that if even one of the creditors prevailed in a lawsuit, the parent company may be forced to file bankruptcy as well.
The investigation by examiner Davis concerns Caesars' dealings with its CEOC unit prior to the January 2015 declaration of bankruptcy. At present some senior creditors have agreed to a proposed bankruptcy exit plan by the CEOC, though others are waiting to learn more from the examiner's report, explains the WSJ.
Goldgar described the report as the "centerpiece of the case" that would "blow up the logjam" currently preventing it from going forward and being resolved. He chastised attorneys representing Caesars and the CEOC, noting that if they did hold up the release of information and thus the report, "that's what raises in my mind the prospect of other possible outcomes for the case."
Goldgar concluded by allowing Davis "to publicly file a summary of his findings, and a redacted report," with that expected to come next month.
Read more about the current status of the case at the WSJ.
A First for the Strip: MGM to Begin Charging for Parking
Those who frequent the famed Las Vegas Strip are well aware that while certain expenses surrounding the gambling experience can accumulate, there thankfully has been no cost to park at the casinos. That's about to change, however, as MGM Resorts International announced last week its intention to introduce a "modest parking fee program for valet and self-parking."
In a press release announcing the change, MGM outlined a plan to "construct a $54-million, 3,000-space parking structure near the northwest corner of the Excalibur Hotel campus." Construction is set to begin this spring and scheduled to be completed by the second quarter of 2017.
"Parking fees will be moderate when compared to similar fees in other markets," the MGM goes on to explain. "An overnight guest utilizing a self-park faciility will pay $10 or less." Las Vegas residents will also be given a grace period for free parking once the program starts, with participants in the M life loyalty program also eligible for free parking.
Does the announcement signal the end of the free parking era? "It's a safe bet that other Strip casinos will fall into line soon," opines Michael Hiltzik of The Los Angeles Times. David G. Schwartz, director of the Center for Gaming Research at the University of Nevada-Las Vegas and a historian of Vegas and U.S. gambling, similarly thinks the decision could prefigure similar changes from other casinos.
"It could be an historic shift," Schwartz said to the Las Vegas Review-Journal. "Ultimately, it's up to the customer." Schwartz added that the logistics of handling 45 million visitors per year presents a further challenge to the city and its casinos.
Meanwhile Hiltzik cites a relative lack of competition as a factor influencing the move, noting how MGM owns a dozen casinos on the Strip. "It's no secret that competition is what keeps prices low, and consolidation drives them up," explains Hiltzik, using the analogy of airline mergers and additional charges for bag fees and other amenities to underscore the point.
As of yet, no other companies owning Strip properties have announced similar intentions to begin charging for parking.
Visit the L.A. Times for more about MGM's move and its possible implications.
Texas Latest DFS Battleground Following Attorney General Opinion
Finally, those who picked Texas when choosing their line-ups of U.S. states where the legality of daily fantasy sports would next be challenged scored points this week when Attorney General of Texas Ken Paxton presented his nonbinding opinion on Tuesday that DFS was "illegal gambling" in the state.
Paxton referred to the element of chance in DFS a factor influencing his opinion that daily fantasy sports would be ruled as illegal gambling in a Texas court. "Because the outcome of games in daily fantasy sports leagues depends partially on chance," states Paxton, "an individual's payment of a fee to participate in such activities is a bet."
In an additional statement, Paxton referred to fees charged by sites (i.e., the "rake") as also relevant to his view. "Simply put, it is prohibited gambling in Texas if you bet on the performance of a participant in a sporting event and the house takes a cut," observed Paxton, as reported by mySA.
DFS site DraftKings swiftly denounced the opinion, with its counsel stating they "strongly disagree with the Attorney General's prediction about what the courts may or may not do if ever presented with the issue of whether daily fantasy sports are legal under Texas law."
Dallas Mavericks owner Mark Cuban, an investor in Fantasy Labs Inc which provides DFS-related data and tools, likewise objected, tweeting to Paxton "You certainly don't represent the views of Texans." As it happens, this week Cuban delivered the keynote speech at a gathering of the Fantasy Sports Trade Association in Dallas.
Neither DraftKings nor FanDuel have chosen to block Texas residents from participating in their contests, although some smaller DFS sites have.
Learn more about Paxton's opinion, other objections, and the fate of DFS in Texas at mySA.
Photo: MGM Grand (Las Vegas), Leonardo Pallotta. Creative Commons Attribution 2.0 Generic.
Want to stay atop all the latest in the poker world? If so, make sure to get PokerNews updates on your social media outlets. Follow us on Twitter and find us on both Facebook and Google+!