Matas Cimbolas Wins Lithuania's POY Award As Country Tightens Poker Regulation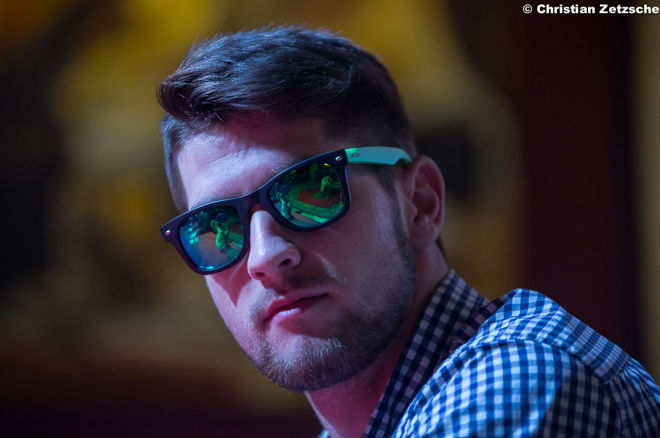 At the conclusion of what has been the best year in his poker career thus far, Lithuanian poker pro Matas Cimbolas started off the New Year by being designated Lithuania's Poker Player of The Year.
Cimbolas' victory came after garnering twenty-six percent of the vote, which was organized by PokerNews' Lithuania dubdomain and the Olympic Poker Club, who asked fans to nominate the player that they thought best represented the Baltic republic during 2015.
With thirteen live poker tournament cashes, 2015 was the best year in the 22-year old U.K.-based poker player's career. During the past twelve months, Cimbolas put together $372,475 in tournament earnings, topping the $346,811 in cash prizes he won in 2014.
Among Cimbolas' best results in 2015 are a win in the Sky Poker UK Poker Championships High Roller for $92,386, a runner-up finish in the United Kingdom and Ireland Poker Tour Nottingham High Roller for $49,380, and the player's first World Series of Poker cashes — $1,398 coming from The Colossus and $3,106 in Event #56.
Thanks to his performance, Cimbolas now sits fifth on Lithuania's all-time money list with live poker earnings totaling $721,862 according to the HendonMob. While the player is only less than $5,000 behind Anaras Alekberovas', Cimbolas will have to work hard to climb on top of the rankings as the title of Lithuania's all-time biggest money winner is firmly in the hands of poker 'bad boy' and PokerNews founder Antanas 'Tony G' Guoga, who has more than $ 4.8 million in tournament winnings.
Cimbolas' remarkable results in 2015 allowed him to also end the year atop his country's Global Poker Index (GPI) rankings, winning the race of Lithuania's GPI Player of the Year thanks to a total of 1,789.14 points.
Lithuania Approves Stricter Online Poker Regulation
Cimbolas' performance is not the only poker-related news coming from the Baltic republic, as on January 4 Lithuania's Gaming Control Authority (GCA) announced some important legislative changes.
A note sent to PokerNews shared that "in accordance with new amendments of the Gaming Law […] from January 1, 2016, the GCA will take strict legal action against gambling operators who organize remote gambling illegally and targeting the Republic of Lithuania."
Speaking about the decision to actively pursue the unlicensed poker operators that offer online services to Lithuania's residents, GCA's Director Virginijus Dauksys explained that the changes "have been widely publicized and will be strictly legally enforced. Gaming operators need to be licensed to operate in the Republic of Lithuania."
The GCA shared also that the enforcement of the new policy will include stricter controls on gambling-related financial transactions as the authority said to be ready to "take severe action to limit Lithuanian customer's transactions and payouts of winnings from/to illegal gambling sites. Banks and other financial institutions, including all payment providers, operating in the Republic of Lithuania are under legally binding orders to prevent all payments and credit related to participation in illegal gambling."
Similarly to what already in place in other license-based poker markets, Lithuania plans to involve the country's Internet Service Providers (ISPs) and use IP-blocking as a measure to keep unlicensed operators out of the country.
"The GCA will also have the right to issue legally binding orders to information hosting services and/or network service providers to promptly block access to illegal remote gambling operators' websites," the agency stated. "Information related to the identified gambling operators, organizing remote gambling illegally in the Republic of Lithuania, will be announced publicly."
To view both the 2015 Player of the Year and GPI overall rankings in their entirety, visit the official GPI website. While you're at it, follow the GPI on Twitter and its Facebook page.