PokerStars Running Neymar Jr Spin & Gos in Italy With a €500,000 Top Prize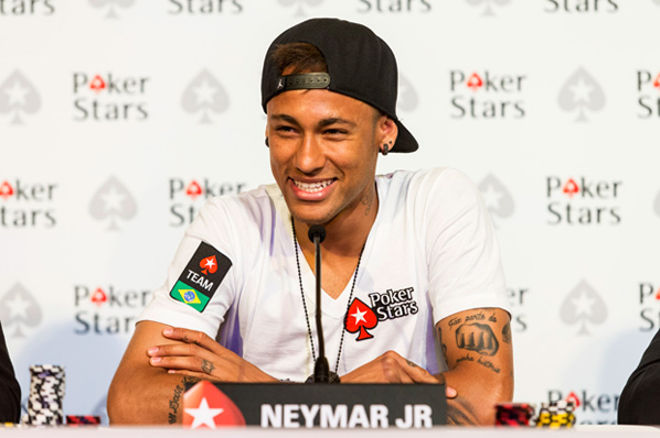 Some online poker players in Italy may strike it rich as PokerStars is now running "Neymar Jr Edition" Spin and Go's on its Italian poker client.
The special games are running from now until Feb. 7 and feature a potential top-prize of €500,000 with buy-ins at €0.20, €2 and €25. The normal Spin & Go's with €1, €5 and €10 also are running concurrently with a potential top prize of 10,000 times the buy-in.
For those of you not familiar with Spin & Go's, they are a three-max hyper-turbo sit-and-go where the prize pool is randomly determined after all players are seating, but before the first cards are dealt. Most of the time players are playing for just double the buy-in, however, the games offer the chance at playing for much more if luck is on their side.
The average implied rake on the special Neymar Jr-themed games varies based off the buy-in with the €0.20 buy-in games featuring the largest rake at 10 percent, the €2 buy-in games featuring a lower eight percent rake, and the €25 buy-in games featuring the lowest seven percent rake.
However, most players should in reality wind up paying more in rake since the average implied rake assumes a player is partaking in an infinite number of games which means they will be playing for the bigger prizes as percentages dictate. It is true that PokerStars should recognize overall the implied rake in the games from all its customers, however, most individuals will wind up paying a larger rake since the likelihood of playing for the top prize in any particular game is very low.
Those lucky players to play for the top prizes will theoretically not be paying any rake and brings the overall rake average in the game for all PokerStars players closer to the stated implied rates.
The selection of Neymar Jr to run the promotion is interesting since PokerStars is running a Cristiano Ronaldo Spin & Go campaign on its worldwide client where for a $0.50 buy-in players have a chance to play for $1 million, a super-car, or other big ticket prizes. The reason Neymar Jr may not have been involved in this campaign is that they are unable to use him to promote poker games in the United Kingdom, whose players is part of the worldwide PokerStars liquidity.
Is PokerStars Becoming a Major Player in Online Casino Games in Italy?
The Italian ring-fenced online poker marketplace is heavily dominated by PokerStars. According to PokerScout with 1,300 players based on a seven-day average playing ring games on PokerStars, the site is more than double the next five biggest Italian-facing sites combined.
However, the same can't be said for the casino market, which many believe is not only more lucrative, but also has more potential for gaming companies than that of online poker.
According to the Italian gaming regulator Agenzia delle Dogane e dei Monopoli (AAMS), PokerStars last year had a 2.58 percent marketshare for online casino games in Italy. This isn't as low as it seems since PokerStars only launched its online casino games in May 2015 with a limited amount of games, meaning that if it was launched for a full year with its current larger library of casino games one might expect this marketshare to actually be double or more.
Poker Industry Pro points out that if the marketshare was approximately doubled, it would be the fifth or sixth largest online casino in Italy last year. However, the biggest online poker room would still have major headway to be the biggest online casino in the country or even in the top three - with Lottomatica (14.66 percent), Sisal (9.69 percent and William Hill (8.28%) all with significantly higher marketshare last year.
*Lead photo courtesy of PokerStars.
Want to stay atop all the latest in the poker world? If so, make sure to get PokerNews updates on your social media outlets. Follow us on Twitter and find us on both Facebook and Google+!