A True Cinderella Story: Farid Yachou Overcomes Tough Field and More To Win WPT TOC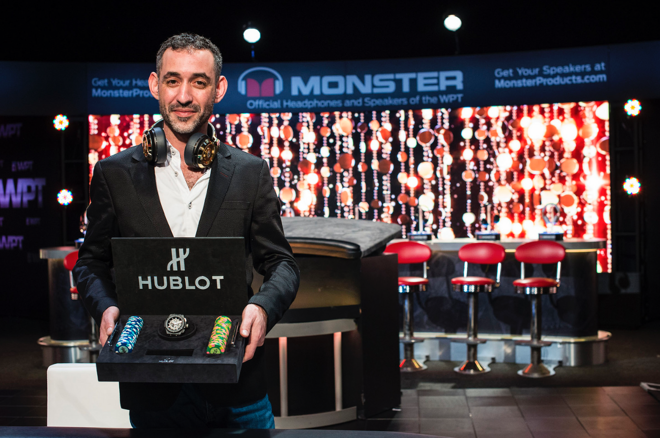 On Sunday, Farid Yachou won the inaugural World Poker Tour Tournament of Champions, topping a field of 64 players to win $381,600, a 2016 Corvette, courtesy of Monster, and a plethora of other prizes. Yachou's win closed out another season on the WPT and helped complete one of the best Cinderella stories that we've seen in poker.
"It's something I cannot believe," Yachou said after his victory. "I was seated with only champions, and I said to myself, 'I will be glad when I'm finishing in 30th, something like that. You know, leaving behind 20-25 champions. Then slowly, day by day, hand by hand, it all came together and everything came to me, so what can I say?"
One year ago, very little in poker knew of Yachou, except for a couple guys he played with in home games around Leeuwarden, Netherlands. There was Pieter de Korver, winner of the 2009 European Poker Tour Grand Final, and also Remko Rinkema, who said he played with Yachou a bit when he first got into poker in 2006.
"I don't have any specific memories of playing with Farid back in 2006, but I do recall him always being there as one of the guys," Rinkema said of Yachou. "We played low-limit rebuy tournaments and €1/€2 cash games, which was a lot of money for me back then. The live poker scene in Leeuwarden was very lively back in those days, and there was a game almost daily somewhere in the city."
It was de Korver who originally got Yachou into tournament poker, and it all started with a bang at WPT Amsterdam at the beginning of Season 14. Prior to that tournament, Yachou had never played a major live event. He played regularly in poker games with friends, and when he found out de Korver was headed to Amsterdam to play in the WPT event, Yachou decided to tag along.
"I had a friend of mine, and I was always playing with him," said Yachou when asked about how he came to play the WPT Amsterdam event despite never playing a big poker tournament before. "He was not that much better than me or maybe equal, and he won an EPT tournament for at that time more than €2 million. It was a good friend of mine, Pieter de Korver. He's a friend of mine, he lives in my city. So when WPT Amsterdam came, he told me about it and that he was going to play it. And I said, 'Well if you are going to play, then I am going to play, too.' I used to always see the people on television playing poker, and every time I would see them I would think, 'I can do that also.' And I tried, and I got lucky. I got lucky, and I played the tournament very well. Each hand I thought about it and I played it calm, [not too aggressive], like I did this tournament."
Not only was de Korver the person responsible for getting Yachou involved in live tournament poker, but his name came up when talking to Yachou about his fear of flying. When Yachou won WPT Amsterdam and he was told that part of his prize included an entry into the WPT Tournament of Champions, and that the Tournament of Champions was in America, he didn't want to go because he is scared to fly for travel.
"Yes, that is true," Yachou said when asked if he was scared about flying. "First I asked them if Pieter de Korver could go in my name, and they said no because it's only for WPT champions. So I thought that if it's like that, then I would go myself. Everything was a little bit far and I didn't have the visa. I had only two days to get the visa, but it came. When I was on the plane from Madrid to Florida, I felt calm and I wasn't afraid. It was a very good flight, so everything came together well. I didn't sleep very much."
The visa situation was also an interesting one, and one that could've prevented Yachou from being able to make the trip for the WPT Tournament of Champions. As it turned out, his visa was signed on the last possible day, narrowly getting it in before the approval deadline passed. Another 24 hours and Yachou wouldn't have been able to make the trip.
On top of that, Yachou had never been to America, adding to the awe of this remarkable story and making his win even more impressive. Anyone who has a reluctancy to travel due to the uneasiness of it all understands that being somewhere new and not knowing anyone can create quite the uncomfortable experience. But Yachou was able to overcome those feelings, buckle down, and focus on poker.
"For Farid, a family man in his 30s, to have that overwhelming experience of winning WPT Amsterdam was one thing, but to travel halfway around the world and beat 60-plus WPT Champions Club members in the most unnatural setting possible for the man from Leeuwarden is simply amazing," said Rinkema. "Overcoming his fear of flying is one thing, traveling to the United States for the first time is another, and beating a stacked field on the biggest stage in all of poker with the cameras rolling is an underdog story that should end up in Hollywood."
A Great Start, Followed By Tougher Times
They say "slow and steady wins the race," and while Yachou likes to take a calm approach to the game, he had several big bangs on Day 1 of the WPT Tournament of Champions.
First, he eliminated three-time WPT champion Chino Rheem when he flopped a straight versus the recent WPT Seminole Hard Rock Poker Showdown $10,000 Finale winner's top pair, top kicker. Then, Yachou scored a double elimination of Jordan Cristos and Jared Jaffee when he flopped top and bottom pair against the duo. Finally to close out Day 1 and help assure he finished as the chip leader, Yachou busted Marvin Rettenmaier with kings versus jacks in the last level of the day.
Despite starting Day 2 as the chip leader after all of the big pots fell his way on Day 1, Yachou was forced to fight as the field played its way towards the money spots, which was the top eight.
Justin Young, winner of the WPT Seminole Hard Rock Poker Showdown $3,500 Main Event, bowed out in 10th place and the final nine players joined around a single table. At that point, Yachou was in seventh place on the leaderboard with his work cut out for him if he were to make the official WPT final table of six.
Yachou held on and held on, then he managed to find a double before Ravi Raghavan busted on the bubble in ninth place. Even with the double before the money was reached, Yachou was still flirting with the bottom of the pack and struggling to gain any traction. Still, he remained calm without wavering, even with less than 20 big blinds.
Before Yevgeny Timoshenko busted in eighth, Yachou picked up some chips in a pot against Jonathan Jaffe. Then Timoshenko busted, followed shortly by Andy Frankenberger, and the official final table was complete.
When he won WPT Amsterdam, Yachou experienced similar positioning as he did at the WPT Tournament of Champions. After he began the penultimate day 14 out of 16 in chips in Amsterdam, Yachou made the official final table five out of six. In this WPT Tournament of Champions event, he entered the official final table five out of six. In Holland, he overcame the odds and tough competition to earn the victory, which he would have to do again against stiffer competition in South Florida, completely out of his element in a foreign country for the first time.
For many top players these days, online poker is their bread and butter. Oftentimes, it's their online background that allows them to succeed deeper in tournaments when play becomes more and more short handed. For Yachou, though, his background doesn't come from online. Yes, WPT Amsterdam was his first live tournament, but he's not one of your run-of-the-mill online players who went to try out a major live poker tournament after having success in the virtual realm. He has just never played online, at all.
"I used to play only cash games live," said Yachou. "I don't play online poker. When I play poker, I want to see the person I am playing. Maybe you saw it today."
The Big Stage of the Final Table
At the final table, Yachou doubled up a few times and worked his way to the final three as one by one his opponents were eliminated. Then, Michael "The Grinder" Mizrachi fell in third place, and it was time for Yachou to battle with another European in Vlad Darie. It was here, in this heads-up battle, that Yachou felt his ability to read an opponent really shone through.
"Looking at [Vlad], it was a mind game," Yachou said. "On the last hand, he called me with king high. I made him a little bit crazy because first he made a bet and I raised him, making a big bet, but then I went down again, so he was thinking I was bluffing or something, or I was scared, I don't know what he was thinking. I didn't want him to check and maybe he has a pair or something, so I pushed him all in. I knew he wasn't going to believe I had something. I went in with an ace and I trapped him, he was trapped. I was hoping on his aggression.
"I became more aggressive. It was my game. I knew when he had something, and I knew when he didn't have something."
It was on that final hand that Yachou's full house earned him the title. And yes, he did get Darie to call all in for his tournament life with king high on the river of a double-paired board, a mistake that ended his run in second place and gave Yachou the victory.
"I think that when I got the chips, nobody had a chance," Yachou confidently said about the final table. "That's my opinion. Against me, when I got the chips, nobody had the chance because there were a few lower stacks and other guys were bullying them. Then one went out, then another, and another. And what they don't know is that I'm very strong when I play with only two or three guys, because I know a little bit on how they were playing. I started playing slow so I could push at the end, and it went well. I did the same in Amsterdam. I let them think that I don't bluff, I let them think that I only play top hands, but when it came down to it, it was my game."
"The times have changed, and poker is not as booming anymore in the Netherlands, but it's amazing to see that Farid stuck with it," Rinkema added. "Seeing him take this down is just another reminder that poker is a game for everyone, and that it's anyone's game again in the next big event. That's the beauty of the game, and I'm very happy for Farid."
"His story reads like a fairytale come true, just like the World Series of Poker intro on ESPN," said Frank Op de Woerd, editor for PokerNews.NL. "Really, I had never heard of him before last year's inaugural WPT Amsterdam, and haven't really heard from him ever since. I didn't see him play major events all of the sudden, and I didn't see him play high stakes online, as far as I know. His HendonMob only reads to cashes; both WPT wins.
Now, with two big WPT wins, we should be seeing a bit more of Yachou around the world of poker, even if poker isn't his nine-to-five gig.
"I'm a businessman," Yachou said when asked what his profession is. "Everywhere where money is, I'm there. This moment, because this year I took it a little bit slow, I rented a few apartments and I have a cafeteria."
With nearly $400,000 in his pocket and a bunch of additional prizes, including a 2016 Corvette, courtesy of Monster, the event's official sponsor, it could be time for Yachou to pick up a couple more apartments to rent out or expand his cafeteria.
"What can I say?" he said when asked about the additional prizes he won. "I love watches, and Hublot did something really, really good. The car is something amazing. I've never seen a tournament giving a car away. It's amazing. The other stuff, what can I say about Monster, it's all nice. I took my Monster headphones from Amsterdam, because I like to hear the sound they have. It's not like the others. I've happy with all the stuff."
*Photos courtesy of the WPT.
Get all the latest PokerNews updates on your social media outlets. Follow us on Twitter and find us on both Facebook and Google+!