Maurice Hawkins Puts His Money Where His Mouth Is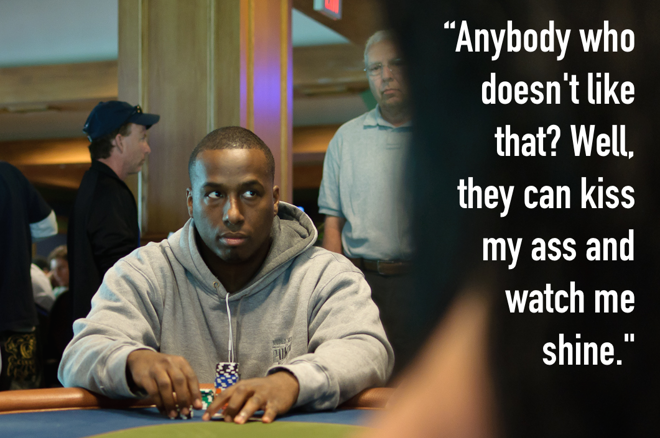 For tournament players who have plied their trade in the poker rooms of Florida, the East Coast, or along the World Series of Poker Circuit during the last decade, the sound of Maurice Hawkins' voice has probably provided a steady soundtrack.
The native of West Palm, Florida has been a fixture on his local tournament scene since 2005, along with forays to Atlantic City and WSOP Circuit stops, amassing 124 reported live cashes and $1,795,998 in earnings heading into April of this year. But even as Hawkins added four Circuit rings to his trophy case over that span, along with final-table appearances at the WSOP proper and on the World Poker Tour, he became known more for his table talk than his talent.
Depending on your perspective on what poker is "supposed" to be about, Hawkins' routine at the table is either grating and gratuitous, or simply great entertainment. Prone to circling the table during a long tournament day, pacing back and forth while chatting to anyone within earshot, Hawkins has never been shy about showing his emotions. A single orbit can see him alternate between congratulating a tablemate, commiserating with a colleague from the Circuit, complaining about his recent luck, or cracking wise remarks and cackling at his own jokes.
This unique blend of excitement and excess is always something to behold, presenting quite a contrast to the legions of live pros who shroud their faces in sunglasses and hooded sweatshirts, staring sternly and silently across the table for hours on end. But those who attract attention so willingly tend to draw detractors as well, and Hawkins has remained a polarizing figure within the professional ranks. For every fan and friend he's made over the years, Hawkins has attracted his fair share of foes.
So when Hawkins made a bold proclamation on April 6 — more than three months into 2016 with only four small cashes on the year — telling the world via Twitter that he was "calling his shot," and would soon proceed to win two tournaments in the next 25 days, few expected the boast to bear fruit.
Calling my shot. I am going to win two tourneys in the month of April. I have never felt better in my life.#Hawksview#Winning

— Maurice Hawkins (@mauricehawkins)
And indeed, Hawkins' critics can always contend that he missed the mark, that the brag was never backed up. They'd be right, too.
He didn't win two tournaments in April — he won three.
Walking the Walk on the WSOP Circuit
A few hours after his Babe Ruth moment, Hawkins stepped into the batter's box. The backdrop wasn't historic Yankee Stadium, however, but rather the Harrah's Horseshoe Casino in Council Bluffs, Iowa. In town for the WSOP Circuit stop, Hawkins registered for the $365 Monster Stack tournament, looking for a few warm-up swings before starting up the $1,675 Main Event two days later.
Just over 37 hours after tweeting his lofty tournament goal, Hawkins had accumulated every chip in play and outlasted the 265-player field, collecting $19,477 for the win and claiming his fifth circuit ring.
Two days later, Hawkins took his seat for Day 1a of the Main Event, and by the time chips were bagged and tagged that evening, he had staked himself to the flight's overall chip lead. When Day 2 came to a close, he secured a seat at his second consecutive final table, emerging from a field of 321 players to stand second in chips, just a few big blinds off of the lead.
Presented with an opportunity to deliver on his two-title promise, Hawkins promptly showed why he was so confident in the first place. Following a careful and quiet final-table performance, in which he eliminated only one opponent and primarily avoided confrontations, Hawkins entered heads-up play against Ryan Phan facing a 4-1 chip disadvantage.
Within 30 minutes he had wrested control of the chip lead from Phan, flopping top set and filling up on the turn when Phan made trips, before finishing his opponent off a few hands later.
Just like that, a little more than five days after calling his shot, Hawkins' had successfully completed his quest for two tournament titles — and he still had nearly three weeks left in April.
The win secured Hawkins his sixth Circuit ring, granting him entrance to an exclusive club made up of only six other pros — as well as $113,152 in prize money.
Asked recently about his motivation for setting the bar so high, the infamously proud Hawkins grew introspective instead, attributing his renewed confidence to a chance return home.
"I went home to see my mom because it was easier to leave Baltimore (the previous Circuit series) and go to St. Louis, rather than returning to Florida," Hawkins said. "While I was home, I went out with some friends who were living a hustling lifestyle, and I and felt blessed that I didn't have to live in that manner. Blessed to have the God-given ability to play poker for a living, and to use poker to change lives and situations for my friends and family.
"Just to see how the city I love is basically in ruins, where I came from, that humbled me and gave me drive. It was in that thought that I gained clarity and focus. Within that mindset of happiness, thankfulness, and ambition, I was able to find clarity, and I knew that I could not and would not be stopped. I am just focused now, and I don't fear losing because I was born a winner. I just had to be reminded of that by my mom, my wife, and my friends.
"So I tweeted that while taking off on the plane heading to Council Bluffs."
Two Close Calls Continue Torrid Run
Having won the only two tournaments he entered at the Council Bluffs stop, Hawkins had not been stopped yet. According to him, attempting to remain focused on the task at hand provided a tangible goal going forward.
"When I won the Monster Stack, I thought to myself, 'if I was that focused for under $20,000, then I'd better lock in for six to seven times that amount.' I knew I was going to crush and the cards ran pure," he said.
So he traveled to Harrah's Cherokee in North Carolina for the next Circuit event, intent on maintaining the momentum and performing at his peak.
Playing in just the fourth event of the stop, a $365 no-limit hold'em tournament which drew 452 runners, Hawkins once again found himself sitting down for a final table, and a shot at his seventh Circuit ring. The day belonged to North Carolina native and local grinder Christopher Carey though, and Hawkins was forced to settle for a runner-up finish.
One might suspect that such a close call — with three consecutive Circuit rings on the line — might have upset the short-fused Hawkins, and perhaps it might have at a previous point in his career. But aside from the sting of a new sensation, the first second-place finish for the Circuit's second-highest career earner, Hawkins showed respect for his opponent's accomplishments and refocused himself.
"Until that second-place finish, I had never been the runner-up in a Circuit event before, so that motivated me," Hawkins said. "I realized that I really don't like that feeling. But I didn't really think about it after that. It was meant for that kid to win that day."
Two days later, Hawkins continued to ride his heater, finishing in 17th place out of a 331-player field in another $365 no-limit hold'em ring event. Next up on the docket was the Cherokee stop's $1,675 Main Event, and a little more than two weeks after tweeting about two tournament wins, Hawkins turned his attention to something that had never been done before.
In the 12 seasons of the WSOP Circuit to take place since the tour debuted in 2004, no player had ever captured consecutive main event crowns. Hawkins hoped to become the first.
"When I went to Cherokee, I asked the reporters if anybody had ever gone back-to-back in main events," he said. "When I found out I could make history, it's all I thought about. Now, I'll become known as the greatest circuit player of all time. Soon, I will have the most rings, the most money earned, and more importantly, I'll have the best time doing it."
Different Path, Same Destination
Taking his seat along with 1,007 opponents, Hawkins was clearly brimming with confidence, but unlike his dominant run at Council Bluffs, this time he was forced to nurse a short stack for most of the three-day event. Hawkins sat in the middle of the pack following his Day 1a starting flight, and by the time Day 2 saw 19 players bag and tag, he held the fourth-shortest stack in the room.
When Day 3 began, Hawkins was still calm and content though, secure in the knowledge that he could play his way back from the bottom of the leaderboard.
"I believe poker is a lot like shooting a basketball; you just seem to get in rhythm," Hawkins said. "Thus, your reads, your thoughts, and your cards all seem to flow together when things are going well. It can feel like an avalanche, an unstoppable force."
Managing to weave his way to the unofficial ten-handed final table, Hawkins watched as his 18-big blind stack eroded down to just nine big blinds, before mounting the comeback he had always been convinced was in the cards.
A fortuitous double holding pocket kings allowed him to regain his footing, and after that, Hawkins refused to relent. Doing the deed himself and dispatching three of the final five players to be eliminated, including his veteran heads-up opponent Leif Force, Hawkins made history by winning back-to-back WSOP Circuit main event titles.
Along with his seventh ring, which puts him just two shy of the record nine rings currently held by Alex Masek, Hawkins also earned the largest cash of his long career with a $279,722 upswing. As noted by the WSOP updates team, Hawkins won more money ($431,561) during the month of April than any other player did on the Circuit during the entire year. He now sits behind only Chris "Jesus" Ferguson on the WSOP Circuit's all-time earnings list, needing a little more than $400,000 to surpass the long since retired former legend.
When asked whether or not he believed his historic run constituted the elusive "breakthrough" that all professional poker players work towards, Hawkins' refuted the assessment in no uncertain terms.
"What level is this breakthrough everyone talks about?" he said. "Like that idiot who called me the 'tallest midget' in an article recently. So what, if you don't play high rollers and million-dollar buy-ins, you're on a lower level? How about this level?
"The level where I make a living playing the game I love, my wife doesn't have to work, my kids don't want for anything. I live a baller lifestyle. All off of poker. I have never had a job, and I make a good living every year. Like in anything else in this world, people talk shit because that's all they can do. I make money every year and crush all the time.
"Level this: the WPT in Montreal (2014) I got 13th and crushed; every year I cash for at least $300,000 and everybody who plays poker knows what time it is when I'm at the table. Fourth place at Borgata (2015), that's a WPT. Five months ago I won back-to-back nightly $135 events (Harrah's Cherokee in November), now it's back-to-back Circuit main events. Any level I play, I crush. I will win a bracelet this year and you will remember me in the WSOP Main Event. I will win it in the next three years. Watch your boy go to the top because I am climbing, and anybody who doesn't like that? Well, they can kiss my ass and watch me shine."
Want to stay atop all the latest in the poker world? If so, make sure to get PokerNews updates on your social media outlets. Follow us on Twitter and find us on both Facebook and Google+!