2,483 Fire in $565 PLO: "It Was a Terrific Turnout"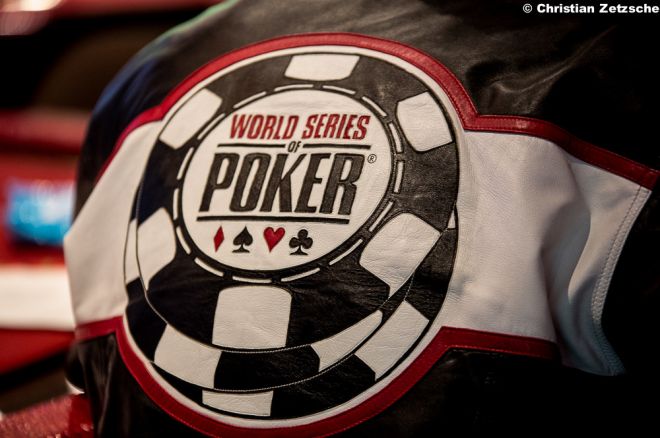 After the huge success of the Colossus in 2015, many wondered how the World Series of Poker would follow up. It seemed all but assured the Colossus would return, but WSOP brass went a step further and added another $565 tournament, this one a pot-limit Omaha event.
The early returns? Event #12: $565 Pot-Limit Omaha was a success, according to WSOP V.P. of Corporate Communications Seth Palansky.
"It's a terrific turnout," he said.
At the close of registration, 2,483 entries were in the books for the inaugural event. That's a cut above what the cheapest PLO event has drawn in recent years, and a small step behind the 3,000-plus that a number of PokerNews contributors predicted would show up. The prize pool ended up at $1,241,500 with $190,328 up top.
Stats for Lowest Buy-In PLO Event at WSOP, 2010-2016
| Year | Buy-In | Players | Winner | First Prize |
| --- | --- | --- | --- | --- |
| 2016 | $565 | 2,483 | ? | $190,328 |
| 2015 | $1,000 | 1,293 | Aaron Wallace | $226,985 |
| 2014 | $1,000 | 1,128 | Brandon Shack-Harris | $205,634 |
| 2013 | $1,500 | 1,022 | Josh Pollock | $279,431 |
| 2012 | $1,500 | 970 | Vincent Van Der Fluit | $265,211 |
| 2011 | $1,500 | 1,071 | Elie Payan | $292,825 |
| 2010 | $1,500 | 855 | Tex Barch | $256,919 |
Numbers have been steadily trending upward in recent years for the most in the smallest buy-in PLO event of the WSOP, with the addition of the $1,000 event pushing things to a height of 1,293 in 2015.
According to Palansky, the WSOP brass looks at rolling five-year averages for the numbers to determine which games are trending in which directions, and it was clear PLO was the game of choice.
"We are sensing a no-limit hold'em fatigue," he said. "And if people want to play other games, it's usually going to be PLO or [pot-limit Omaha hi-low]."
David "ODB" Baker is among the players experiencing success in the event thus far as it heads to dinner break on Day 1. Baker is sitting with a stack in the neighborhood of 100,000 as blinds are set to move to 1,000/2,000. The veteran, who has one bracelet among his nearly $3.7 million in cashes, said numbers are about what he expected, and he's been mostly very pleased with the tournament.
"The event is great," he said. "I think they did a great job for their first year with it. I love these smaller events that have turbo structures."
Like the Colossus II, the PLO event featured 30-minute levels on Day 1 and then longer levels on subsequent days. Unlike the Colossus II, which had a limit of one entry per starting flight, the PLO allowed players unlimited reentries during the open registration period, which went through six levels.
Reentry events, while popular across the poker landscape, have not really been a staple on the WSOP schedule, aside from a few special tournaments.
"Usually, we're against it, but it seemed to work well," Palansky said. "We didn't know how many unique PLO players there were."
The answer is apparently at least 1,512, as that's how many unique entries there were in the event. Three unlucky players maxed out at seven entries, helping to pump up the prize pool for whoever ends of taking it down.
The combination of unlimited reentries, the inherently high-variance nature of PLO, and the relatively shallow starting stacks of 5,000 meant it was inevitable there would be plenty of players ready and willing to reenter.
That created a bit of a logistical issue when it came to processing reentries and getting players back in the tournament. Some complained of waiting in line to get back in the tournament, and Baker confirmed it was a problem.
"You have to walk all the way to the cage, then you get there and you have to stand in line for for 15 minutes," Baker said. "They did as good a job as they could getting them through but I think they need to find a little quicker way to get people through the process."
Payouts were another story, as Baker noted that like the second iteration of the Colossus this year, things seemed to flow smoothly on that end. That was a major point of emphasis for the WSOP after the unprecedented number of payouts in 2015 caused a logjam in the system that left a number of players unhappy.
Despite the issues, the reentries are a good thing for pros and amateurs alike, Baker said. He pointed out that amateurs who want to take a shot in a cheap bracelet event get an opportunity, particularly if they enjoy playing PLO but don't get a chance to do so very often. As for pros, it gives them a chance to fire away and play some high-variance poker in an attempt to run up a big stack without being afraid of torching a pile of money.
"It's a great introduction to PLO for the novice and it's also a good way for the pros to be able to gamble it up," he said. "It's hard to gamble it up when the cheapest tournaments are $1,500. Even most pros can't just fire unlimited $1,500 bullets. But $500, most pros can just fire those at will."
Reentry issues aside, that created what Baker called a "great tournament" and one Palansky suggested might well be on the schedule again when next year rolls around.
Stay tuned to PokerNews.com for more coverage the 2016 WSOP, brought to you by our sponsors, 888poker.
Want to stay atop all the latest in the poker world? If so, make sure to get PokerNews updates on your social media outlets. Follow us on Twitter and find us on both Facebook and Google+!