Daniel Negreanu Talks About the NHL Coming To Las Vegas
Donnie Peters
Remko Rinkema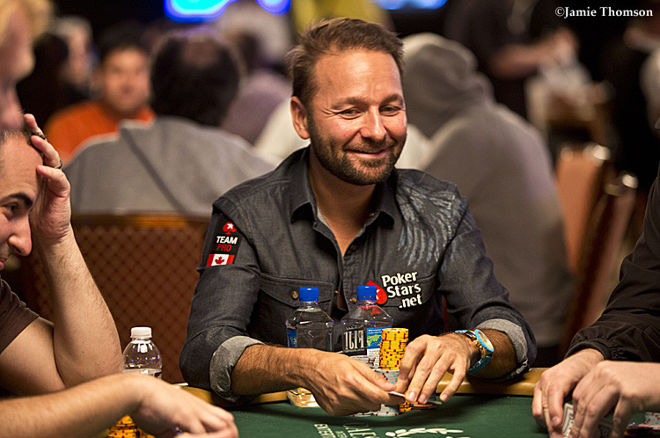 Las Vegas can now call itself the home of a professional sports team from one of the major leagues. Earlier this week, NHL commissioner Gary Bettman made it official and announced that Las Vegas has earned approval for an expansion franchise that will start with the 2017-18 season. This is the first professional sports team to hit the Las Vegas market, and comes with an expansion fee of $500 million.
One poker player that has been actively involved in getting the NHL to Las Vegas is none other than superstar Daniel Negreanu. He's Canadian, but recently gained U.S. citizenship, and one of the biggest hockey geeks around. For him, the NHL to Las Vegas was expected after recent developments, but it's also a dream come true.
"I've know for quite a while that we were going to get a team, but it's nice to now know officially that it will be implemented in the 2017-18 season," Negreanu said. "We did all the legwork, we have the money, built a state-of-the-art arena, and then we also did the hard ground work of getting 13,000 to 14,000 people to put down a 10-percent down payment on tickets for a team that didn't even exist. That shows a lot of dedication to this happening, and this is a good day for this city in so many ways. I think this will expand the community and bring us together in a real way."
Some might argue that an NHL franchise in Las Vegas isn't the best way to go. After all, it is the desert and hockey isn't exactly in the blood of the community like it is elsewhere. But still, Negreanu thinks it can work.
"I wouldn't argue that the NBA wouldn't do better," he said. "It's more of a basketball town with UNLV being such a force and hockey being new. I would look at a city like San Jose. There was no hockey culture there, but it's a one-sport town and people fell in love with the game. I think that will happen here, and I'm not going to argue whether or not this was the best sport, but as far as the Southern cities that didn't do so well, I think of Las Vegas more like L.A., Anaheim, and San Jose. This is more California-based than Southern."
Being like those other cities with thriving hockey teams is one thing, but Las Vegas has been more of a draw if you ask Negreanu.
"We have the added benefit of tourism, glitz and glamor, and Vegas knowing how to do it right," Negreanu said. "I think this helps the league, too — having a team in Las Vegas — as it adds a little bit of panache to it. I think people are going to come out in droves, and I think it's going to do really well."
Some hockey fans would argue that not only doesn't the league need to expand to Las Vegas, but it doesn't need to expand at all. With 30 teams already — Las Vegas being the 31st — isn't there already enough to go around? What about market saturation?
"There was an expansion a while ago where they brought two new teams in, and it did have an affect on the league," he said. "Because now the third- and fourth- line players were really bad, but today in the NHL we see third- and fourth-line players that could play on other teams on the top two lines. There's so much depth and talent, and there's guys playing in the minor leagues right now that are NHL ready, but there's just not enough room right now.
"I think adding one team — and you're talking about a roster of 30 players — there's plenty of room for that. If they would say 'add five more,' that could really have a detrimental effect."
As with any expansion team, the league goes through its expansion draft, and the teams shift their rosters a bit, but the brand new franchise is often playing catch up to the rest of the league. It could take years for Las Vegas to become a top team in the NHL, but Negreanu has his ear close to the situation and believes in the plan in place.
"I've spoken to the owner Bill Foley, and he's a smart guy and he wants to do this right," he said. "He's going to have an analytics team to look at the players that we want to have, and also understanding that you're not going to make the playoffs in year one. He has a three- to four-year plan to make the playoffs and then an eight-year plan to bring the Cup here. That's optimistic, of course, because that would mean that every young talent that you draft will be amazing, you build, and jell together, and win on your first try.
"I think it's exciting, and if he commits to a longterm process, you're looking at three to four years before you're competitive."
Because he grew up in Toronto, Negreanu is a Maple Leafs fan. Unfortunately, that team hasn't given him much to cheer for. But now, with Las vegas adding a team in the other conference, Negreanu says that he gets a shot to root for two teams. That's like getting dealt two hands in poker and being able to play both to see which one pans out the best.
"Not at all!" Negreanu said when asked if the Las Vegas team winning the Stanley Cup before Toronto would break his heart. "The one thing I love is that Vegas is in the West and Toronto in the East, so I can root for both teams. And if they make the finals, I'll see where my heart lies, but I'll be rooting for both. It's going to be confusing for sure.
"I became disenfranchised with the Toronto Maple Leafs anyway, because they were doing such a horrible job of developing talent, but now they are doing the right thing. We're going to get Auston Matthews, we're building a farm, and they are doing a lot of good things. I'm kind of excited about their prospects for the first time in years, and they looked like an albatross of contracts with Dion Phaneuff, David Clarkson, and my buddy Phil Kessel. They just didn't belong there. I'm excited to see Toronto turn it around, but having said that, being a part of the grassroots effort in Las Vegas I have a feeling that my heart is going to be here. I'm going to be much more involved in terms of thinking of how to make this team better longterm."
And speaking of Kessel, we know he enjoys playing poker, and Las Vegas is the home of poker. Could we be seeing him make his home with a new team in Las Vegas?
"Kessel would love to come to Vegas, are you kidding me?" Negreanu said with a smile. "He loves to play poker. He'll be at the World Series of Poker very shortly, and he's already asked me, but I said, 'Listen buddy, we don't need you yet. The team's going to suck for a few years, so hang in there and hopefully by the time you're 30 you don't suck.'"
For more talk about the NHL in Las Vegas, check out the first segment of Episode #388 of the PokerNews Podcast:
Want to stay atop all the latest in the poker world? If so, make sure to get PokerNews updates on your social media outlets. Follow us on Twitter and find us on both Facebook and Google+!