Inside Gaming: MGM Resorts Starts Charging for Parking; Pennsylvania Considers DFS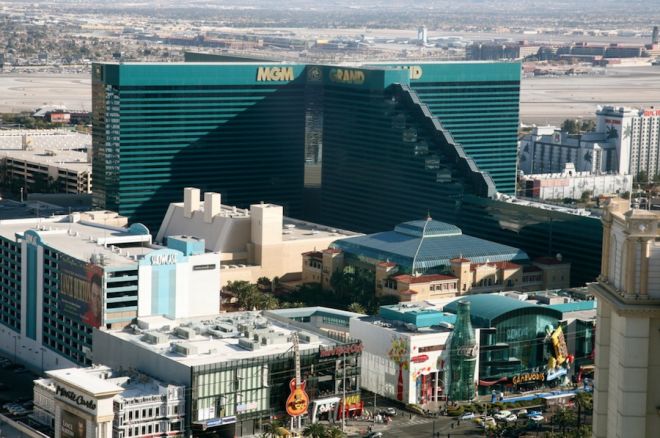 Temperatures are rising in Las Vegas, and this week's installment of Inside Gaming starts with a hot topic on the Strip as several hotel-casinos have begun charging visitors for parking while they visit. Also discussed this week — a proposed casino in southern Illinois is making the two casinos nearby nervous, and yet another state is looking into licensing and regulating daily fantasy sports.
Parking Fee Program Begins at MGM Resorts Properties
We knew it was coming. It was in January of this year we heard the first reports that certain hotel-casinos on the Las Vegas Strip were going to begin what was described then as a "modest parking fee program for valet and self-parking."
This week that program kicked off when MGM Resorts International began charging visitors to park at its properties.
The fees began on Monday at the ARIA Resort & Casino, the Vdara Hotel & Spa, the New York-New York Hotel & Casino, and the Monte Carlo Resort and Casino. Then on Tuesday, paid parking began at the Excalibur Hotel & Casino, the Luxor Hotel & Casino, and Circus Circus Las Vegas. On Wednesday, visitors to the MGM Grand and the Bellagio Hotel and Casino started paying to park. Next Monday, those going to the Mandalay Bay Resort and Casino, the Mirage, and the Delano Las Vegas will also find it necessary to pay.
Prices vary from property to property, with no charge for the first hour for self-parkers. A full day of parking now costs $8 at the Monte Carlo, Luxor, and Excalibur, and $10 per day at the others. Meanwhile self-parking at the Circus Circus is still free. Rates for valet parking go as high as $18 per day at some locations.
Nevada residents with a valid driver's license will be still be allowed to park for free through December 29, 2016. Also, complimentary parking remains available for M Life loyalty program members, with free valet parking available for those with Gold, Platinum, or NOIR status.
In January, David G. Schwartz, director of the Center for Gaming Research at the University of Nevada-Las Vegas, suggested to the Las Vegas Review-Journal the move to begin charging for parking on the Strip "could be an historic shift," adding that "ultimately, it's up to the customer" to see what might come of the decision, including whether or not other properties may follow MGM Grand International's lead.
"It's just going to become the new normal," said MGM spokesman Gordon Absher to the Associated Press last month. "There's still going to be a lot of people upset about this but these are changes that reflect the current reality here."
When making the announcement in January, MGM Resorts noted that the fees collected would help with the building of a $54 million, 3,000-space parking structure located near the Excalibur. Construction on the new deck is scheduled for early 2017.
For one casino-goer's view, drive over and park yourself at this L.A. Times op-ed from when MGM's announcement was first made, "Get your corporate casino hands off my free Las Vegas parking!"
Southern Illinois Winery Seeks to Add Casino, Water Park
The casino construction game is not unlike poker. There are only so many chips to be won at a given table, and when one player wins the others lose. So, too, do those who operate and build casinos look closely at nearby "players" who might challenge them for the same customer base, thereby taking from what is necessarily a finite resource.
The ongoing battle in New Jersey over whether or not to allow the construction of casinos outside of Atlantic City in the northern part of state is one example of such a high-stakes game, with casino operators on the Boardwalk (and in surrounding states) not enthused by the prospect of such construction.
Another similar example has arisen in Illinois, where those who run Harrah's Metropolis and the Isle Casino Cape Girardeau are eyeing closely a proposal to build a new casino in nearby Carterville at Walker's Bluff. As WSIL-TV reports, the additional casino would place three within an hour's drive of each other, leading most to believe Harrah's and the Isle Casino would suffer as a result.
Owners of Walker's Bluff Winery have hired a lobbyist to help with their hopes to invest $200 million to develop an all-inclusive resort on the property with a hotel, convention center, water park, and a casino. Illinois lawmakers are presently considering the proposal, with some having voiced support while others are less excited by the idea.
Harrah's Metropolis has become much less of an earner for the small city of Metropolis, located along the Ohio River in the southern part of the state. WPSD Local notes how Harrah's took in more than $170 million in revenue in 2007, though only $82 million in 2014.
Of course, the opening of the Isle Casino Cape Girardeau just over the state line in Missouri in October 2012 had more than a little to do with Harrah's decline. The Isle Casino earned more than $57 million in revenue in 2014, according to WPSD.
"That will be another piece of the pie that is going to be divvied out," Metropolis Mayor Billy McDaniel told WSIL. "Profit will regulate what the market can stand. And if it gets overpopulated with any one thing, someone's going to lose."
Read more about why others might be right to whine about the winery's proposal over at WPSD Local.
Pennsylvania Legislators to Consider Daily Fantasy Sports Bill
A week ago New York took a step toward passing legislation to regulate online poker, although there still remains a steep hill to climb before any law will be passed. Then this week Michigan saw its Senate Committee pass an online poker and casino bill by a wide margin, setting the legislative process in motion there as well (with the end of the current legislative session fast approaching).
Additionally, an online poker bill in California continues to be considered, with the compromises needed to make that happen today seeming closer to occurring than has been the case in years.
Meanwhile, Pennsylvania finds itself seriously considering a daily fantasy sports bill, with a vote of the House Gaming Oversight Committee now scheduled to take place on June 15. This new bill would permit licensed casino operators to begin adding DFS to their offerings after successfully applying for a license to do so.
According to Legal Sports Report, momentum for a DFS bill in the Keystone State increased rapidly over recent days, spurred by a report from the Pennsylvania Gaming Control Board outlining logistical concerns and needed protections should the state allow operators to offer DFS.
The current bill under consideration describes both the licensing process and oversight, with the PGCB being given authority to administer regulations going forward. It also outlines various consumer protections including preventing minors and employees from participating, and instituting efforts to help with compulsive and problem gamblers, explains LSR.
Conduct further research about the Pennsylvania DFS bill, as well as its relationship to other online gambling efforts in the state (and other states' DFS bills), at Legal Sports Report.
Photo: "MGM Grand, Las Vegas," Sarah Nichols. Creative Commons Attribution-ShareAlike 2.0 Generic.
Are you ready for the 2016 UEFA European Championship this summer? BookieSmash has an extensive Euro 2016 preview and betting guide, as well as a list of the best sports books to bet on for the event.
Want to stay atop all the latest in the poker world? If so, make sure to get PokerNews updates on your social media outlets. Follow us on Twitter and find us on both Facebook and Google+!