Summer of Prop Bets: Allen Kessler Organizing $1,000 Last Longers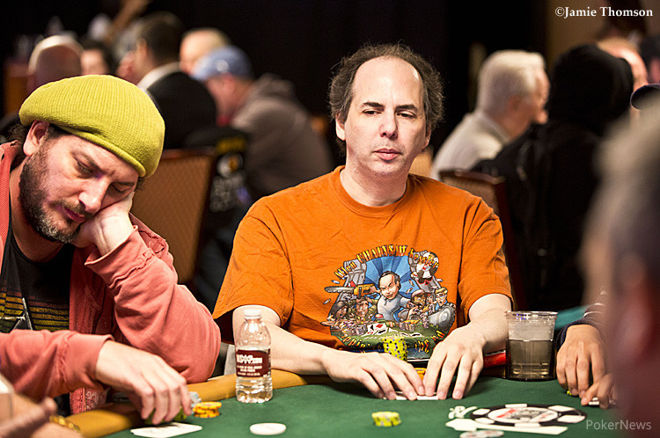 If the Jason Mercier prop bet extravaganza proves anything, it's that there's just not enough out there for poker players to bet on. They'll take action on anything and everything, including piling more risk onto events they're already betting thousands of dollars on simply by buying in.
A subsection of tournament-based prop betting is "last longers." Poker players betting on who will make it farther in a tournament has a long and rich history. It's not unheard of for players to make last longers that are worth more than the tournament buy-in.
Most of the bets are between two players or among a small group of friends, but last year, Ben Keeline made waves with huge last-longer pools in the World Series of Poker Colossus and Main Event. He fired one off again for this year's Colossus, and amazingly, won the pool himself along with the tournament.
The big buy-in events at the WSOP now have their own last-longer commissioner, and it's Allen "Chainsaw" Kessler. He has organized $1,000 last longers for a series of $10,000 championship events, starting with the Dealer's Choice Championship.
Kessler explained how it came about:
"We were sitting down to play the Dealer's Choice and Mike Wattel said to me, 'Why don't we do a last longer for the table?' I said, 'If we're doing a last longer, we should ask everybody in the tournament."
Thus, the $10,000 series of last longers was born, which has so far spanned Dealer's Choice, Razz, Stud Hi-Low, and H.O.R.S.E. The pools average around 40 players per event, a considerable sum when one takes into account that these tournaments often come in south of 200 players.
The first one drew 31 runners, and it was John Monnette scooping the pot after a third-place finish for $135,061.
According to Kessler, there was an unforeseen complication with Monnette's win initially.
"[He] won that without even being in the money," Kessler said. "It was so weird, it was like one-third of of the field in the last longer and none of the people advanced. Everyone was saying you can't have a last longer unless they cash."
Luckily for everyone involved, Monnette quashed any controversy by making his way to the final table and booking his third-place finish.
The money he won was enough to get him fairly close to second-place money, and the sizable sums of cash involved have created what Kessler called "an interesting dynamic" at some final tables.
"Mark Gregorich brought up a good point, the last longer affects play at the final table," Kessler said. "There might be two people left in the last longer and they're both short. One of them makes an extra $45,000, which is way more than the pay jump. It might be more than the whole payout."
Kessler had to deal with some complaints about the rules and he's fiddled with things as he's gone along, trying to create a system that's balanced.
For example, some players would tell him they didn't know about the last longer and try to buy in after they had already been sitting in for awhile. Kessler settled on allowing entries for anyone with less than 55,000 in chips — 50,000 is the starting stack in the championship events.
Late entries to the tournament also proved to be an issue. Some complained that players late registering the tournament were buying in after some in the last longers had already gone bust, giving them an unfair advantage. On the other hand, that's balanced out by the fact that those early birds get more of a chance to accumulate chips. Kessler initially settled on Level 4 as the cutoff but decided to move it back.
"Now, it's until Level 6 or until I bust, whichever comes first," the famously tight Chainsaw said.
The headaches have apparently been worth it for Kessler, who takes no money out of the pool and doesn't even participate in the majority of them. He simply does them for the fun and interest of the poker-playing community.
The bets have proven quite popular, as Kessler and other participants initially did some recruiting to populate the pool, but that's not a problem for them nowadays. By simply posting on Twitter, they spread the word, and interested parties seek out Kessler to fork over their $1,000.
Which players have made out with the most loot from the pools?
Felipe Ramos and Mercier chopped one, and the aforementioned Dealer's Choice pool was taken by Monnette. But the big winner so far has been Randy Ohel, who has been on an absolute tear in the 2016 WSOP.
Though Ohel has yet to grab his second career bracelet, he has made five top-10 runs at the WSOP with three coming in $10,000 events. He has cashed for about $330,000 in those, and Kessler said he thought Ohel had scooped one last-longer bet and chopped two others for a pile of extra cash.
Don't expect the last longers run by Kessler to spread to any of the larger events, though. Last year, Keeline admitted that the added stress was getting to him a bit, with both his girlfriend and his backer advising him against continuing to commission the bets.
Plenty were asking for a $500 pool for the $1,500 Mixed Omaha event. That event drew 668 runners, and Kessler decided to draw a line in the sand, apparently knowing there was a limit to what he could handle.
"It's too complicated for that," he said. "What if nobody cashes? It's highly unlikely, but if it happens, it's a complete disaster, you'd have $25,000 and not know who to give it to."
As the 2016 WSOP rolls on, be sure to stay tuned to PokerNews for continued coverage, brought to you by our sponsors, 888poker.
Want to stay atop all the latest in the poker world? If so, make sure to get PokerNews updates on your social media outlets. Follow us on Twitter and find us on both Facebook and Google+!