The Cash Game Festival in Bulgaria on Aug. 31 Isn't Just About 120 Hours of Poker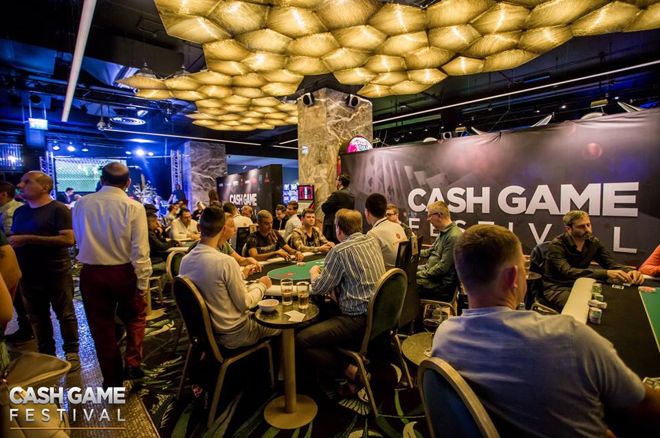 The Cash Game Festival is heading to Platinum Casino in Sunny Beach, Bulgaria for more than 120 hours of non-stop poker action from August 31 to September 4.
This is the third Cash Game Festival of the year for the festival following successful stops at Aspers Casino Westfield Stratford City in London in March and a couple of months later at Casino Malta in June.
Cash Game Festival co-founder Martin "Franke" von Zweigbergk shared that with the festival heading south-east this year, each stop is attracting a new group of players that have yet to be exposed to the great experience both on and off the felt at each stop.
"This is our third festival of this year and as you can see from the European map we went from northwest, to the middle, and now we go southeast," explained von Zweigbergk. "That means we are getting a different target group in Bulgarian, Romanian, ex-Yugoslav, and Greek players."
Von Zweigbergk is excited that the hotel at the venue is already full, and explained that many of the guests likely booked without knowledge of the festival.
"We know that the hotel where the casino is, is already fully booked," stated von Zweigbergk. "Which is fantastic! And we know there is a high amount of people booked in the hotel from Israel, which is very good. Of course, many people booked the hotel without knowledge of us, but it is a good message."
With the help of the ever-increasing number of the festival's partners, a full house is expected for the event which will likely be capped at 20 tables running simultaneously. Players will be able to enjoy a wide variety of action on demand at stakes both low and high.
"We are gathering on board more partners to increase our reach and I feel very comfortable that the house will be full. I think there is a cap at a 20 tables," von Zweigbergk shared. "The stakes, as usual, will be at all levels as players want and the focus is to play Sviten Special, the variants of Omaha, and of course, a lot of Texas hold'em."
This is not to say that it will be all new faces at the upcoming Cash Game Festival as many players enjoyed their experiences and plan to return. Additionally, during the previous stop, players were awarded packages to Bulgaria.
"At the Malta festival, we held high hand jackpots where the winner was awarded a package to Bulgaria. So now we are also getting players that participated in previous festivals," said von Zweigbergk.
Rest assured that similar promotions will be run at the casino with von Zweigbergk sharing that, "The same will happen in Bulgaria where there will be either high hand bonuses or bad beat jackpots which will include a ticket to the next stop. Additionally, we recommend players to contact our partner companies which can be found on the Cash Game Festival website to see what campaigns they are doing for their players."
In addition to the non-stop ring game poker action, the Cash Game Festival prides itself on offering players many activities off the felt in its hospitality package. Estonia's Maret Komarova is a fierce competitor on the felt, but also proved herself to be a strong opponent in some of the side action as well as she took second place in the table tennis tournament during the Cash Game Festival in London.
Komarova shared that the "hospitality package is a must" and that the events in Malta were even better than London. She particularly enjoyed the comradery that took place when players strutted their skills on the bowling lanes.
"The most memorable happenings took place at these side activities," Komarova explained. "That's where the first bonding took place. In Malta the very first activity was bowling. At first, we were competing against each other on our lane, but after a Finnish poker player, "Japi", got into the final we formed a fan club for him and the fan club became a close group of friends throughout the festival. There wasn't a dull moment in Malta. It was a huge step forward from London."
Players can inquire about the hospitality package which in Bulgaria will include welcome drinks, a mini-golf challenge, a special dinner party, and a yacht ride by emailing [email protected]
Komarova also enjoyed the action on the felt as well, particularly enjoying her time on the televised table, something any player can take part in when they register on the Cash Game Festival website.
"At poker tables, all players were very nice and table talk kept everybody entertained," Komarova shared. "If the TV table had a microphone in front of players, some of us would have been in big trouble. Time just flew by. It's a sign of a good company. I encourage players to sign up for the TV table, for some weird reason, it is more fun than a regular table."
See what's it like? Check out the Cash Game Festival Malta video.
Want to stay atop all the latest in the poker world? If so, make sure to get PokerNews updates on your social media outlets. Follow us on Twitter and find us on both Facebook and Google+!