Inside Gaming: New Jersey Residents Not Favoring Casino Expansion; Revel Rebranded as TEN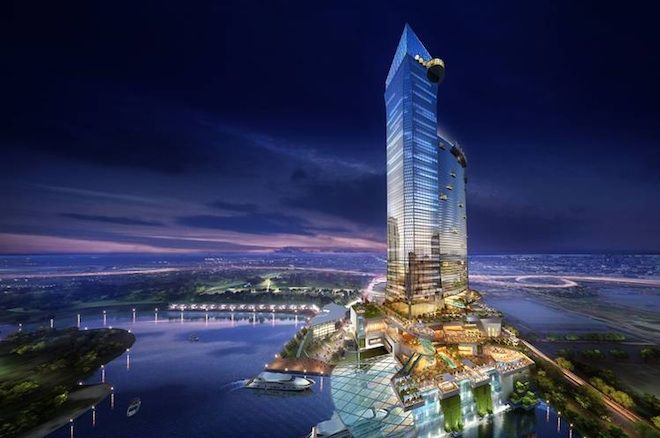 This week's installment of Inside Gaming shares recent poll results indicating New Jersey voters may not be favoring a November referendum to allow casinos outside of Atlantic City, tells of one closed AC casino's plans to reopen under new ownership and with a new name, reports on a big recent acquisition by a Nevada-based gaming company, and previews next week's Global Gaming Expo.
New Poll Shows New Jersey Residents Oppose Casino Expansion
Among the several industry-related stories emanating from New Jersey over the last couple of years, there has been growing momentum toward the state allowing casinos to be built outside of Atlantic City.
It's a possibility viewed with trepidation by many along the boardwalk where the closure of the Trump Taj Mahal — now scheduled for Oct. 10 — will mark the fifth hotel casino (of 12) to shut its doors within the last three years. Meanwhile some of the state's lawmakers, as well as Governor Chris Christie, are in support of allowing casinos to be built in northern New Jersey, believing it will provide both significant revenue and thousands of new jobs to the state.
New Jersey voters will get to weigh in on the question in November with their response to a ballot referendum asking them whether or not they support amending the state's constitution to allow casino gambling in two counties in the state located at least 72 miles away from Atlantic City. However, the results from a poll on the matter released this week suggest they aren't so enthusiastic about the possibility of casinos going up in Jersey City and the Meadowlands in East Rutherford where proposals for new casinos have been made. (The image above is an artist's rendering of a proposed casino in Jersey City called Liberty Rising.)
Rutgers University's Eagleton Center for Public Interest Polling this week released results from its latest poll covering questions regarding Christie's performance, the approval/favorability of other legislators and the overall direction of the state. Among the questions asked were a couple specifically addressing the November casino referendum.
When more than 800 residents were asked if casino gambling should be allowed in areas of the state outside of Atlantic City, only 40 percent of respondents said that it should, with 50 percent saying it should be limited to Atlantic City only.
A second question asking more specifically about the amendment found only 35 percent said they would approve it and 58 percent said they would not.
The Rutgers-Eagleton report includes past poll results on similar questions about New Jersey casino expansion, revealing a relatively long history of opposition to the idea among the state's citizens.
Referring to the polling going back to 1979 — a year after Atlantic City became the only place in New Jersey allowed to have casinos — Ashley Koning, interim director of the Eagleton Center for Public Interest Polling, noted how "New Jerseyans across a number of demographics have never warmed to the idea."
"If this pattern continues, there is little hope for the ballot amendment passing," Koning added.
Read more about the poll at NJ.com and pore over the numbers yourself at Rutgers' site.
Revel Rebranded as TEN, Reopening Planned in Spring
Speaking of those recently closed Atlantic City casinos, this week came news that one of them may be coming back — and with a new name.
Just two-and-a-half years after it opened, the Revel Casino closed its doors in early September 2014, and after numerous legal and financial machinations, a team led by Florida-based real estate developer Glenn Straub bought the casino hotel out of bankruptcy.
This week the Straub group announced a new name for the property — TEN — and while further approvals are still needed from both the city and state, they hope to reopen the hotel-casino in March 2017.
As reported by philly.com, the announcement came Monday along with the naming of Robert A. Landino as the new CEO for TEN Atlantic City. Meanwhile Alan Greenstein will serve as CFO, a role he held before with Revel.
"In an interview, Greenstein said the financial structure of the new venture eliminated many of the issues that plagued Revel," reported philly.com, with issues surrounding the property's power source (a significant problem for Revel) having been eliminated and the new company starting out "debt-free."
"The TEN brand symbolizes perseverance," explained the team, a quality certainly required thus far in negotiations to obtain the property and likely needed going forward as well.
Read more about plans for TEN Atlantic City at philly.com.
Eldorado to Buy Rival Isle of Capri Casinos
Also on Monday came news that Nevada-based gaming company Eldorado Resorts Inc., owners of seven casinos across the United States, will be acquiring Isle of Capri Casinos Inc. in a $1.7 billion deal, reported Reuters.
"Following the deal... Eldorado will add 13 casino resorts and will have 20,800 slot machines and video lottery terminals, more than 560 table games and over 6,500 hotel rooms," Reuters added.
Isle of Capri Casinos currently operates under both the Isle and Lady Luck brands. Regarding the latter, the company last month brought a lawsuit targeting the publisher and casino owner Larry Flynt in an effort to force him to rename his non-affiliated Lucky Lady Casino in Gardena, California.
Shares of both Isle of Capri Casinos and Eldorado went up following news of the deal.
"The combination builds the scale of our gaming operations and further diversifies the geographic reach of our operations without any overlap with our existing properties," explained Eldorado CEO Gary Carano.
Read more about Eldorado's acquisition at Reuters.
Global Gaming Expo 2016 Kicks Off Monday
Finally, next Monday comes the start of what is always a big annual event for the industry as the Global Gaming Expo — a.k.a. G2E — which gets underway at the Sands Expo and Convention Center in Las Vegas.
Presented by the American Gaming Association, G2E 2016 will feature more than 450 exhibitors showcasing new products, with several keynote speakers and other events also providing attendees chances both to make connections and to learn about the latest industry developments.
More than 260,000 square feet of space will be filled by exhibitors showing the latest software products and other innovations perhaps to become part of the industry. Among the exhibitors, International Game Technology (IGT) will occupy the most space among the scheduled exhibitors. New virtual reality gambling games should also grab attendees' attention as they walk through the huge 260,000-square-foot display area.
The keynote addresses kick off Monday with former U.S. Homeland Security Adviser France Townsend representing the group Global Gaming Woman by speaking on the topic of "The Power of Being Fearless."
On Tuesday the exhibitions open up for three days, with National Indian Gaming Association Chairman Ernest L. Stevens, Jr. and AGA President and CEO Geoff Freeman being the featured speakers set to discuss the importance of making connections across the industry.
Wednesday will see tech expert and author Scott Klososky talk about integrating technology in the workplace, including in gaming, while on Thursday former NBA Commissioner David Stern will lead a session along with other business executives in which among the topics planned to be covered will be the future of sports betting.
For more information about the schedule and other events at G2E 2016, head over to the Global Gaming Expo website.
Image: Friedmutter Group