Global Poker League Week 9: Close Wins for Ladouceur, Kaverman and Jaffe in Americas Conference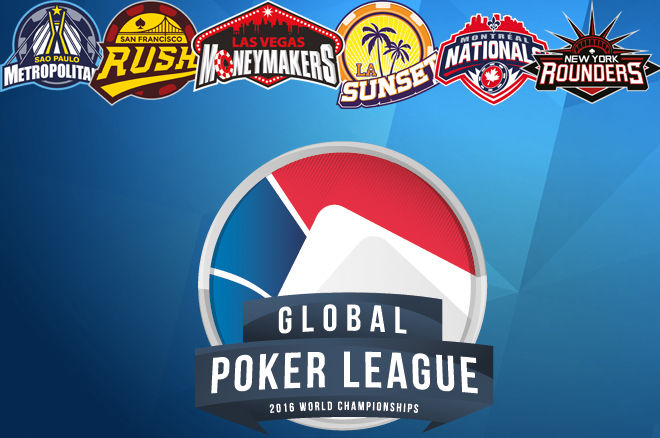 Week 9 of this inaugural season of the Global Poker League is in the books. This last day of action brought some interesting heads-up battles in the Americas conference. We saw three very tight matches, which all were decided in the final of three heats.
Montreal Nationals vs. LA Sunset
Marc-Andre Ladouceur vs. Olivier Busquet
The first match of the night saw Marc-Andre Ladouceur and Olivier Busquet battling for the lead in the Americas conference. It was a rematch of the game played in Week 5 of the GPL. In that match, Busquet scored a 2-1 victory. Ladouceur's Montreal Nationals started the day with a three-point advantage on the LA Sunset, represented by Busquet.
It took a while before the first big pot was played, but when it happened Busquet quickly decided the heat. He first crippled Ladouceur by flopping trips against his opponents top pair. He sealed the deal not much later with pocket eights against Ladouceur's ace-six. The Nationals manager couldn't hit an ace or find another escape route and lost the first heat.
Ladouceur came back swinging in the second heat. He rivered a straight against Busquet's trips to take a big advantage. He finished it off a few hands later. With jack-seven of spades, he made another straight. This time, Busquet had ten-nine for two pair and couldn't let it go.
The final heat looked a lot like the second one. Ladouceur took a commanding chip lead and again he decided the match with jack-seven of spades. This time, it was a preflop all-in against the ace-eight of Busquet. Ladouceur made a full house on the turn and took down the victory.
Sao Paulo Mets vs. New York Rounders
Byron Kaverman vs. Tom Marchese
In the next match, Byron Kaverman took on Tom Marchese. Kaverman started strong and had his opponent from the New York Rounders on the ropes early on. Marchese fought hard in the first heat and managed to come back a couple of times, but eventually, Kaverman won the first heat. His queens won from Marchese's jack-nine who had turned second-pair.
The second heat looked a lot like the first one. Marchese was down, but found a comeback. This time, however, he could make a complete comeback. Marchese made a straight on the turn with king-nine and that was enough to beat Kaverman's ace-queen.
The Sao Paulo Mets player recovered very well from this defeat. Although Kaverman lost some chips early on in the final heat, he finally came out victorious. Thanks to a king on the flop, his king-nine won against Marchese's ace-ten and Kaverman could celebrate a 2-1 win.
Las Vegas Moneymakers vs. San Francisco Rush
Jake Cody vs. Jonathan Jaffe
The third and final match was played between Jake Cody and Jonathan Jaffe. Both Cody's Las Vegas Moneymakers and the San Francisco Rush, represented by Jaffe, needed the points badly.
Cody was the first one to score some of them. He was in charge of the whole first heat and took it down when his jack-seven flopped trips against Jaffe's pocket deuces.
It didn't take long before the match was level again. Jaffe woke up with aces in the fifth hand of the second heat. Cody had nine-six of clubs and decided to bluff both, turn and river, on a
-board. His second barrel was for all of his remaining chips and Jaffe secured some points for his team calling with the better hand.
The last heat was a tough battle. Jaffe struck first but Cody came back with a nice double up to take over the chip lead. That lead didn't last long. Jaffe ran over Cody in a couple of hands and in the end, he found his opponent all-in with jack-ten. Jaffe had king-seven of hearts. Cody flopped a pair of jacks, but Jaffe rivered a flush to grab the win.
Global Poker League Americas Standings
There aren't any position changes in the Americas conference standing. Thanks to Marc-Andre Ladouceur's victory, the Montreal Nationals are now leading by six points. Byron Kaverman helped the Sao Paulo Mets to get a three-point lead on the New York Rounders in the battle for third place. The San Francisco Rush and Las Vegas Moneymakers remain fifth and sixth.
Those two teams need to score a lot of points in the upcoming weeks because in five weeks the regular season will be over and only the top four qualifies for the playoffs.
| Place | Team | Points | (Wins) |
| --- | --- | --- | --- |
| 1 | Montreal Nationals | 153 | (12) |
| 2 | LA Sunset | 147 | (12) |
| 3 | Sao Paulo Metropolitans | 126 | (8) |
| 4 | New York Rounders | 123 | (10) |
| 5 | San Francisco Rush | 113 | (8) |
| 6 | Las Vegas Moneymakers | 100 | (7) |
Global Poker League Schedule
That's all for this week's Global Poker League. The GPL will be back next Tuesday, September 27, with some 6-max action from both conferences. On Wednesday, September 28, the Eurasia conference will play their heads-up matches, followed by the Americas conference on Thursday, September 29.