2016 Master Classics of Poker Amsterdam: Boeken Wins High Roller, Brosky Leads Main Event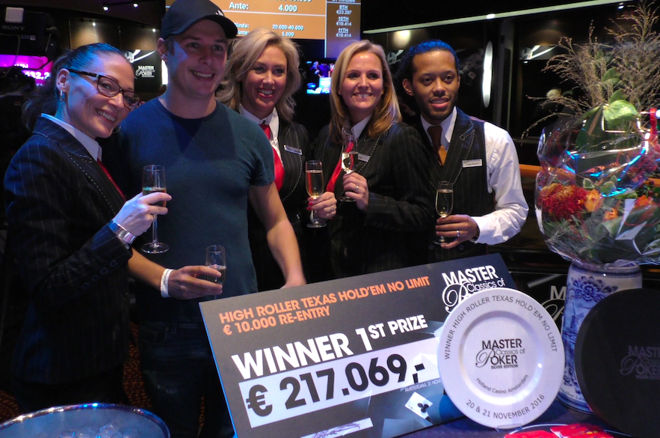 After a three day hiatus, the Main Event of the Master Classics of Poker in Holland Casino Amsterdam continued with nine levels on Day 1b. A big turnout of 214 entries, combined with the 121 of Day 1a, made for a big increase compared to last year. Registration remains open until the start of play on Day 2, so the numbers might even grow.
Leading the charge is Dutch grinder Michiel Brosky, having built his 30,000 starting stack into a massive 228,500. Fellow Dutchman Firat Baltaci also built a big stack, though he's 100,000 shy of Brosky's record stack.
Jorryt van Hoof, after having busted twice on Day 1a as well, tried again today on Day 1b but could not make any waves. He busted his two possible entries early on the day. He might still have hope for the title. The rules allow for one last fifth entry at the start of Day 2 if he so pleases.
Former champions Ole Schemion, David Boyaciyan and Jussi Nevanlinna all did make it through, with Boyaciyan leading the Day 1b champs with 96,000. He faces another former champion on Day 2 as Noah Boeken ended Day 1a with a massive 170,000 stack.
EPT Champions Jan Bendik (96,400) and Robin Ylitalo (52,200), serial qualifier Pierre Neuville (79,600), PokerStars Sport Star Fatima Moreira de Melo (64,500) and Dutch crime reporter Alberto Stegeman (40,200) are among the players that also made it through.
The remaining players will be joined by the Day 1a survivors and return together for Day 2 action at 2 p.m. local time. The Master Classic of Poker Main Event will feature 75-minute levels on Day 2, followed by 90-minute levels for Day 3 and 4.
Noah Boeken Wins the €10,000 High Roller for €217,069
Like the Main Event, the high roller field was bigger than last year and they needed a third day to finish things.
Boeken had already locked up his seat for Day 2 of the MCOP Main Event on Day 1a and entered the €10,000 High Roller event last minute.
The first ever Dutch EPT Champion and MCOP Main Event winner battled himself through the field of 74 to come out victorious, beating Charlie Carrel heads up for the MCOP plate and the associated €217.069.
| Position | Player | Prize |
| --- | --- | --- |
| 1 | Noah Boeken | €217,069 |
| 2 | Charlie Carrel | €144,615 |
| 3 | Kees van Brugge | €98,901 |
| 4 | Jans Arends | €69,524 |
| 5 | Luuk Gieles | €50,330 |
| 6 | Enzo Del Piero | €37,656 |
| 7 | Rashed Zade | €29,087 |
| 8 | Stefan Wolzak | €23,297 |
| 9 | Rob Buky | €23,297 |
| 10 | Wim Emo | €19,414 |
| 11 | Karl Herold | €19,414 |