Derek "Kav" Kavanagh: This Train Doesn't Stop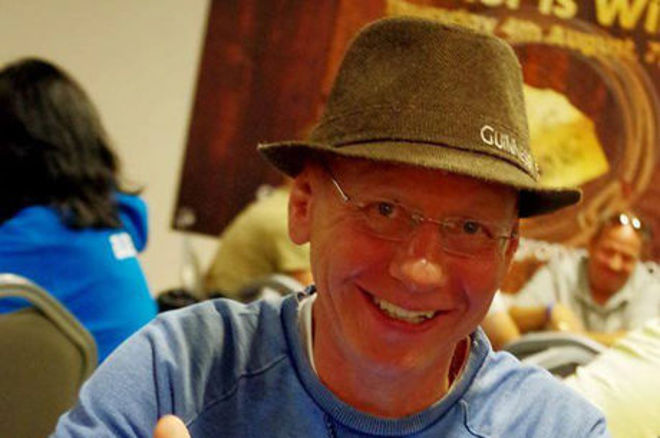 Visit any poker room in England and you are certain to meet a wide variety of characters from all walks of life. You'll likely find people in high-powered jobs, retirees, fitness fanatics and people like Derek "Kav" Kavanagh who, to the outside world, seem like your everyday folk, but inside are quite special.
Usually found sporting a Trilby hat, Kav is one of the most recognizable people in the British poker community. Under his hat is usually a beaming smile and an attitude toward life that is a breath of fresh air. You see, Kav has lung cancer, terminal lung cancer at that, but you'd never know just from speaking to him. He doesn't let the fact that he is on limited time bother him; Kav just puts a smile on his face and gets on with life, and playing poker, the best he can.
"It's a very advanced stage; it actually broke three of my ribs," said Kav about the white elephant in the room, the cancer that he is currently fighting through gruelling sessions of chemotherapy and his own alternative treatments.
"It is what it is," he said. "I use that statement often in life. When people get bad news there are two ways of dealing with it: You can either make the best of a situation or fall on the floor and I'm certainly not a guy who falls on the floor! I'm on quite high doses of morphine at the moment because of the pain from the broken ribs, but we'll get it under control with the meds."
Playing Through The Pain Barrier
Despite the pain, Kav recently made it through to Day 2 of the 2016 GUKPT Blackpool opening event with a short stack. He eventually fell in 14th place, turning £220 into £690. Later that week, Kav parlayed a satellite win into a £2,510 score by finishing 18th in the £1,100 buy in Main Event.
Due to the concoction of drugs and the draining nature of his disease, stamina can be an issue for Kav when playing in poker tournaments, but he doesn't let that bother him, instead using the situation to crack a joke and make those around him laugh.
"When we were down to the final three tables I was exhausted and kept falling asleep at the table," he said. "When it was my turn to act they'd tap me on the shoulder and I'd wake up, look down at my cards and say, 'You've woke me up again with this s**t!'"
Kav's love for poker is only beaten by the love he has for his family. His wife Janet is, according to Kav, his rock, while his daughter Jess has also been at his side through dozens of sessions of chemotherapy and radiation therapy. They have been there for Kav and each other during what is a difficult time. And let's not forget Blue, the family's beloved Bedlington terrier who conveniently barked at the postman during the interview.
"I've All My Ducks in a Row"
Instead of dwelling on what could have been, Kav is determined to make the most of life and ensure that his loved ones are looked after. He recently figured out a home for his daughter, and has even gone as far as planning his own funeral, stating that nobody is to wear black and that it is a celebration of his life rather than a time of mourning.
If you have Kav as a friend on Facebook, you'll notice that everything he posts is in a positive tone, even when he is obviously drained from his treatment. His positivity in the face of adversity is commendable to say the least.
"I don't want my last days on this Earth to be miserable and sat there crying, I'm not that sort of guy. I accept things as they are. It's too easy for terminally ill people to get too deep into the situation and be sorrowful and pitiful, but I'm just not like that. I live my life pretty much how I did before I got diagnosed with cancer."
Determined to continue his active lifestyle, Kav has been busy lately, jetting off to Sanremo for a poker tournament before heading to Dublin a few days later and then across to Blackpool for the GUKPT. Poker is a great outlet for Kav who loves the community spirit among his peers.
"I've always been a gambler," Kav said. "I stumbled into poker during the era of Late Night Poker on TV and got an interest in it about 12 years ago. I was looking up to [Dave] "Devilfish" [Ulliot], who I met a couple of times and contacted during the last days of his life and tried to help him the best I could, and the likes of Joe Beevers who is now a very good friend of mine."
On some occasions, Kav's restrictions made him some good friends in the long run.
"I won an English Poker Open seat online and didn't think I was up to playing a live event of that value, so I offered it up for sale on the forum A World Of Poker (AWOP) and it was Mike Hill that bought it, and that's how I got to be friends with Mike who is one of the good guys, a real ambassador for the game."
Kav's first foray into the live poker world was a tournament at the Grosvenor Casino in Blackpool. It was here that he made a lot of friends; Blackpool has a superb poker community, just ask anyone who has played in the seaside town.
Primarily a tournament player, Kav does play cash games but only when he's at a poker festival and playing against unknown opponents because he "can't take cash off people he knows.
"I can take their chips but can't take their money!" he said. "I'm a recreational tournament player. Poker is a social thing for me; it's like going down the pub to meet some mates. I love the community spirit, it's that tight. You could say that if you kick one of us, we all limp. It's great; if I cash, I get a free weekend."
Kav Cup 3
One tournament that Kav would love to cash in is the upcoming Kav Cup 3, the third edition of the charity tournament named in his honor. Taking place in Manchester on Jan. 14, the Kav Cup 3 will split any money it raises 50/50 between Carers Trust (Grosvenor's chosen charity) and Zoe's Place, a children's hospice.
The tournament has a £50 entry with the option to make a rebuy or add-on. Guaranteed to be won on the night is £20,000 cash and the event is capped at 200 entrants (both previous editions have quickly sold out) with registration opening on Dec. 1 and potential players able to buy in at any Grosvenor casino or online at Grosvenor Poker.
In addition to the cash guarantee, several players are playing with substantial bounties on their heads. Plus there is a raffle during the night with a wealth of poker related prizes including tournament tickets and seats to live events. Should the poker not go to plan, a live band has been booked to help with the partisan atmosphere.
The Kav Cup is close to Kav's heart and one of his best poker memories was when several of poker's stellar names, including our own Sarah Herring (featured in a video wishing everyone good luck in the Kav Cup), attended.
If you fancy supporting two great causes, having a whale of a time among fellow poker players and having the chance to win a decent cash prize, head to the Grosvenor Casino in Manchester Bury New Road from 2:00 p.m. on Jan. 14 and get involved in the Kav Cup. Should you not be able to make it to the event, but still want to make a donation of any sort, contact Richard Gilby on Facebook or visit the Kav Cup Facebook page and he'll happily speak with you.